Here's what I did on a Friday night instead of going out. (Fiance thinks I may have gone over into the DIY deep end. LOL)
I had purchased cardstock which ended up being the wrong color. I couldn't return it so I decided to "step up" my Hangover/Weekend Survival kit (I was originally using ziplock bags). I stole the idea of the cute stick people that BDW bride Ayita stole from another BDW bride.
Here's a couple of pics: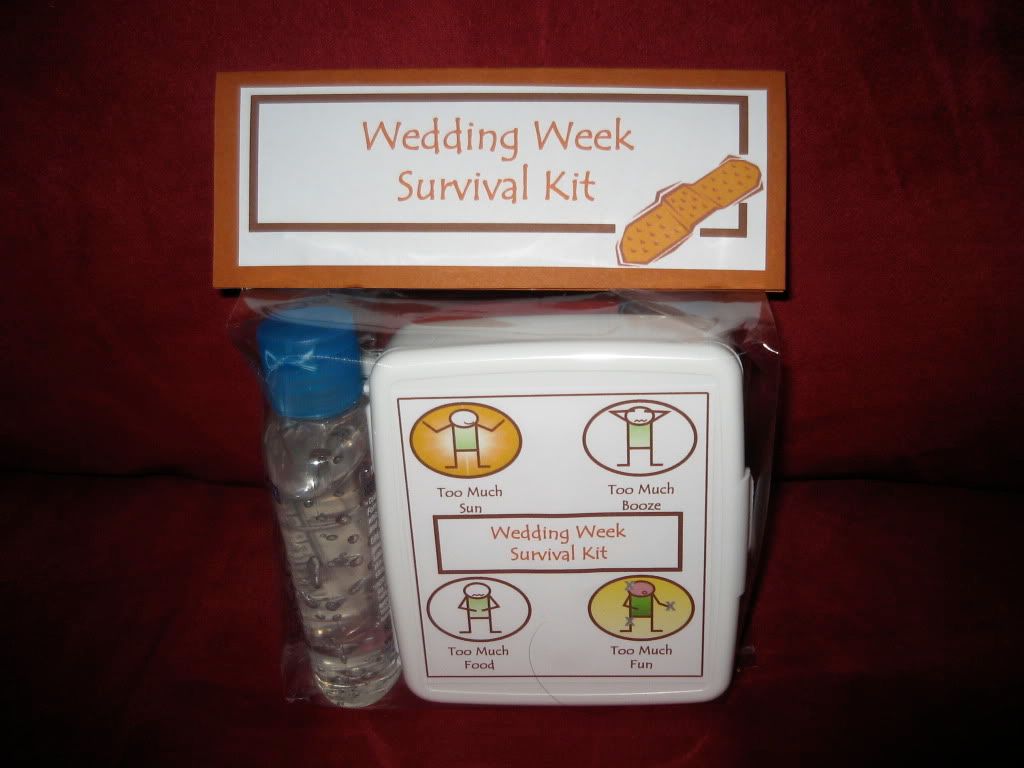 In the kits, I have:
First Aid kits
2 oz. Aloe Vera Gel ($.99 ea. at facevaluesonline.com)
Pepto Bismo ($4.99 for 48 tablets also at facevalues)
Advil
Waterproof band-aids ($2.75 for 20 also at facevalues)
Sunblock and Anti-bacterial wipes from La Fresh.
For the bags with a bag topper:
Use plastic Treat Bags from Michaels (5 inches x 11.25 inches).
Standard sheet of cardstock cut into quarters (fits the top of the bag perfect).
Each topper is then scored length-wise (long-wise) in order for it to fold easily.
Put your goodies in the bag.
Fold over the bag
Place a folded note card over the folded bag
Staple the card shut and then put on your labels!
I have attached the labels for the bag toppers and for the first-aid kits. I printed them out on Staples Sticker sheets. I used Microsoft Publisher to create them but I attached them in formats that most people use.
These were fun to make!