I received them in the mail today!
I am pleased with them, I just wished the picture was a higher resolution in print, but it's not bad.
Front of postcard:
Back of postcard: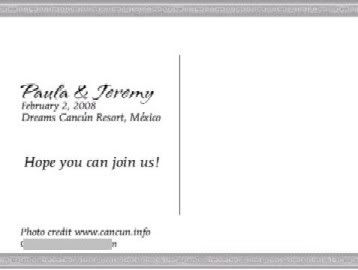 I called www. cancun.info and received permission to use a photo they had on their site.
They were very nice and appreciative of the tourism we are bringing to Cancun by having our wedding there.
I took advantage of VitsaPrint's free 100 postcard offer, paid to upload my pictures, some envelopes and of course bought stuff I didn't need
I see why so many on the forum use Vistaprint, very easy to use.