white flowers is overkill for me but may not be for you! I really like having some splash of color w/ our flowers and sashes. my BM's wanted cheap beachy dresses which was fine by me. We also went w/ bra top dresses so we don't have boob issues! Only I should be having boob issues LOL!! I think its gonna look good since the guys are in white shirts and linen pants.
Here is the dress we decided on: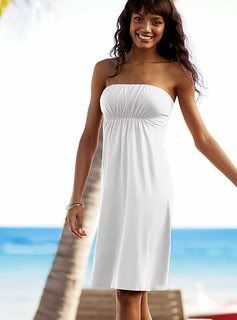 Victoria's Secret - Tube Bra Top dress
And we used a coupon code and got $10 off each dress, so in total w/ shipping we spent $25.99 each.