everyone's puppies are ADORABLE!!!! this isn't the best picture, but it has both of them... cash is a border collie mix (almost 2) and sammi is a weimaraner/chocolate lab mix (10 mos). they are very good cuddlers!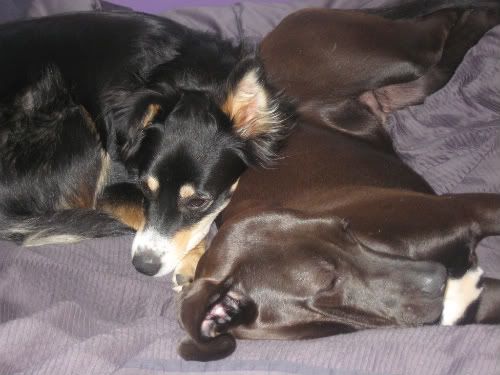 i never even thought that with the privacy setting you could check to see who's been to your site! i have NO way of knowing who has actually looked at ours, but that shouldn't matter too much. i'm putting together an information booklet for everything that i'll hand out with their OOT bags about a month ahead of time that includes all of that info as well.
i don't think i would feel too bad sending our reminders to your guests. they know (or at least they SHOULD know) that this is not a typical wedding so things like rsvps can't be done on the same time table as a wedding at home. your guests aren't going to decide not to come just because you sent an email... they want to be there for your wedding! i think i actually had more people than not tell me they were glad i reminded them because it kept slipping their minds. you can always mention that you need an rsvp because you need a headcount much earlier than you would with a wedding at home!
i am so excited because we finally got our specific WC assigned to us and are starting to get resort-specific questions answered! i decided to wait until we had our WC to ask questions since the ones at our resort are super busy all the time. we managed to already get our reception location reserved and get things arranged so FI's best man can play guitar for the processional! i love checking things off my ever-growing list!