Quote:
Originally Posted by caribbeanLover

You guys should post pics of your kids(dogs)!! I would love to see them
I jump at any chance to show off my babies!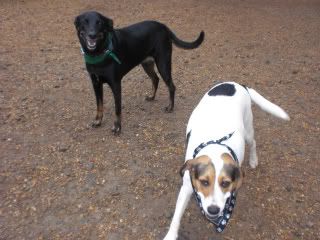 This pic was taken on "bandana day" at doggie day care. Kayla is a 4-year old female lab/doberman mix and Sunny is a 1-year old male beagle mix. I've had both of them since they were 10-12 weeks old. I agree with everyone else, two dogs are so much easier than one. More expensive, but easier. My older dog also seems happier to have a little brother to pick on :-) They are so cute together.
Well, I better get going... My FI and are are supposed to be getting on the road soon. You ladies have a nice weekend!