Okay so my story is completely backwards but I'll tell it anyway.
I was married in 2005 weighing around 190lbs. I had our daughter in 2006 and after she was born I was 204. In 2007 I started a low-carb lifestyle and lost 53lbs. I went from a size 18/20 to a size 7/8.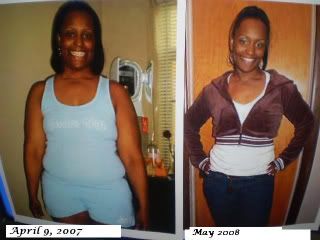 By the end of 2009 and up to now I have gained 13 pounds and I'm now a 9/10; just being lazy. I have started working out again and eating right and I'm ready to get into my goal size 6 hopefully putting me around 140. I'm looking at roughly 24lbs to lose and as luck would have it I'm in my friends wedding in June of 2010. I'm so excited to be standing up in her wedding but here's the kicker…I'm also turning 40 in 2010. I am trying to be looking super HOT when I hit the big *40*
I would love to have a buddy here to share this journey with me. I'm kinda tall, 5'6" and I'm sure yall are thinking that I look fine for my weight but I have this darn belly flab from the babies that I want gone! It doesn't even have to be board flat but it needs to be gone more than it is now.
Anybody out there interested??