Hi, Ladies --
Here is my current Dress dilemma: I jumped the gun and purchased one dress already for the ceremony about a month after I got engaged last August, and now I'm just not smitten with it anymore. Don't get me wrong; there's nothing "wrong" with my original dress per se, but I really want something with more of a "WOW!" factor, and think I might have found THE DRESS, but I need some serious second opinions! (I returned to David's Bridal a second time last week by myself because expressing to my mother and my sister that I now want a formal, "princess" dress has been more than a sensitive issue (to say the least) and they are not being receptive to the idea
They think it's frivolous since I already have one dress, but it's my one and only wedding day, and I don't want to be standing at the alter wishing I had gone with my heart and gotten the dress of my dreams, you know?
Anyway, before I decide to buy, I wanted to show you all the 1st dress purchased (which I plan to shorten and still wear for the AHR) and the 2nd dress I really love, but want to know if you all think it's "Too Much" or "Just Right"! (Oh, and one more detail about the 2nd dress -- it's one of the new styles for 2009, so it wasn't even available when we went dress shopping last Fall!
1st Dress:
AND, here is the dress I currently have a MAJOR crush on! (P.S. please excuse the obvious few extra pounds I've put on -- they'll be off before May next year if it's the last thing I DO!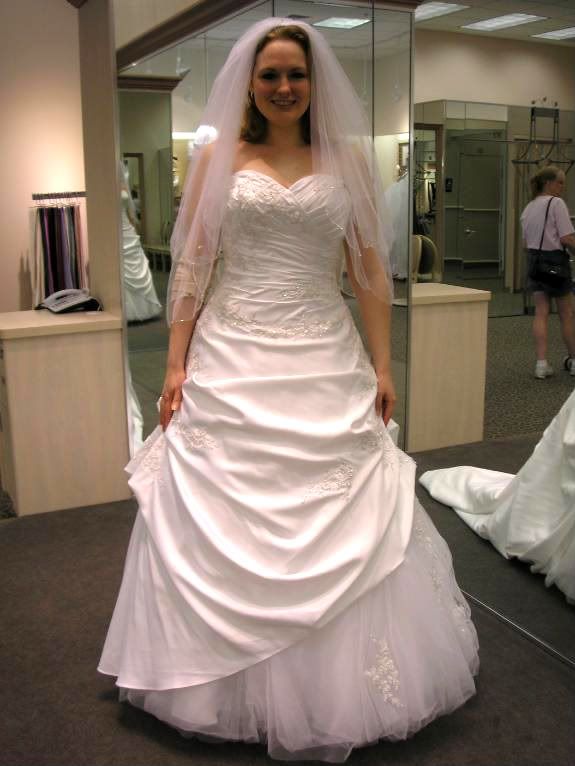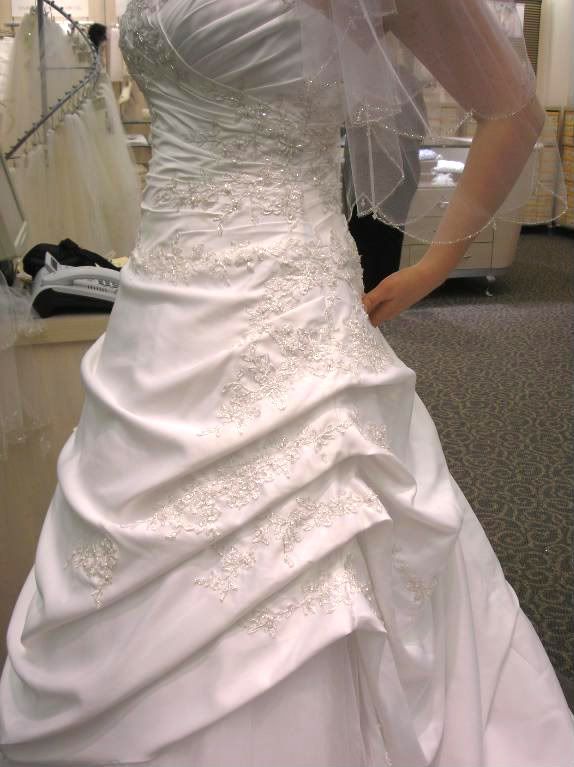 So, dear friends, which reaction do you think it will get:
"Wow! That's Beautiful!"........OR "Woah! What the H*LL was she thinking?!"
Thanks in advance for your input!