Hey everyone, we made it back to Canada safe and sound after 2 amazing weeks in Jamaica. It's taken me a long time because I'm lazy and my wedding reflects my apathy regarding the entire process. Im more interested about the 60 years to follow, than the minor details of one day. Let me say however, its been awesome seeing/reading all the effort that others put into their wedding in the last 11 months since we got engaged. You girls are amazingly creative!! Congrats to everyone on the forum past, present and future. Thanks for putting up with my attitude -- and trust me -- its been toned down, so I dont get banned. LOL
Without further adieu...
TRAVEL
We took a limobus with our 9 guests to the airport in the middle of the night. Our flight left Pearson International in TO @ 0610 April 6. Lemme tell you -- what a long friggin' day that was. I think we were all up for going on 40 hours by the time we arrived in Jamaica, partied and went to bed. We flew out of Canada on a Skyservice flight. DH and I havent flown since we were little kids, so the whole flight was a bit nerve racking. Skyservice is economy all the way and they pack you in there like sardines. The weight allowance is 44lbs/person. Your carry-on can be 10lbs, but no one actually weighs it. Kind of lame, since we were staying for 2 weeks. None of us were overweight coming or going. My dress got shoved into a very tiny overhead compartment with everyone elses crap. No matter -- it looked the same after and didnt require any steaming. We were fed some "food" and I had a few drinks. Flying time was 4 hrs. Zero problems getting through customs at Sangster Int. in MoBay. Our bus transfer to Negril took 1.5hrs and the driver was crazy. We stopped off at some tiny bar, just outside of Lucea and had a RedStripe (which is now our favourite beer)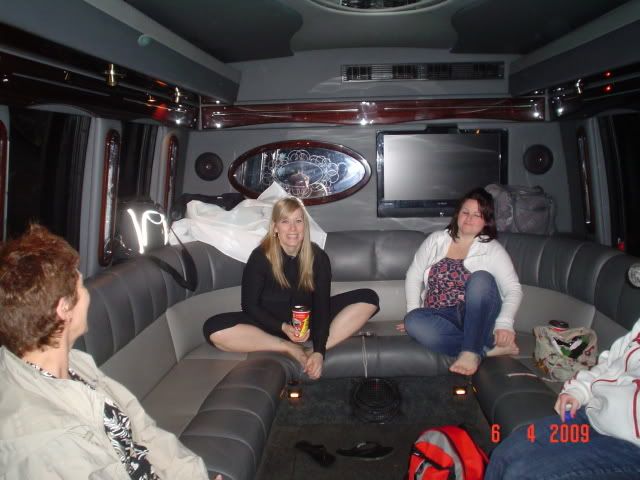 Limobus from Ingersoll to Toronto
Pearson Int.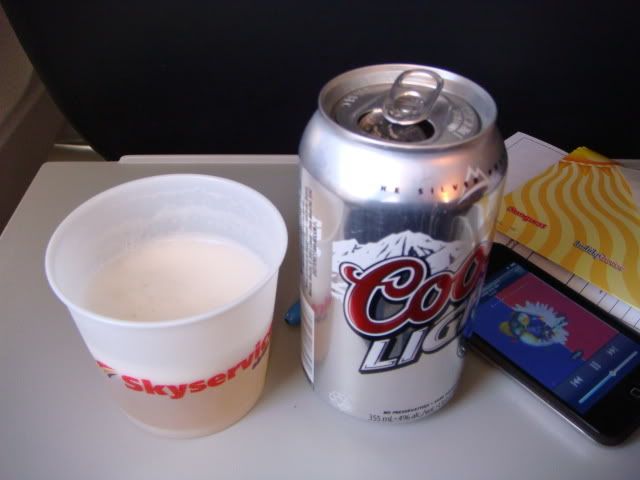 Started early -- 0700!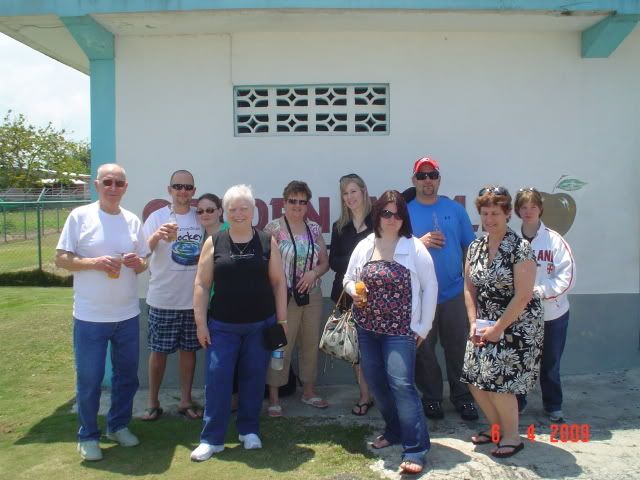 The Golden Apple Tavern with my petite wedding group
RESORT
CHECK-IN: We got to the resort around noon. Super easy check-in. Wow. Amazing lobby area. All open air. Greeted with ice cold cloths and rum punch. Bellhops brought our luggage up to our room. The whole process took less than 30 mins for the 11 of us.
ROOM: Our room was a Oceanview Junior Suite. We could have upgraded to a Suite, but seriously the amount of time we actually spent in our room - we didn't care and stayed put. Our A/C worked awesome, but others did not. I also had brought a Glade plug-in -- best advice ever. The rooms do smell musty without. We tipped our cleaning lady almost everyday.
The rest of the resort is AMAZING. Forget TripAdvisor -- I got a good laugh out of most people's reviews anyway. People will complain about anything and everything and expect everything for nothing. Most people's complaints are so petty. RPTB is awesome. DH and I would go back in a heartbeat. The beach is KILLER. Ive never seen water so clear and blue. We took some of the sand from our beach and a couple of shells -- now we have a shrine to Jamaica in our living room. Hehe. We spent the vast majority of our time on the beach. We didnt step foot in the pool -- why the Hell would we anyway? I paid good money to sit on the beach for 2 weeks! I can sit in a pool any old time at home. Everything is super clean and the staff all over the resort are awesome. I cant say enough about the staff and the service. Awesome.
FOOD: We ate at the buffet for almost the entire 2 weeks. We both loved it. Tons of variety, even for picky eaters such as myself. A few themed nights/week. I was pissed my wedding fell on Mexican night, but we caught it the following week anyway! The reservation process for the al a cartes is dumb. We got up at 0700 for the days we booked to get in line early enough. We ate at the Italian, the Fusion and Steakhouse. The Italian and Fusion places were awesome and apparently the Steakhouse was really good as well, but it was our wedding night and I drank too much and don't really remember the food -- hahaha! I am all class, all the time!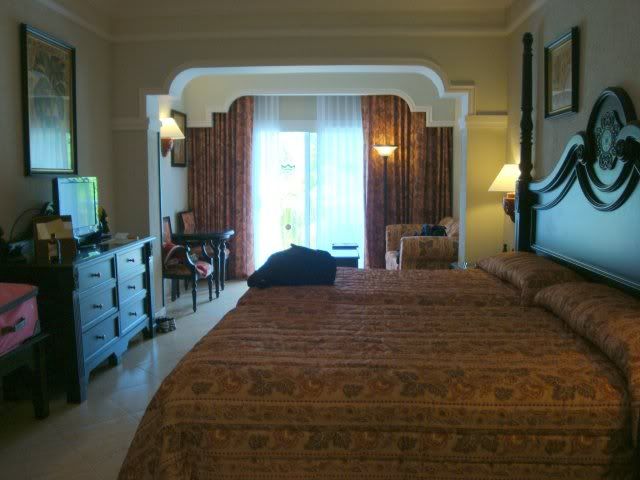 Our room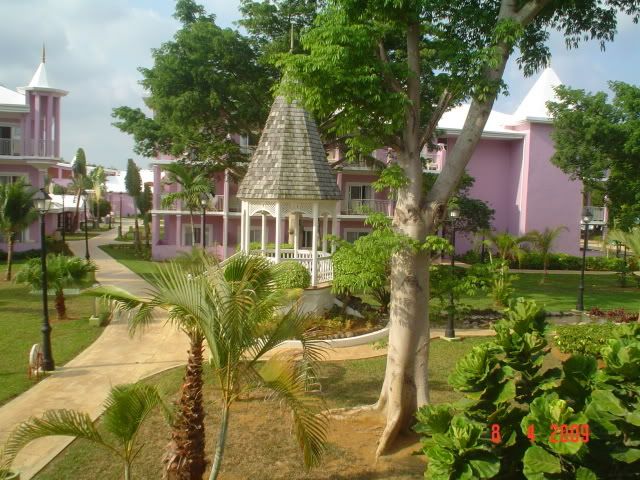 View of the garden gazebo from my in-laws balcony. There are 2 on property.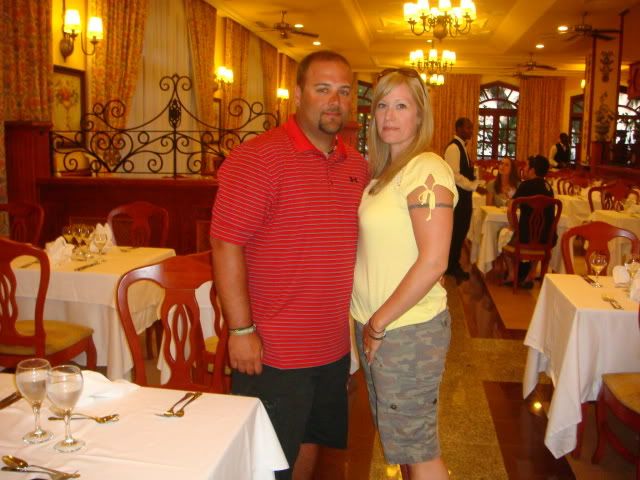 Craig and I -- our last night at the buffet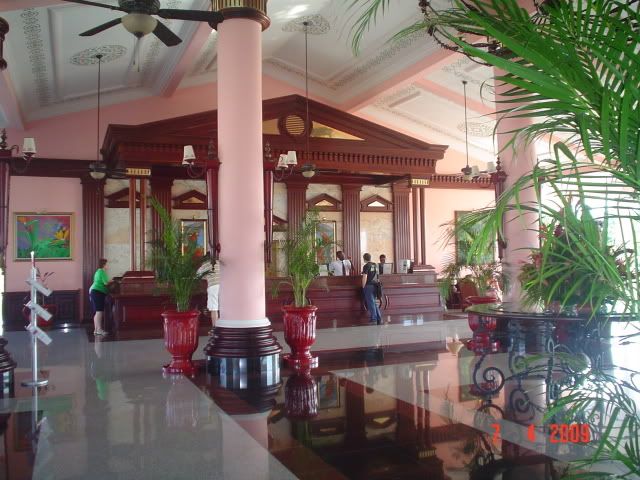 The lobby
The beach -- none of my pictures do it any justice. Just amazing.
... to be continued ...