Wedding Date: April 2, 2009, 5:00 pm
Wedding Location: Moon Palace Golf & Spa Resort – Cancun, Mexico
Ceremony Package: Free Symbolic Ceremony
Wedding Coordinator: Claudia Rodriguez, Assistant: Christina
Ceremony: Chapel Gazebo
Minister: Jorge Pinto
Reception Dinner: Arrecifes Restaurant @ 6:00 pm
Wedding Day Photographer: David Pena – Resort Photog.
Trash the Dress Photographer: Cecilia Dumas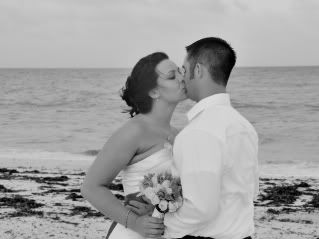 VENUE: Moon Palace Golf & Spa Resort – Cancun, Mexico
GRADE: A
The Moon Palace is stunning and an amazing venue to host our wedding and honeymoon. The staff is wonderful and the resort is expansive. Although the beach at the resort is not as pristine as those closer to town, it was still scenic and serene. Kelp does accumulate on the beach. They make an effort to clear it off, but it's never ending. By the time our ceremony and photos came around at 5pm, it was definitely present. It didn't subtract from our photos and actually added some extra character. The one drawback for us (and the reason I can't give it an A+) is that it's a family resort and we went during spring break, so there were an abundance of teenagers running around excited to get drunk. We chose the MP over the Adventura for the reason of accommodating a specific guest and her kids which led to our biggest regret about the entire experience (by no means the fault of the Moon Palace or its staff, just an extremely selfish and inconsiderate guest). If we were to do it over again, I would have either put my foot down that the kids were not invited or stayed at one the resort's adults only counterparts.
Our wedding party totaled 10 (7 adults and 3 children) so we opted out of a room block.
We chose to book directly through the resort and stayed on the Grand side. While the view from our room wasn't exactly scenic (direct shot of one the buildings under construction), we didn't spend too much time on the balcony. The rooms are huge and gorgeous (Grand standard is twice as big as those on the Nizuc and Sunrise). If it came down to choosing the room or the view, I would go the same route.
WEDDING COORDINATOR: Claudia Fonseca-Sanchez
Assistant: Christina
GRADE: B+
ADDITIONAL COSTS: $105 for 6 rented hurricane candles
Overall, Claudia did a nice job. She was organized and had everything ready to go according to our conversations via email. When I was neurotic and wanted desperately to confirm a specific resort photographer early on, she actually adopted me into her case load because the coordinator our wedding had originally been assigned to had been on vacation. She dealt with my hundreds of questions and helped us to reschedule our civil ceremony on April 3rd for a symbolic ceremony on April 2nd. Our wedding wasn't a huge operation, but the few details I wanted, I was determined to have.
It wasn't an entirely smooth process though. After reading about some other girls' experiences with response times, I wrote off the week long delays as typical, however when we got down to the final weeks, it didn't really improve. I gave her a heads up of when we would be arriving at the resort and was expecting a letter from Claudia waiting for us upon our check-in that would state when our appointment to meet with her was the following day…which we never got. I initially was a little more forgiving and figured we would check back to the concierge desk the following morning since we arrived at almost 10pm on a Sunday night (there's only a concierge and no lobby on the Grand side). At 9:00 am we stopped into the concierge office on our way to breakfast to see if anything had been delivered and still nothing. We had a long breakfast and checked back at the concierge desk at 10:45 and they called down to the Wedding office for us. Apparently our appointment had been set for 10 am… unbeknownst to us. We made it to the office at 11:00 and I held my tongue about the lack of communication. That day, she took possession of my gown and DH shirt that needed to be steamed, and the Rubbermaid tub packed with our freeze dried petals and raffia fans. The gazebo was decorated perfectly. I wished that the candles on each side of the altar had been lit, but I blame myself for not communicating that.
On the actual wedding day, the only time I ever saw Claudia was when she stopped by immediately following the ceremony to congratulate us. Her assistant Christina brought me the bouquet and escorted us to the horse drawn carriage. Upon seeing our photos, I learned that Claudia was taking care of more pressing issues including organizing the wedding procession.
HONEYMOON DESK
GRADE: C (but I honestly can't complain because it was free)
After leaving the wedding office, we were directed to the honeymoon desk for that side of our package. We booked our 'honeymooners' dinner (which we ended up skipping) and we were asked if we had received our bottle of champagne, fruit basket, and rose upon checking into our room, which we did not. The champagne arrived two days later on Wednesday, the rose on Thursday, and we didn't ever see that fruit basket.
HAIR & MAKE-UP: Spa Salon - 1:00 pm
GRADE: A+
ADDITIONAL COST: $42 Hair, $42 Makeup
Alfredo at the Spa salon did a beautiful job on both. He was very quiet, but a sweetheart. I brought in pictures of what I wanted he worked his magic. He even made sure to address the sunburn/tan lines left on my chest by my swim suit. It was a pretty relaxing experience and well worth the money.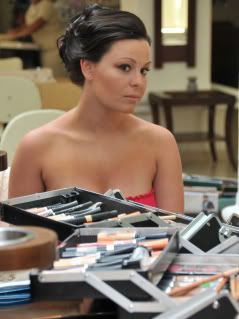 FLOWERS: BOUQUET
GRADE: A
ADDITIONAL COST: $200
Knowing that the flowers through the resort were pricey (and refusing to use artificial flowers) I opted to only use flowers in my bouquet. I sent Claudia a photo of the bouquet and ribbon wrap that I wanted and got exactly what I asked for. It saddened me to have to leave it behind (customs and packing were an issue) but I'll always have the photos.
HORSE-DRAWN CARRIAGE
GRADE: A++
ADDITIONAL COST: $130
This was a magical experience. Hearing the clip clop of the horse's hooves just makes it like a fairytale. You feel like a princess with a royal entrance. Passers-by wave and greet you with a smile like you're a celebrity. If you add no other extras, this is a necessity!
MUSIC: GAZEBO SOUND SYSTEM
GRADE: A+
I could hear the music perfectly from the time the carriage came into view until I was handed off to my groom. And I must say, "You're so cool" by Hans Zimmer is absolutely perfect for the carriage entrance!!!
The rest of our ceremony music included:
1.Sufjan Stevens - "For the Widows in Paradise" – MOB/MOH/Groom's entrance
2.Hans Zimmer - "You're So Cool" – Carriage Entrance
3.Amy Sealey - "Gravel Lines" – Bridal Procession
4.Jason Mraz – "I'm Yours" - Recession
MINISTER: JORGE PINTO
GRADE: hmm… B
Jorge was sweet and he did his job. I had re-written the entire ceremony script, which went up for his approval long before we ever departed for Mexico, but I don't think he ever actually read it until our ceremony. We chuckle about it, but he didn't verify the pronunciation of our names with the wedding department so he kept referring to me as Mary up until Daniel gave his vows of "I, Daniel, take you, Marie…" then he caught on quickly. DH got a laugh out of it because he got to marry someone named Mary.
PHOTOGRAPHY: David Pena – Resort Photographer
GRADE: A
ADDITIONAL COST: Package E - $950 + $65 Shipping Fee
David was awesome to work with and well worth the money. I could tell that he liked doing a lot of the posed shots, which I'm not really into, but we came to a happy meeting place. There were a few shots that were a little too posed, but several that were in the moment that I love! I compiled a sample book of shots I wanted which I think definitely helped. We didn't get all of them, but some of my and DH's favorite photos were entirely his artistic vision.
Package E included two hours of reception, however we weren't going to have a formal reception, so we were permitted to use the two hours during the preparation instead (which turned out to be my preparation.)
When I got DH to agree on Package E, it was only listed at $780 (he can't rationalize spending even that much on photos), so when we sat down at our planning meeting and learned that it had increased to $950 with a $65 shipping fee, DH had sticker shock and was upset with me. I think he's over it now that he's seen how happy I am.
RECEPTION DINNER: ARRECIFES @ 6PM
GRADE: A+
The food was awesome at Arrecifes! DH was excited about the way the meat is presented and it made for a fun but intimate dinner.
The decorative hurricane candles were transported from the ceremony site to our table and the candles lit, which made for a romantic warm setting. The wind was blowing too hard for us to be out on the terrace, so we were inside set back away from other people. When we walked into the restaurant, everyone including staff and other guests stood up and started clapping for us.
TRASH THE DRESS: Cecilia Dumas – 4/3/2009 @ 8:00 am
GRADE: A+
Cecilia is amazing! Working with her was such an incredible experience and I can definitely say that I would have hated myself for missing the opportunity. She's sweet, professional, easy to work with and totally accommodating (plus she's adorable). When high tide came up and the beach we were planning to shoot at was underwater, we hopped in her car and she took us to another one. She took a number of shots and was open to any shots that we wanted. Loved it! I can't recommend Cecilia enough! I promise I will post more photos later...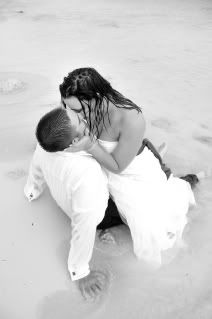 Overall, the pleasant memories of our wedding day will resonate for years to come and I know that I can look back and smile at our magical day in a far off place.
One of the biggest lessons I learned throughout this process, is that regardless of how meticulously you plan your big day, you cannot control the actions of other people and do not allow people to persuade you away from what you want. I allowed myself to be persuaded for the sake of saving family members' hurt feelings when I honestly shouldn't have because that same person would not/did not afford us the same level of respect. I initially wanted to have our wedding at the Adventura Spa Palace. Not because anything was wrong with the Moon Palace, I just didn't want to have to deal with young children (too young) or the possibility of them doing exactly what they did.