Hi, everybody! I need your expert opinions, please!
My drama with my Mama about doing a TTD in my actual wedding dress has come to an end as of this morning!
HOORAY FOR eBAY, I SAY!
I feel like I searched the far reaches of the planet (well, of the internet anyway) to find a dress for less than $100 that wasn't completely hideous, and I had a little luck! Taking the advice of some of you who highly recommended looking on eBay for a cheaper dress for the TTD worked out beautifully. I ended up being the only bidder on this dress, which just so happens to be in my size, for only...drumroll, please --
$75!
The seller is even covering shipping costs!
But, I wanted to post it on here and see what everyone thinks before I get too excited, you know? BE BRUTALLY HONEST, BDW Ladies!
Here are the pics the seller took of herself in the dress:
Detail on bodice:

Shot of the side: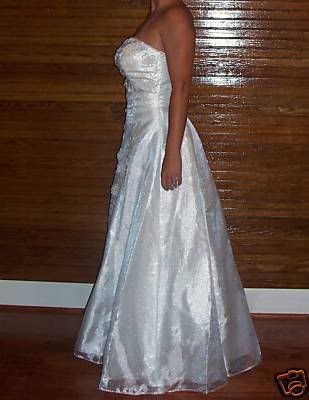 And here's the back!
Whatta ya think?