Quote:
Originally Posted by PhillyBride09

Ladies!!!! I got a new Dress!! (Mods can you put an update in the title of this thread?)

I fell in love.

Here is a true story...My Sister got Married in2002.

When we went with her to pick out her dress..A girl came out of the dressing room with this Princess dress..It was strapless and sparkly up top and the rest of the dress was all tool.

I told my mom and sister that when I got married, THAT was my dress! I even said I was going to buy it now because I wouldn't change my mind.

When it came time for me to try on dresses, I thought a dress like that one would look silly on me...But girls..It was the ONE!! I tried on about 8 - 10 dresses and I did like a majority of them..However..there was no doubt this was it.

AND i even got a Veil and jewlrey tonight too!!!

Here is the dress and a Veil..It's not the veil I bought though....I am so happy!!

Thanks for all of your support!!! :-)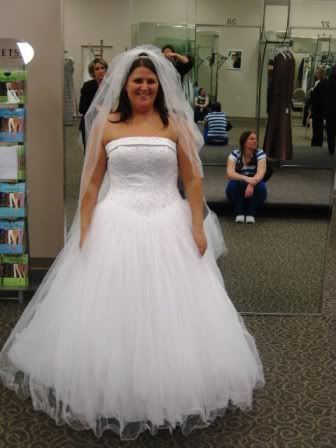 And one without the Veil....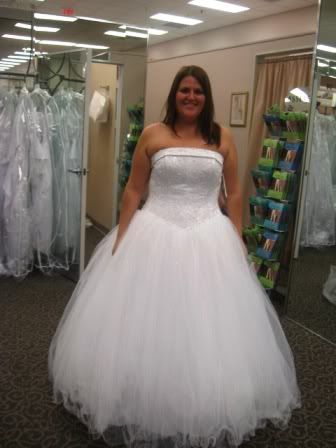 OMG!!! I LOVE YOUR DRESS!!! I just now found this thread today and was feeling your pain as I have been feeling like, "I don't love my dress anymore". But I think I have come to terms, and I am hoping when I get it altered we can do some magic. It is too big in the bust since my sales lady said I should go up a size to accomdate the girls (D cup). Well, I have lost weight and the bust doesn't fit as tight and nicely as it did when I tried on the sample. Anyhoo...I just need to find the right bustier and be sure to tell my seemstress my concerns. I love the syle of my dress, but not the fit since it is too big on me.
Well, honey, you look amazing! Perfect choice! Congrats, I am so glad to hear it all worked out. I am glad I am just NOW reading this thread because I got to go through the all emotions, but I get the happy ending without the wait!!! hehe
I am so glad it worked out and you are happy!