I am back from ROR!!! We were there from 4/1/09 to 4/10/09. My wedding was Saturday the 4th at 4pm. We had the time of our life!! ROR is absolutely beautiful!!! We had so much fun there; we had an absolutely wonderful experience!!!! The staff is wonderful, everyone we spoke to said they had a great time.
Now here's my wedding review:
We arrived there on Wednesday the 1st. I had set up a meeting to meet with Chandlyn for Thursday at 9:30am prior to our arrival. I had a meeting with the florist at 5:00pm in the lobby on Wed., I did not use Tai Flora, and Chandlyn was actually there to meet me with the florist. She knows the florist very well since the florist has done a lot of weddings at ROR and Chandlyn was nice enough to come introduce herself. I found this florist through my agent and she was excellent!!! I ordered a bouquet, 2 floral arrangements for the huppah, a boutonniere, roses for the cake, and 7 centerpieces. The total came up to around $900. If anyone wants her contacts let me know. You will see all her flower arrangements in the photos.
Chandlyn:
She is awesome!!! I think during the 10 days I was there, there was at least 2 weddings a day. So Chandlyn is very busy but efficient. She told she has about 60 weddings this month alone, so if she doesn't respond to your emails right away you know why. She is a very busy girl, Riu definitely needs a bigger wedding department with the amount of weddings they do. We had our meeting bright and early Thursday morning. We had corresponding several times via email since I wanted a private reception. We requested the huppah, white chairs (5 p/chair), orange sashes ($2 ea), steel band ($350), hor d'oerves ($11 p/person) DJ for 4 hours, and private reception ($55 p/ person). We also ordered a cake from another vendor (Sheila's Bakery) so we didn't have the Riu's standard cake. I brought all my decorations down, vases for the centerpieces, table runners, place cards, rose petals, candles, guest sign in, sand ceremony vases, etc, and gave them to Chandlyn during the meeting. We had a huge suitcase full of decorations and I left the suitcase with Chandlyn and picked it up after the wedding. I had everything typed up for Chandlyn and I also explained everything to her during the meeting.
My husband was very worried at first, he thought Chandlyn was too laid back and wasn't sure if she would get everything. But I told him not to worry, Chandlyn knows what she is doing and she definitely went far and beyond to ensure everything was perfect!!
Renova Spa:
I went there on Friday to get a polish change. I had my nails done before I left, but my polish chipped. I was charged $28 for a polish charge for my nails and toes. A bit pricy since my nail salon charges $7 for French manicure polish change. But my nail technician did an excellent job!
On the wedding day, Nikki did my hair and makeup. She did an absolutely excellent job. I was the most worried about my hair and makeup and I was not disappointed at all. I brought my own Mac makeup. I tipped her $35 dollars since she did such a good job! She was the only person there that day so I didn't get to see the other stylist.
Here are a few pics of me at the salon on my big day: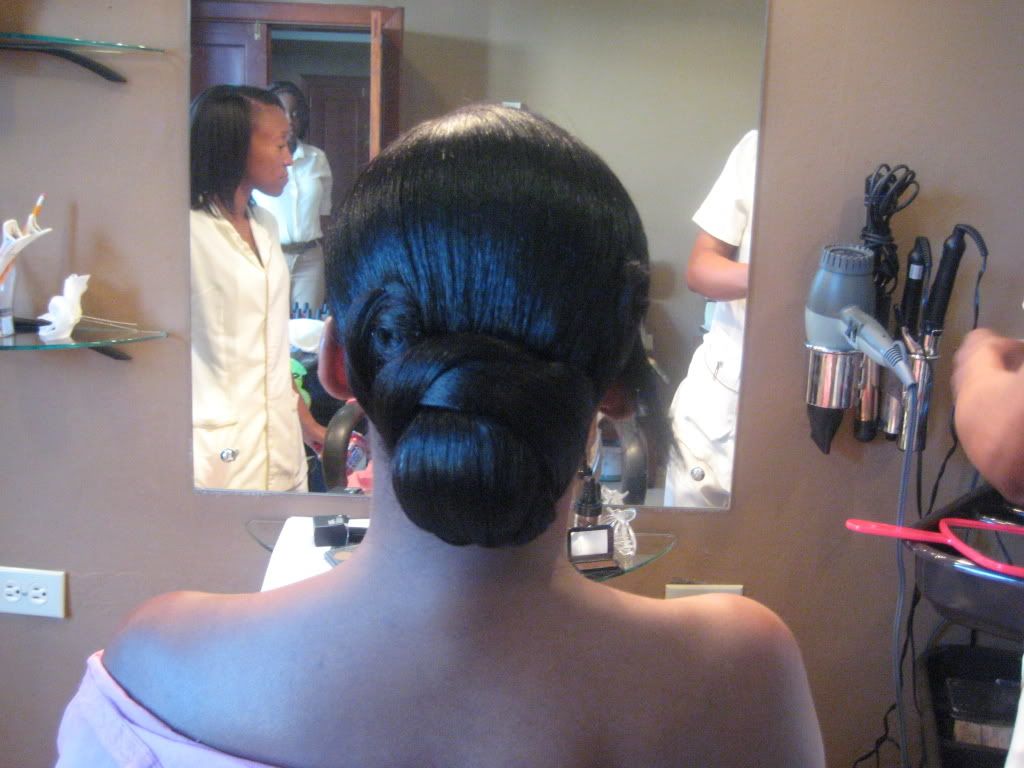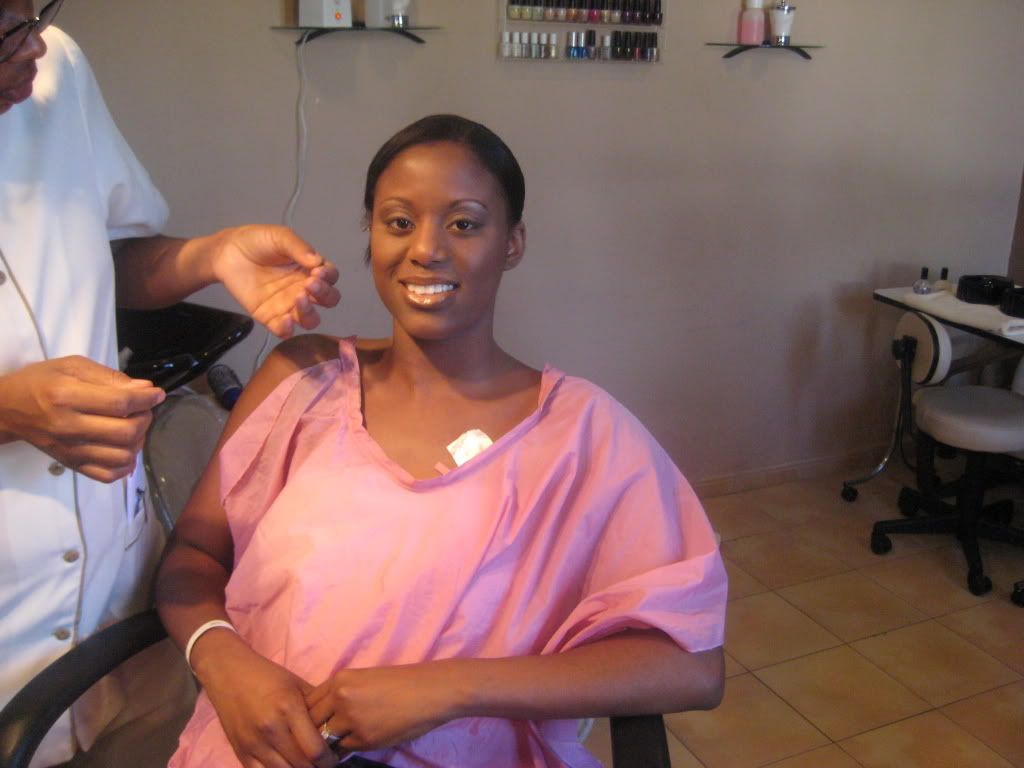 Photoshop:
I booked the head photogrpaher package but when I got there I was told there was a scheduling conflict and Michael would be in Montego Bay on Saturday. They gave me Lincoln and he was great!! We are very happy with our photos!! We got 76 high resolution pics on disc and the package was $870. Lincoln took about 484 pics and we had to narrow it down to 76, many were duplicates though. I plan on ordering atleast 30 more, there were so many good pics that we didn't get.
Wedding Day:
Ceremony:
My ceremony was at 4pm on the beach. I chose the huppah instead of the gazebo and I asked Chandlyn to only use the fabric on top and keep the legs bare. So I was only charged $100 for the huppah instead of the standard $200. The ceremony didn't start until 4:20 because my mother wasn't ready and kept my father and I waiting, I was very pissed and almost started the ceremony without her. The ceremony went without a hitch, the minister is great! The ceremony lasted about 20 minutes and it was lovely.
Here's a few pics of the ceremony: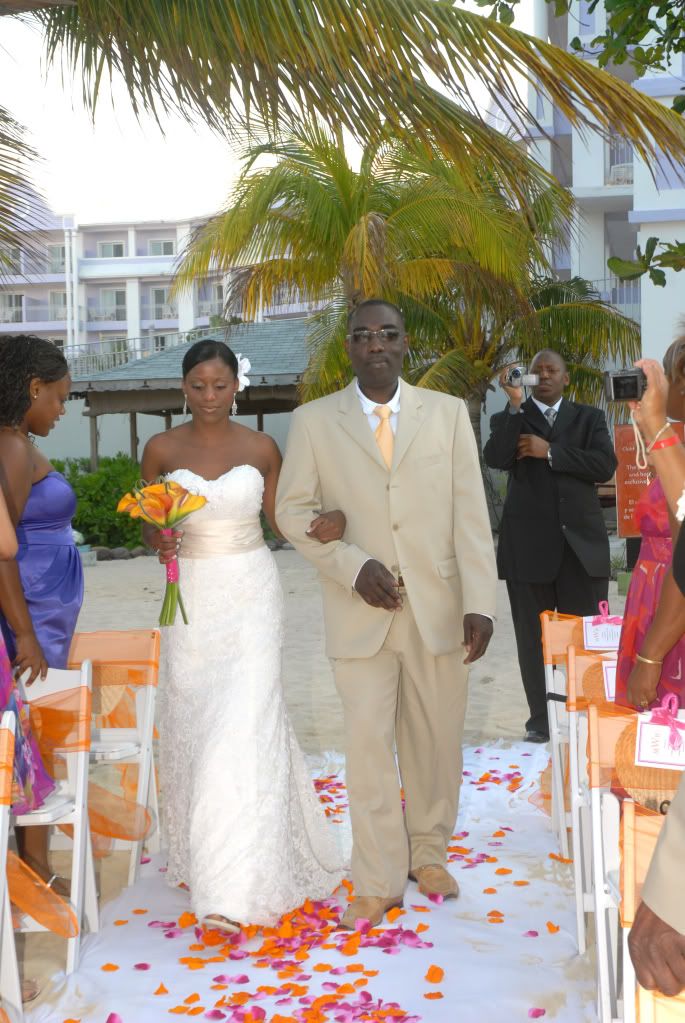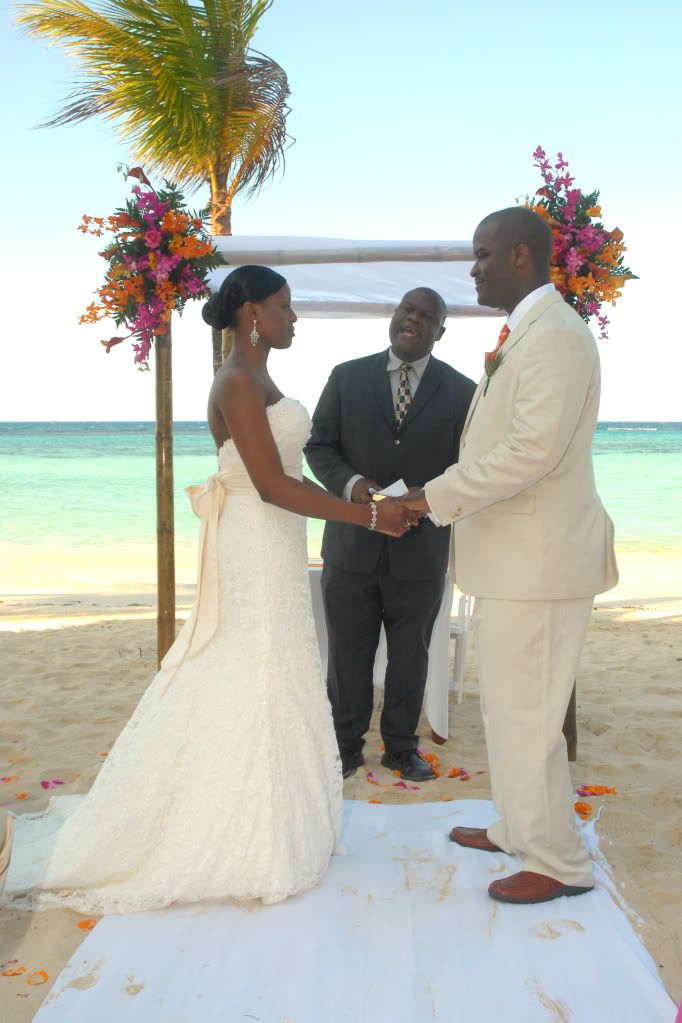 Reception:
My reception was at the garden/gazebo area!! It was the first time ROR has ever had a reception there and they used my wedding as the trial. Chandlyn had to get permission from management to approve it; the management was worried about the noise level since the pond gazebo was right by the rooms. We were told we had to end our reception no later the 10pm, so we booked the area for 6 to 10pm. It all started when I decided about 2 months before the wedding that wanted a private reception. I booked the Plantation at first but then decided I really wanted to do it outside. But the only place available was the beach. My mother was against the idea of having the reception on the beach and I had to respect her wishes since my parents were paying for the private reception. So I thought I would ask Chandlyn about the garden area and to my surprise we were able to get it. It was beautiful, they added lighting and everything.
Here are a few pics of the set up: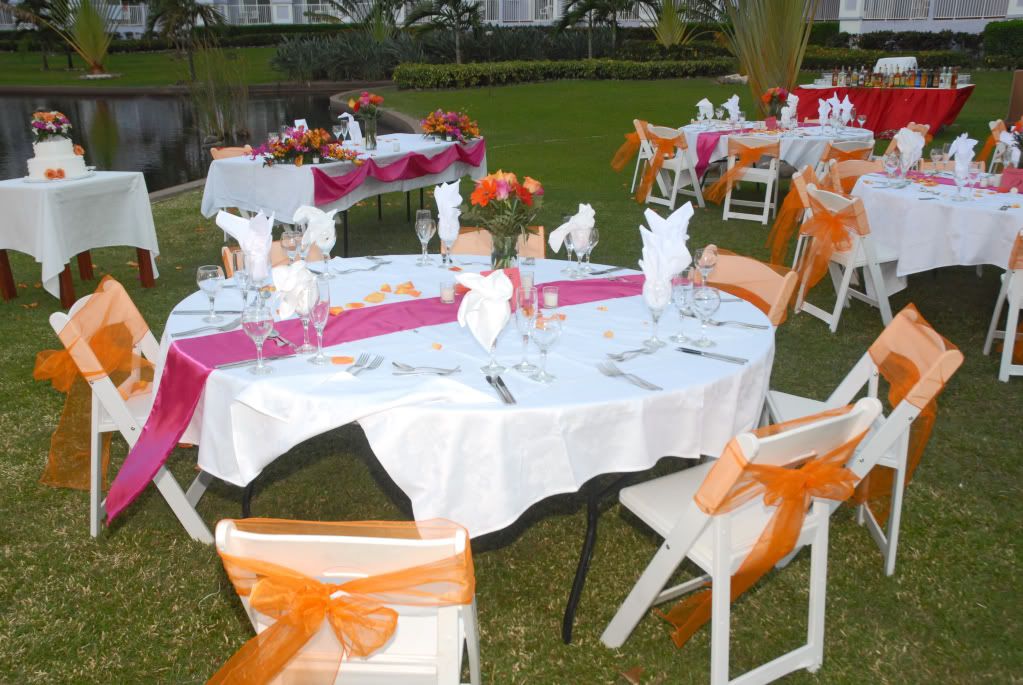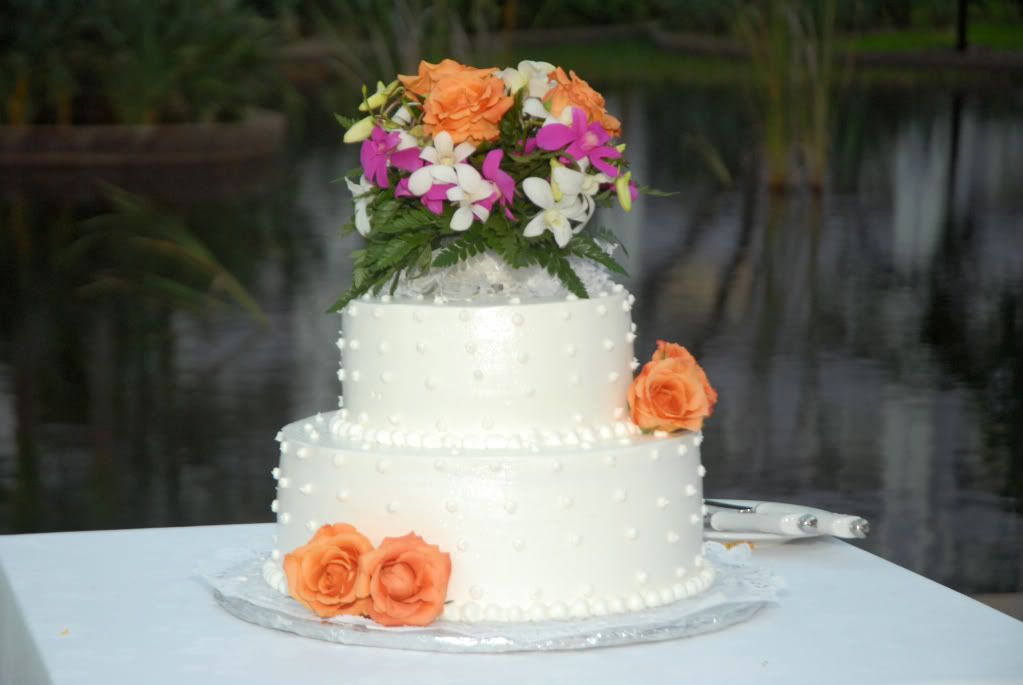 We did our first dance, father/daughter dance, and mother/son dance first. The DJ announced us, he was also great. We provided a CD to Chandlyn with our songs for the first dance. We also did speeches, the cake cutting, and champagne toast after dinner. Dinner was served to us and our guests had to get their food from the buffet. The wait staff and bartenders were awesome, they came out and danced with us and got the party started. They were so much fun and our guests really enjoyed them. The bartenders mixed special drinks and served them on their heads.
All in all, we had a perfect day and we truly enjoyed ourselves. Both Chandlyn and Nikki stayed at our reception for a few hours to make sure everything went smoothly. I think because it was they're first time doing a reception there they took extra care of us. I'm not sure if Chandlyn will continue to do receptions there. She said it depending on how our reception went and if any of the guests staying in the rooms nearby complained about the noise. But the guests all sat out on their balcony and cheered us on; they didn't seem to mind the music at all.
The ROR is a beautiful place with a great staff. Chandlyn and Nikki are both great. I think it is a great choice for a wedding. It's very affordable and you can make it as simple or as extravagant as you would like it to be.
Also, just an FYI I saw a wedding reception on the beach and the couple had a big white tent. I didn't know this was an option; I didn't get any pics because I didn't have my camera at the time. It looked very nice, so I just wanted to let you guys know that renting a tent is an option. I think Chandlyn said it was either $600 or $700 to rent the tent.
If you guys have any other questions let me know!!