I can hardly believe it! It has taken me way to long too post my wedding review. Unfortunately, there are no pictures included within the post but you can visit our photographers blog to view some of our images.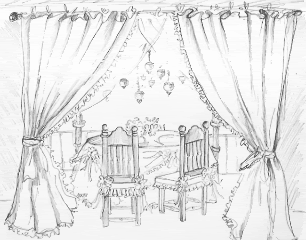 *Wedding table sketch from Mindy
Wedding Photography:
Aaron Delesie Photography
We couldn't have asked for a better photographer. Aaron and his wife, Jen were amazing to work with! Not only are they great people, Aaron & Jen were so much help the day of and captured every detail without being obtrusive.
Hair & Makeup:
Living
My planner, Lisa found the salon for my hair and makeup. Juan Ascencio is the owner of Living and in the last few years relocated back to PV after working in Toronto for sometime. Juan was the complete professional and did an amazing job on my hair. Being an African-American bride I was very hesitant getting my hair done in PV but Juan put all my concerns to rest. We sat together to review my inspiration photos and dress to come up with the perfect look for my big day. My makeup was done by Ruby, a makeup artist and close friend of Juan. Unfortunately, Ruby doesn't speak English but Juan is there to translate. Ruby is so talented that the language barrier was never and issue. When Ruby walked in with better lashes and brows than mine, I knew I was in good hands. Drag queens make the best make up artists and great new friends!
Living
Salon.Spa.Boutique
Morelos 882 Centro, Puerto Vallarta, Jalisco
Citas 222 3350
Cel 322 779 6959
juanpordios@living-salon.com
Wedding Website:
Blogger
Via my blog I've been able to keep my family, friends and readers abreast of my planning process. We planned on using it to share pictures and stories during our honeymoon, but wireless was a little hard to come by during our trip, ce la vie. Additionally, via my blog I've met a lot of great brides and have helped a few with wedding ideas. I chose to create a blog because I wasn't happy with the personal wedding websites available. I did all of the creative myself in Photoshop and used the tutorials on Blogger to get myself up and going. I had very little Photoshop experience prior to doing this and taught myself along the way, so it can definitely be done. Feel free to PM me for assistance with starting your own blog!
Transportation:
Puerto Vallarta Tours
Great service with comfortable cars and affordable pricing.
Honeymoon:
Verana Resort & Spa
Verana is a truly amazing place! Set into the side of a mountain overlooking the Bay of Banderas. Verana is located in Yelapa, MX, a 30-45 minute water taxi ride from PV. The resort consists of seven casitas, all of which are unique. It's a perfectly wonderful peace of paradise!