I can hardly believe it! It has taken me way to long too post my wedding review. Unfortunately, there are no pictures included within the post but you can visit our photographers blog to view some of our images.
WEDDING PICTURES
*You need flash on your computer to view our slideshow
Okay, so let's see...
My husband and I were married in a civil ceremony on October 10, 2008 in Seattle, WA. On October 29, 2008 we held our symbolic ceremony in Puerto Vallarta, MX.
Engagement:
December 25, 2007. After over 12 years together (high school sweethearts!) he totally surprised me by popping the question on Christmas day. When we married we had just passed the 13 year mark!
INSPIRATION
I'm a huge fan of Abby Jean's blog Style Me Pretty, so when I began planning I created an inspiration board to keep me on track and capture my overall look and feel and color ideas. Overall, I wanted everything to feel very soft and pretty. Lots of neutrals, mercury glass, gardenias, vintage fabrics...very romantic. See my boards
here
.
WEDDING DAY ATTIRE
Wedding Gown:
I purchased my
Monique Lhuillier
gown from the
The Bridal Garden
in Kirkland, WA.
Wedding Day Jewelry:
Jamie Wolf
I had the opportunity to wear some amazing pieces from Jamie. Her jewelry is absolutely beautiful and complimented my dress perfectly.
Groom's Suit:
J. Crew's
The Liquor Store
, NYC
Our Rings:
My husband purchased my engagement ring at
E.E. Robbins
. While overseas we worked with our jeweler to design my wedding ring. We purchased my husband's band at
e-weddingbands.com
. This site is awesome and they have excellent customer service.

LOCATION, PLANNING, ETC
Wedding Location:
Hacienda San Angel
Owned by Janice Chatterton, the hacienda is absolutely magical! Janice is very sweet and often of few words. As a guest you may or may not interact with her while there. She has an amazing staff that keep things running smoothly. The property is stunning and a great location for a wedding. We held our ceremony in the newly built chapel and our dinner was held in the private courtyard next to the chapel. The chapel is located in Casa Campana, which is directly across the street from the main hacienda. The service and attention to detail at the hacienda was amazing. There's an amazing restaurant on the property which is on the highest level of the property and overlooks PV and the bay. The food is delicious as well as affordable and as a guest you receive 15% off your meals. There's a nightly cocktail hour with a mariachi trio from 7-8pm. During this time dinner guests arrive early to take in the property prior to sitting down for dinner.
*Janice is a huge supporter of ASPCA and as such as adopted six little dogs. They have run of the main property but are super sweet and know where they can and can not go! They will be sure to welcome you when you arrive!
Wedding Planner:
Oh! How Charming by Lisa Vorce
From the moment we spoke I knew she would be a friend for life but after getting into her immensely creative brain I crossed my fingers and hoped that she end up my planner! She made our day so beautiful; beyond our wildest expectations! Check out her site, it's absolutely beautiful!
Floral Design:
Mindy Rice Floral Design
Talk about talented! Mindy is awesome. She and Lisa worked together seamlessly on the overall design of our day, which included everything from the altar covered in gardenias, Moroccan style tea lights hanging from the stair rails, to my bouquet which was filled with white roses, tulips, ranunculus all flown in from Holland for my big day. Check out are pics to see how Mindy's sketch came to fruition!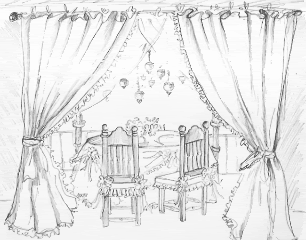 *Wedding table sketch from Mindy
Wedding Photography:
Aaron Delesie Photography
We couldn't have asked for a better photographer. Aaron and his wife, Jen were amazing to work with! Not only are they great people, Aaron & Jen were so much help the day of and captured every detail without being obtrusive.
Hair & Makeup:
Living
My planner, Lisa found the salon for my hair and makeup. Juan Ascencio is the owner of Living and in the last few years relocated back to PV after working in Toronto for sometime. Juan was the complete professional and did an amazing job on my hair. Being an African-American bride I was very hesitant getting my hair done in PV but Juan put all my concerns to rest. We sat together to review my inspiration photos and dress to come up with the perfect look for my big day. My makeup was done by Ruby, a makeup artist and close friend of Juan. Unfortunately, Ruby doesn't speak English but Juan is there to translate. Ruby is so talented that the language barrier was never and issue. When Ruby walked in with better lashes and brows than mine, I knew I was in good hands. Drag queens make the best make up artists and great new friends!
Living
Salon.Spa.Boutique
Morelos 882 Centro, Puerto Vallarta, Jalisco
Citas 222 3350
Cel 322 779 6959
juanpordios@living-salon.com
Wedding Website:
Blogger
Via my blog I've been able to keep my family, friends and readers abreast of my planning process. We planned on using it to share pictures and stories during our honeymoon, but wireless was a little hard to come by during our trip, ce la vie. Additionally, via my blog I've met a lot of great brides and have helped a few with wedding ideas. I chose to create a blog because I wasn't happy with the personal wedding websites available. I did all of the creative myself in Photoshop and used the tutorials on Blogger to get myself up and going. I had very little Photoshop experience prior to doing this and taught myself along the way, so it can definitely be done. Feel free to PM me for assistance with starting your own blog!
Transportation:
Puerto Vallarta Tours
Great service with comfortable cars and affordable pricing.
Honeymoon:
Verana Resort & Spa
Verana is a truly amazing place! Set into the side of a mountain overlooking the Bay of Banderas. Verana is located in Yelapa, MX, a 30-45 minute water taxi ride from PV. The resort consists of seven casitas, all of which are unique. It's a perfectly wonderful peace of paradise!