March 20, 2009
The Royal Playa Del Carmen
Ceremony @ Royal Beachside Gazebo
Reception @ Beach
The Destination Wedding
Will and I are not formal people. We feel our best in t-shirts and flip-flops. We love Jimmy Buffett, anything that involves the beach, and casual settings with our close friends. When we got engaged, we knew we wanted a beach wedding in a fun, yet romantic setting. Mexico was the obvious choice. We are from to different states. Had we had a traditional wedding party, we would have asked our guests to spend money on travel, formal wear, hotels, etc. We knew that our guests would rather spend the money to go to a beautiful AI resort in Mexico, than on traditional wedding expenses and travel to my small hometown in Texas.
Playa del Carmen
What an amazing little city! This quaint Mexican town is filled with traditional Mexican culture, as well as lively tourist flavor. It is surrounded by beautiful white beaches, and clear waters. It is far enough from Cancun to feel "grown up," yet close enough to still have a fun feel. We always felt safe and secure when walking through the streets of Playa. Don't spend your entire time in the resort. Go explore!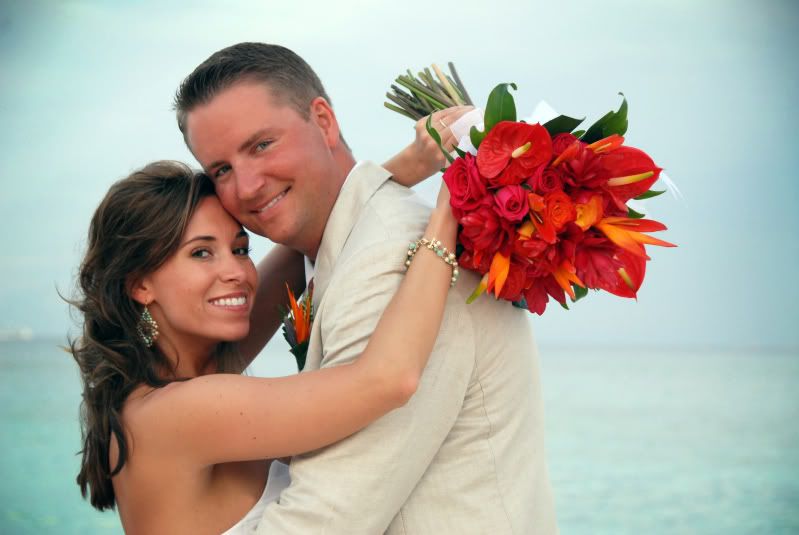 The Royal Playa del Carmen
I loved this resort!!! The Royal was the perfect location. It was close to 5th Ave, which I highly recommend. The Royal beach is big and beautiful. Service was phenomenal. The rooms are spacious and lovely. And, the pools are great.
The food was delicious. Spice (the buffet) was awesome for breakfast (featuring fresh fruit, made to order omelets, crepes, etc.) We loved Asiana. It's a beautiful restaurant with Asian-fusion choices (sushi, tempura, Japanese, and Thai entr©es.) Pelicano's was great. It is the beachside caf©. It had the best guacamole! It also had amazing breakfast. The tapas bar was really good. We ordered several of everything on the menu, and tried it all. It was fabulous. Maria Marie's was really great. We wish we had discovered it sooner. I had scallops and steak that were excellent. Room service was great! And, the bars were so fun (Lobby bar, poolside swing bar, and swim-up bar).