So I am in love with my homemade bouttoneirs and bouquets!
First, I should say I ordered the flowers from Crystal at Bittersweet Wedding Designs
For the bouttoneirs I had bought the mini callas for these. We bought alot of ribbon because we weren't sure of the look we were going for or how to do it. In the end we ended up using a piece of ribbon folded in half with double sided tape to make it firm. We then glued on the pin backing (it was easier than using big garment pins), wrapped the ribbon around it and then did secured it with green floral wire. The embellishment was made by wrapping some of the wire around a pen. I honestly am so happy with how they turned out, and think they look great!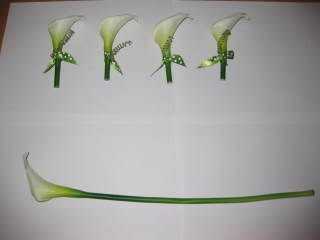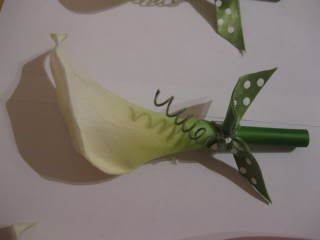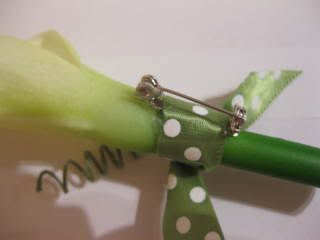 The bouquets took alot of time to figure out actually, just in terms of figuring out how to arrange the flowers. In the end we decided on 3 flowers for the bridesmaids, and about 10 for the bridal bouquet. The flowers were the same for all, medium floramatique. In the bridal bouquet I used some of the partially closed "buds". We first wrapped them with floral tape, cut them to size with wire cutters, wrapped them with thick ribbon (glue gunned into place), and then wrapped a smaller ribbon the other way around them for a little decorative touch. We were going to knot them, but figured that our hands would cover them anyways! I ended up making 2 extra bouquets and will use them as centerpieces!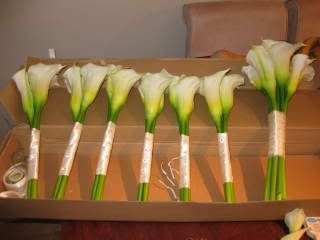 Anyways, I highly recommend both Crystal at Bittersweet wedding designs, and doing this yourself! I saved tons of money, and had lots of fun making them. All in all it took about 3 hours work!