OK so here's the deal. I bought these palm fans and have tied ribbon on each of them (I tried to wrap the ribbon so it looked a little bouquet like). I also bought these place cards from Michael's along with little gerber daisy stickers that I'm going to put on them to spice them up.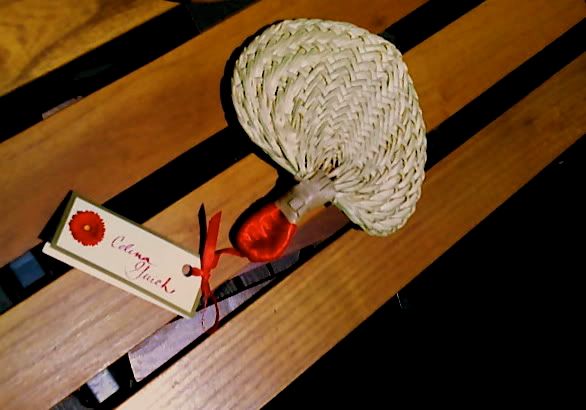 So here's my dilemna:
Originally I was going to have these set-out on a table for guests to pick up as they go from the cocktail hour to the reception. Each would have their name on the outside and their table number on the inside.
But then I was thinking that the great thing about these fans in that it is going to be very hot in June and people can actually use the fans during the ceremony which is out on the sand at 6pm.
But then how do I have these given out before the ceremony? Do I trust people to hold onto them through the ceremony and cocktail hour and then remember to look inside them for their table assignment?
Or should I have these given out before the ceremony and simply write "Thank you" or something on them instead of people's names. Then I would use matching placecards for people to pick up as they go into the reception.
And lastly one of the reasons I got them is so they would look pretty at the place-settings. But if I do this then they can't be used as placecards OR fans... sort of defeats the purpose.
So here are the options:
1. Use as placecard to be picked up at reception - write names & tables on them and have people pick them up as they go to the reception site (around 7:30pm)
2. Use as placecard but hand them out as people arrive at ceremony
3. Use as a favor only - give out as people arrive at ceremony and have separate placecards
4. Use as decoration only - have set-out at place-settings