Gifts for our FG's and RB's. For the girls, I bought pink tote bags from Michael's and glued on gemstones in shapes of flowers and their name. One is pictured below. Items I put in the FG's bags:
initial necklace and earings
glow in the dark bracelets
water fish/frog shaped squirty things
coloring book
princess wand
mini notebook with initial
magnifying glass
(I think that's it)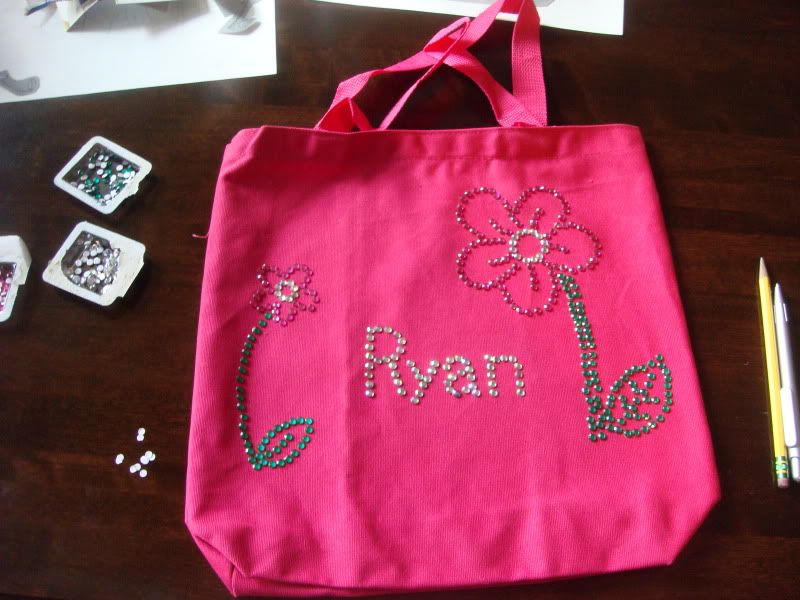 FOr the RB's I went to Dicks Sporting Goods and got them those reuseable shopping bags and since we are from Chicago and Sox fans I got them each a White Sox one. Included in there was:
glow in the dark dinosaurs
dinosaur puzzle
airplane glider
magnifying glass
minin notebook with initial
coloring book
water/fish squirty thing
glow in the dark bracelets
My 10 year old nephew read and I got him a bag and filled it with baseball cards and books and squirt guns.
They really loved it all!
At the reception for the 4 youger kids I bought folders and printed out pictures for them to color and included crayons and games like tic tac toe. It was windy on the beach, so I wouldn't recommend it if you are having a reception on the beach (especially at Dreams Tulum).