woooooooohooooooooo!
I got the dress and I am OVER THE MOON!
Not only does it fit! it's stunning!
The dress is a LOT heavier than I was expecting, and it is well structured with full boning etc. The lining is a thick bridal satin and then there are several layers of beautiful quality chiffon over the top.
The beading is not as sparkly as the original - but I dont actually think thats a bad thing! I was a little concerned that my dress choice was a little too bling for a casual beach wedding...
Anyway - so here is the bit you have all been waiting for - the pictures!!
Now keep in mind that I am on my own, its 11pm at night, the lighting in the spare room (or wedding room as we now call it!) is shocking and I'm taking pics on my blackberry - without the flash so that I can see the reflection in the mirron - but I thought I better get some photos to you lovely ladies...
Thanks for all your support and kind words xx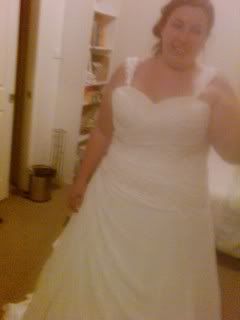 Details: