Finally I have finished our flutes, guestbook, shell ring holder, and our planning brochure! I'm so glad!
Flutes-
Etched them myself, and put the ribbon and starfish on.
glasses: $2 each at Pier 1
etching cream: $4 michaels
ribbon: $6 Joann
starfish: $3 from michaels
Guestbook-
Made our own pages, bought the guestbook at michaels, and put the ribbon on.
book: $9 michaels
Shell-
Bought the shell and starfish from michaels
shell: $2
Total for all of it I spent $26!!! and alot of time to actually finish them. Here they are: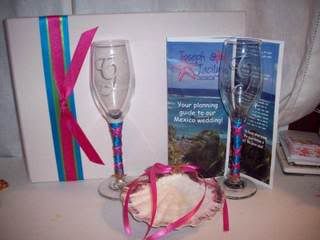 And the guestbook page: