Hi all,
We have been back for about a week, and have just been trying to catch up with work and classes. I don't have many pics yet, but I wanted to share our experience especially for those brides looking for vendors outside of Ocho Rios resorts.
First, we arrived in Ocho Rios via Celebrity Century cruise ship on 1/19. I won't review the ship here, since the wedding itself took place off of it, but if anyone has any questions I would be happy to answer them. I will rate everything on a F-A+ scale
Wedding Transportation - Lee's Tours and Taxis
A+: We had arranged our transportation through Lee's Tours and Taxis, specifically with the owner Norma. There were 37 of us, and we arranged for 2 larger shuttles and a 7 seater for me and my bridesmaids. The plan was that the groom would get on the 2 large shuttles with the rest of the group and then leave before I got off the ship and got picked up by the car. Well, I pictured this being a complete logistical mess, but everything went suprisingly smoothly!!! The drivers were waiting and watching for us as soon as we got off the ship, and the timing worked perfectly. I can't say enough about the owner Norma, she has been wonderful to work with. The shuttles were very nice...they were new, clean, and most importantly had a/c. The drivers were fantastic, very accomadating and funny too. All of our guests received bottled waters for the ceremony and then on the drive from the ceremony to the reception they received rum punch or red stripe. Everyone loved the rum punch...they said it was very strong. All these drinks were complimentary with the shuttles!
Ceremony - Tropical Weddings Jamaica
: We aranged the ceremony through Almarie of Tropical Weddings Jamaica. I had heard rave reviews from many former brides, and had a hard time finding another coordinator. The rating for TWJ is hard, because we loved the location and the ceremony set-up...but to say I was very happy with Almarie would be a lie. The reason being is that through the whole planning process she was very short with me and seemed annoyed by all my questions. I never actually talked to her by phone, with the exception of giving her the credit card info. Most everything was done via e-mail. If I put many questions in one e-mail, I would have to number them out, or I would not get answers to all of them. I will say that her response time was very good. I thought TWJ's prices were pretty high, but I really didn't have another option. I got the same vibe from Almarie on the day of the wedding. My bridal party and I felt very rushed down the aisle. My mom was upset because she was shoved down the aisle before she could even say anything to me and hug me. I was still trying to get my veil on with the help of one of the guests when the processional was started and that guest wasn't even able to get back to her seat before we all walked. Granted I never spoke up, but I felt like I didn't have time to. The chair set-up and arch were beautiful. The colors were perfect. One problem was that we were short a chair for our guests...which didn't end up being a problem b/c someone was standing in order to keep a toddler under control. Had everyone wanted to sit down, it would of been embarrassing. We hired a steel drum band for an hour through TWJ. I didn't notice, but my family said that there is no way they played for an hour, but instead put a cd on. I'm not sure though. The officiant was great, I loved how the ceremony flowed and he was funny at all the right moments too. I highly recommend him, his last name is Higgins. We brought our own silk bouquets and just ordered corsages for the mothers and grandmothers through TWJ. They were mediocre corsages, and we could of done without them all together. The small issues really didn't end up mattering, our ceremony was beautiful and I wouldn't of changed a thing.
A side note, Reggae Beach is a private beach, meaning you have to pay to enter. There were very few people on the beach that day. I think a few natives even lived there in little huts. It is a very rustic/natural beach. Lots of shade and coves....we loved it.
Lunch Reception - Evita's Restaurant
A+: I had worked with the owner, Eva, to arrange our menu and a band to play for approx. 2 hours. We paid $150 to close down the restaurant for the day, and made our own menus from the regular menu. Our menu was a choice of soup or salad, a choice of stuffed tortellini alfredo, fish of the day, jerk sausage spaghetti, or chicken parmesan, and a choice of cheesecake, tiramisu, or chocolate bobsled pie. There was also great bread on the tables with yummy dipping sauce. We paid $25pp for that menu and had an open bar at a 10% discount. The restaurant is sooo cute. It is up a hill just minutes from the port and the balcony (where we were seated) overlooked all of Ocho Rios. There was a dance floor area between us and the band. The servers were amazing...very friendly and fast. Everyone loved the food, and everything had a little spice to it. The desserts weren't as fabulous as the food, but they were good too (we didn't have a wedding cake). Eva wasn't there that day, but she was wonderful to work with throughout the planning process. Eva had arranged for a husband/wife duo "Just Us" to play for 2 hours for $250. The wife was the main vocals. They played some older popular music like...At last, unforgettable, last dance, Route 66, along with Reggae. I was so caught up in all the events that I hardly paid any attention to them, but they did a great job. It is an open-air restaurant so it was a little warm, but not uncomfortable.
Photographer - Bella Luce Photography A+++:
We found Katie and Bryan of Bella Luce Photography via this forum (they are members). Katie is the main photographer and her husband Bryan is her assistant. They are based in South Dakota of all places, and we arranged for Katie to fly to Jamaica to capture our big day. Lucky us, Bryan ended up coming too! They met our shuttles at the port and rode along with us the entire day. They are a great couple...very friendly and fun! We spoke before the wedding, and I told her just a basic overview of the shots I wanted of our families. Besides that we had no clue, and thankfully they just took charge and arranged some great shots. They were very attentive to what they were shooting, and even instructed our family members to remove sunglasses, hats, and random stuff from their hands so they wouldn't end up in our pics. I didn't even notice but my grandfather had a Home Depot hat on to take pics....thank you Katie for directing him to take it off! Hiring them was one of our best decisions. They were a perfect fit with our group, and all of our guests just loved them. After the lunch reception, we went to Ocho Rios beach to do a very quick TTD shoot (we had to get back to the boat). It was a lot of fun, and our cruise ship was part of the background of some of the pics. We have only gotten a few sneak peak photos, but so far they have far exceeded my expectations and I love them all! I will post a seperate thread once we get them all back.
Here is a link to their blog, including an entry about our wedding....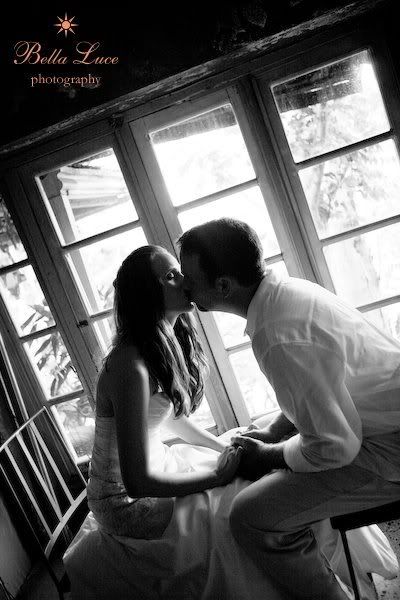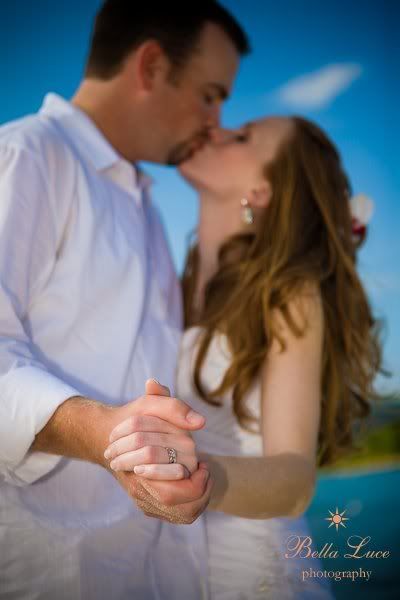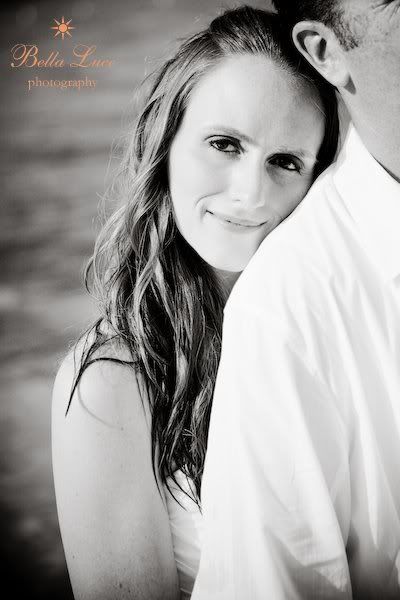 Non-PRO PICS