So, I found a Divina Sposa dress that I fell in love with (online, didn't try it on). This is the dress:
Now, I am not one to pay $2K for a dress that I'm going to wear once. I mean, I balk at paying more than $20 for any item of clothing (except running shoes). That being said, I went to trusty old eBay and found a company who would make a knock-off for on the cheap. I researched them and found that people seemed pretty happy with their dresses. So I ordered one.
This was Feb. 16. I requested they take pictures before they send the dress and also that they remove the flower that is on the dress.
March 12 I wrote again just generally asking when the dress would be ready, and they said 20-25 days. On April 6th I wrote again and they said 7 more days. Ten days later I wrote again and they said it was being "checked" and would ship on Saturday. I reminded them to send me pictures.
I got an email on Friday saying my dress had been shipped. No pictures. While I was happy that I would actually soon have it in my hot little hands, I was also really worried that it was going to look like a patchwork Frankenstein dress. I emailed them inquiring about the pictures.
They sent me pictures last night. Here they are: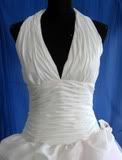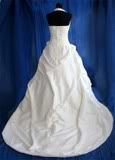 So. It doesn't look as Raggedy Ann as I thought it might. It's also not the color I thought it would be. AND they left the flower on (grrr). But all in all, it's okay for a $70 dress. I don't know. What do you guys think? Should I keep shopping?