Quote:
Originally Posted by jmb0902

So what did you end up ordering
I am trying to do some of that now. I just ordered matches (for the travel candles I still have to personalize!) and I am thinking about cups next.
I think this will be it... I think... LOL. As long as I stop looking then I won't order more things. Oh, and I'll probably get scented candles or a scented plug in.
I'm doing a pre-oot bag (if it's a couple they will get 2 each and if it's a single person they will get one of):
- Set of luggage ID handle wraps
- Bubba kegs (they can bring them down with them if they want... plus I don't have to take them all with me)
- Inflatable travel neck pillows
- Pre-travel booklet (I'm putting one in each package with info about customs, the resort, who's coming, dress codes, currency, things to take, etc.)
For the OTT bags, every bag will contain:
- Welcome letter
- Wedding time line
- Clear Eyes
- Travel size of Q-Tips
- Tide To Go Stain remover
- Travel size of Purell hand sanitizer
- Travel Med Kit - includes travel sizes of: (2) Splinter Out, (4) Tylenol PM Extra Strength, (2) Bayer Aspirin, (2) Advil, (2) Benadryl, (2) Dramamine Chewable Formula, (1) Imodium, (2) Neosporin Ointment, (2) Blistex Medicated Lip Ointment, (2) Kendall Webcol Alcohol prep, (3) After Bite Insect sting relief wipe, (2) Banana Boat Sport Sunblock SPF30 (packet), (2) Natrapel 8 Hour Insect Repellent Wipes, (1) Icy Hot Medicated Patch, (1) Johnson & Johnson Band-Aid 8 pack, (1) Masune Single Use Cold Pack, (4) Tempa-DOT Single Use Thermometer
- Puzzle book
- Leather photo bookmark
- Dolphin shaped bottle opener
- Sewing kit
- Grooming kit
- Waterproof wallet
- Wedding tissues
- Playing cards
Favors will include: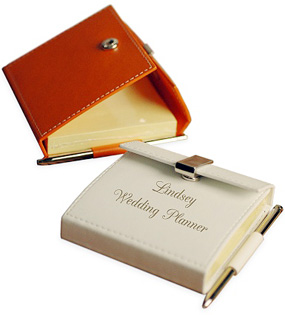 - Mini leather note pad with pen for the women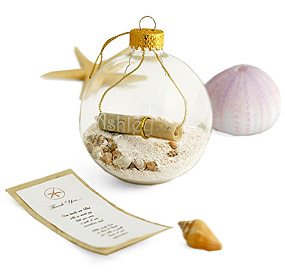 - Beachy ornament with Riviera Maya 2009 engraved on it for each couple/single person
- Glass coasters for everyone
- 5 in 1 measuring tape for the men