We're back! and yes it has been a long time since returning, so I do apologize now for the delay.
we are now husband and wife! We couldn't be any happier!
Now for a review...Im not sure if this even sure if this is a review...
Here's the thing... My Mom always told me…
If you don't have anything nice to say…Don't say it at all...
My review is def on the "don't say it at all" side.
Unfortunately, from beginning to end dealing with Dreams Tulum was TERRIBLE!!!! By beginning I mean from our arrival on wards...I don't think I have a single good thing to say about the way they handled our wedding.
Long story short... As Im sure many of you know...At the beginning of Oct Dreams Tulum was closed. The Government took possession of the resort. And it was shut down. Closed until further notice. They then began re-locating all Oct and November weddings to other well reputable resorts. Our wedding group ended up at the Barcelo Maya Palace. The resort itself! Beautiful! If we weren't having our wedding there, a vacation there would have been really nice. What happened was that Dreams Tulum re-located us to a resort that was at capacity, in regards to weddings! When FH and I arrived on Sunday night, they didn't even have a room for us. The Barcelo was FULL! They wanted to stick us so far away. This was unacceptable, seeing as we are the bride and groom and all of our guests were getting better rooms than us.This was not going to fly. The following day, when FH and I went to meet with the WC from Dreams, she told us that's we would pretty much be having our wedding inside. This was due to the fact that the resort was packed with weddings our day. Every other wedding party was given priority over us,and due to the fact that we had the smallest group we weren't of importance. Sure those words didn't directly come out of her mouth, but they might as well have, considering the treatment we were receiving. We were being shoved into a meeting room, for our reception. We were pissed! We did not spend all that money and take time off work to be swept under the rug and be put in a meeting room. This room didn't even have a window. We were livid. After DAYS of dealing with nothing but crap from both resorts. We decided to move our wedding to a whole other resort. At their cost. Once we brought it up Dreams and Barcelo, they became active and started to help. We finally got our reception outside thanks to a fellow bride, who said it would be okay if another wedding reception was held a few yards away from theirs... Thank god for her sweet soul! Other wise we would have been celebrating our reception in a conference room.
In the end our day did was nothing short of perfect. But that's only because we were so over the moon. And so happy to finally be getting married.
There still were sooooooo many mistakes along the way, example - they brought us the wrong cake, then they brought us the right one, but it had the wrong filling. A filling DH hates. Other tid bits here and there, not important to DH and I but oh lord did my mother throw a fit...
My biggest problem with this whole fiasco... Our marriage certificate. We received the certificate two days after the civil ceremony. Perfect! Nice timing! Until I notice my mother's age! I guess her writing wasn't clear and they added an addition 7 years to her age. Weird seeing as they had the year she was born written down as well, I guess they didn't want to do the math. One or two years, no big deal, but 7!!! Not going to happen! We had to send it back! Now instead of coming home with proof that we got married, we have nothing. The other certificate (English version) I guess it goes with the DW territory but it sucks.
In the end what was important is that we got married. He is all that was important to me, during this whole thing...
I'm sorry I couldn't give a proper detailed review... I don't think any one wants to read, me complaining about almost everything... lol! no fun! no fun for me to type (and re-live) and no fun! for you to read.
ps) The only thing I can recommend!!! Bring your own photographer! It's so totally worth it! We had an amazing photographer with us. We even got to do a Trash the dress that turned out so beautiful! I couldn't be happier with the pics.
Also... Barcelo's in house photographers and videographer. Really good! Better than I imagined! I recommend them too, if you cannot afford to bring your own. I really liked their pictures. The video. Kind of cheesy at times, but oh so good!!! Def a wonderful keep sake! I would def recommend them.
If you do have any questions regarding the resort, I am more than happy to answer!
Any how, here are some pics a lot of pics… sorry there are so many... Its hard to choose...Its a mix of our photographer's pics and some of the resort photographer's pics.
DH and Groomsmen getting ready.
DH opening his wedding gifts.A Stainless steel Dogtag with his birthday,mine, and our wedding date engraved.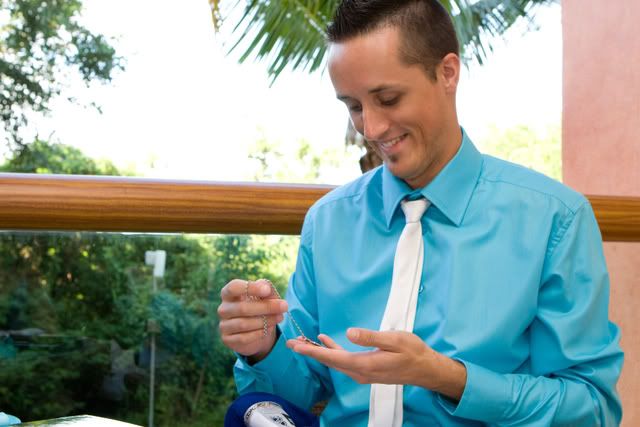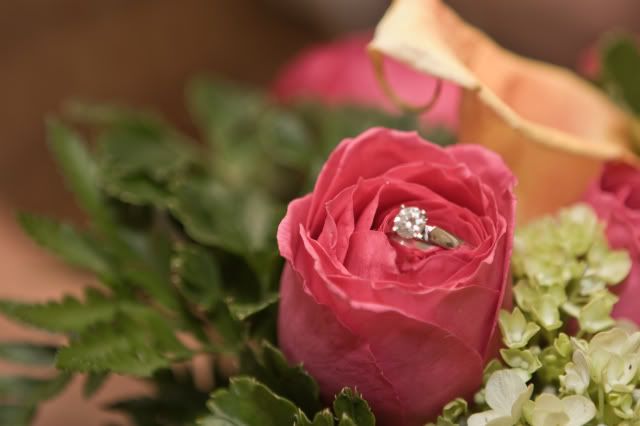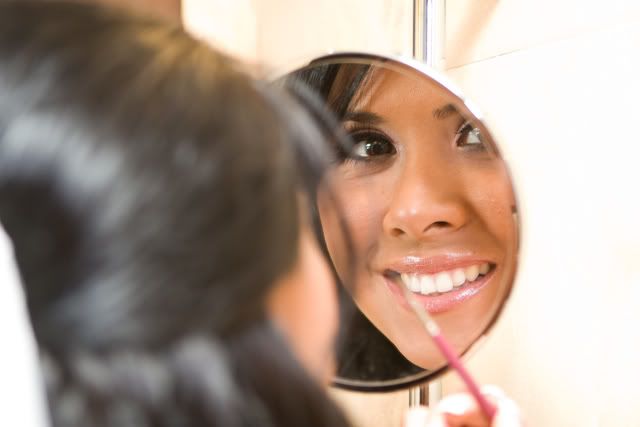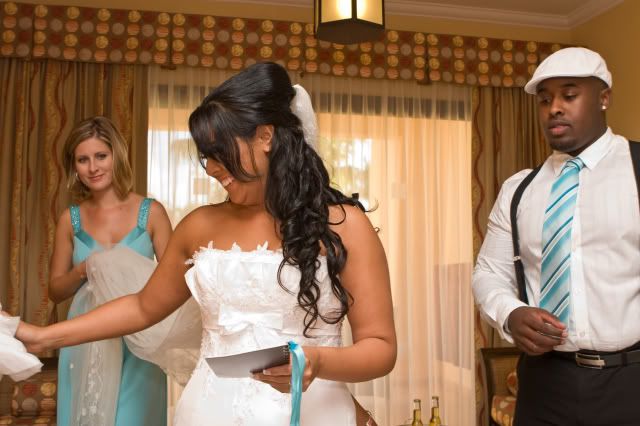 Getting my gift from DH. It made me ball like a baby!