Ok well I must preface this post by saying I've got a HUGE wedding party. 2 MOH's ~ my best friend and my 13-year-old daughter ~ 7 BMs, 1 Junior BM, and 1 flower girl (it may be 2 come early next year). So I immediately knew there was no way I could afford paying for all their dresses, although I am paying for my daughter's of course, my Junior BM and the FGs. I really wanted to at least provide all my girls with their shoes and jewelry, but still manage to stay within a reasonable budget.
It's not easy finding cheap, good quality jewelry ~ but I lucked out when I found these fabulous 1928 brand jewelry sets at Kohl's. It's priced as $19.99 a set, but I had been waiting for a fabulous sale, and a couple weeks ago they went down to $9.99 plus 30% off for Kohl's card members, which I am!!!
So I got these for $7.00 each
As of this past weekend they were still $9.99 a set which I think is a great deal for such cute jewelry. There are also tons of other color combos ~ my wedding colors are canary yellow, latte brown, terracotta, and hints of red. So these worked out perfectly ~ although I did purchase 2 sets that I thought were adorable to just add to my own jewelry collection!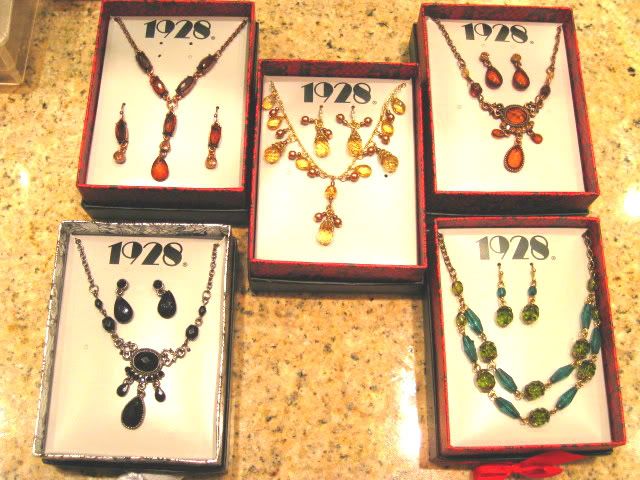 The shoes are all purchased from 6pm.com and I was amazed at how I was able to find shoes that were decorated with jewels of my exact color combinations and for great prices. I've got 3 BMs each wearing one of the colors (canary, latte, terracotta) so I've got them all with the applicable matching shoes. Aside from these shoes, which are for the reception and pics, I also purchased each girl a pair of $2 flip flops from Old Navy (either in pearl white, or copper brown) for comfort of course! With Old Navy I had a 20% coupon and a $20 off coupon for being a cardholder. Another great deal!!!
Basically ~ my advice is to search, search, search and don't buy anything without a coupon or discount ~ there are tons of coupons and sales out there that can really help you save!!!!
Now onto the pictures....
My daughter's set: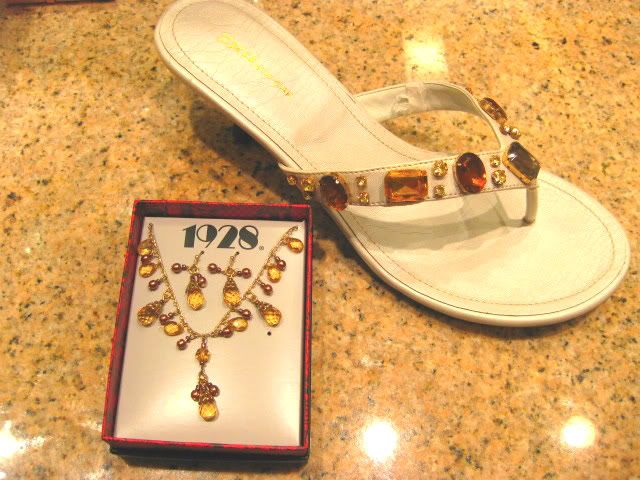 For other MOH and BM in canary: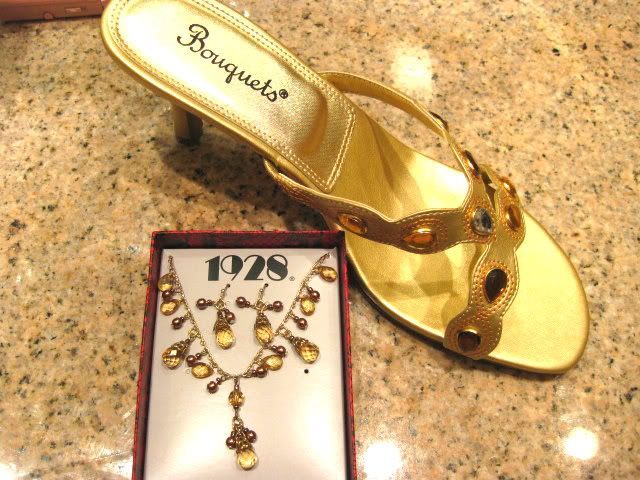 For BMs in Latte:
For BMs in Terracotta: