Finally, my review and wedding pics….
10-25-08 Jessica and Christian's Wedding
Edenh Real Arena Punta Cana, DR
Packing and Luggage-When you arrive to Punta Cana, it pays to get a sky cap right away. They'll stay with you and take your bags directly to shuttle. Otherwise, you can grab a cart but they won't let you outside the airport with it. Then you have to drop everything and get a skycap anyway, unless you have 1 or 2 bags and you can drag them through rows of shuttles if you're taking a shuttle yourself. I had 4 really big bags with me, so I had no choice.
I'm just glad everything arrived and intact! My cheap bags ($10-12) stuffed with plastic bins worked out great. The luggage I brought over only had the OOT bag stuff, which I needed in order to set them up and distribute. My other pieces of luggage (9 assigned to my family) filled with the centerpieces, favors, etc., were arriving 1 or 2 days before the wedding. Once those arrived we took them directly to the WC's office. I'm very happy nothing came broken or missing. So, bubble wrap and plastic bins worked out great.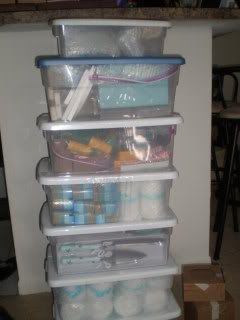 DR Customs-Never say you're bringing favors or gifts, simply wedding d©cor!
Makes things less complicated.
Flight Information-I arrived a few days before the wedding, 4 days to be exact.
I had everyone's name, flight numbers, arrival/departure times, record locators, even seat assignments in a spreadsheet separated by day of arrival. It seemed all the flights arrived at 1:20p-ish which meant all guests taking transfers to the resort would arrival at 3p (I learned that after the first day of waiting for guests and found I had nothing to do in the lobby for 2 hrs!).
Spreadsheet I created below:
Meet & Greet- We were the first faces our guests saw when they pulled into the resort. We had the bags in the lobby, labeled and ready to be distributed. I put condoms in the single guy's bags and didn't want to offend people, so I made sure I labeled the bags with the guests' name. We didn't mind handing the out the bags, it was fun! Otherwise the resort wanted to charge $2-3 per bag to deliver them to the guests' room.
Story and Recommendation- On the first day guests began to arrive, we had family members (cousin, wife, and 2 small children) arrive to Newark airport, only to find out AA changed their itinerary. Their flights were now leaving from JFK. They ended up missing their connection and were diverted to Dominican Republics' capital city, Santo Domingo. After a 4hr bus ride in uneven dirt roads, they arrived to the resort (around midnight). We don't know who to blame, travel agency, airline, or them. They booked 6 months in advanced and a lot can change with the airlines schedule. I recommend either yourself or travel agent stay on top of this for you the sake of your guests! They're trip was not ruined by this incident, thank god!
Another Recommendation- A la carte restaurants
Since I arrived on a Tuesday, I was able to book all the a la carte reservations for the entire week based on the number of guests I had each night. This worked out great. My guests did not have to worry about making the reservations or worrying about eating every night at the buffet. We were a big group, so sometimes we had to split up. For instance, the Sunday after the wedding, we had 48 guests remaining, so we booked the Japanese restaurant. We used 3 Hibachi tables (12 each) and the rest were sitting close by on regular tables. Not everyone showed up but the majority did and enjoyed it. All the restaurants we reserved gave us excellent service!
The rehearsal dinner- The day before the wedding, we asked the manager in charge if he could accommodate 93 guests in the buffet, simply separate a section of the buffet area with tables of 12 for us, and he happily agreed. They did bend over backwards for us. Then again, we happily compensated them often. It's amazing what tipping can do. Hint hint anything is possible (at least at this resort)!