I have never posted pictures so I hope this works!
I am one of the least creative people around; I cannot thank you ladies enough for all of your support and fantastic ideas. Your sharing of information, templates, ideas and of course the comraderie in stressing together – especially through all of this DT closure business!! Thanks to so many of you for your great ideas, many of which you'll se reflected in my planning pics!
Boarding pass STD
Passport invitation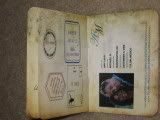 RSVP postcard (from vistaprint)
More to come...