Well I can't believe that we leave for the wedding in only 10 days. BDW has been a lifesaver for me. All of your stories and ideas have encouraged and guided me over the past few months of planning and you all play a little part in our wedding. I want to say that I don't think any of the ideas you'll see below are my own, but rather all from you. While I can't remember where I got them, please know that you should take all the credit! Thank you for everything. I hope this thread is as helpful to you as all of the previous planning threads were to me.
My engagement ring – I wish this picture did the ring justice, but my camera doesn't take good close-ups. We loved shopping together for the ring and finally purchased it in NYC.
We had engagement pics taken in the East Village of NYC by Agaton Strom.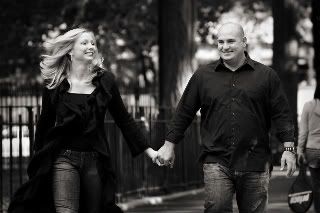 Our color scheme is chartreuse green and chocolate brown with accents of raffia elements and natural starfish. I love monograms so you will see we incorporated it into many parts of the wedding. Our monogram was designed by Brittany Hermansen at Eiffel Printing & Design. Brittany is fantastic!
Inside of STD.
Thank you Notes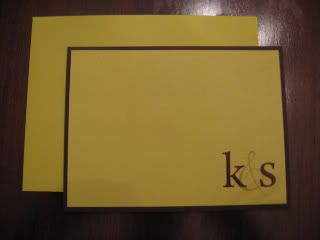 The Invitation is tied with a raffia bow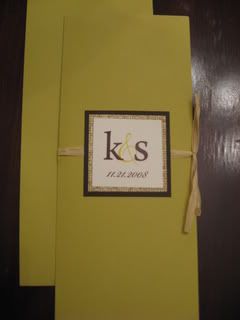 Opened invitation with the invitation on the right and the 'Festivities Card' on the left. The 'Festivities Card' is held in place with the wide cane band. It slides in and out
MORE IN NEXT POST.....