Hi Everyone! We have been back for a few days and I am finally finding the time to post on here. I will be posting my planning thread today hopefully and I will also be posting some items that I have for sale.
I am really excited to tell you guys about our amazing time at Club Med Cancun. I haven't come across anyone else on this site that is getting or got married at a club med so hopefully I can introduce a new hotel for you to consider.
Number of Guest: 52
Resort – Club Med! I love Club Med! I always have! I grew up going to Club Med's and couldn't think of a better place to get married. I HIGHLY suggest getting married there! The resort is extremely well maintained and everyone is so friendly. Your not just a number here…We were the only wedding. They don't do one every hour like they do at some other places. The way Club Med works is they have G.O's (employees) and then G.M.'s (guest). The G.O's are encouraged to party with the guest. They become friends and everywhere you go they call you by name. It's such a great place. There is also a Chief of the village and he is like the manager of the village. He is always around. He's not hard to find like some places. You know who he is and he is very approachable and in our case was overly generous by giving my father a discounted rate when he decided to stay an extra day.
Price: $110 pp…includes ALL food, drinks, sports (kayaking, sailing, trapeze, water skiing, etc), tips, entertainment, etc. Truly all-inclusive. You literally don't spend a dime at the resort. I had a few guest complain to me because they had saved up a lot of money to spend in Cancun and hadn't spent any! I think that is a good problem to have! haha
Wedding Planner: Club Med doesn't have their own wedding planner on site. They use an outside lady named Sharon (she does weddings all over Cancun…if you want her info PM me). She was Amazing! She is extremely thorough and a real pleasure to work with. She made everything so easy and I can't thank her enough for all of her help! She is really easy to contact too! We must have emailed almost everyday for the last few months. I flew to Cancun to do a site visit last August and she picked me up from the airport…took me shopping for centerpieces and took me to the resort….no charge…and she even bought back from me all of the centerpieces so I wouldn't have to deal with bringing them back! Also, she gave me additional items to use for my centerpieces (shells, trays, etc)…again no charge. She rocked! I had Sharon do the ceremony set up and then Club Med took over for the reception. They set up the tables, music, cake, etc. Club Med has an events coordinator that took really good care of us. Throughout the entire week he was there for us if we needed anything.
Getting to the Airport: We went with my Sister, her husband and their 3 year old son to the airport. My sister isn't exactly one of those that is on time…So we arrived at her house 30 mins before we needed to leave. Amazingly we were all in the car and ready to leave 15 mins before we needed too. Good start we thought…until we went to turn on the car and the battery was dead!!!! Amazingly we found the jumper cables really quickly and was able to get the car started within minutes. Then we started our trek to Miami Airport (1 hour drive) in the middle of morning rush hour. We were in the HOV lane the entire lane and were moving pretty good…Then my nephew started throwing up his breakfast all over himself and the car seat! So as were driving my brother in law and my husband were cleaning it up. It was a real mess! We finally get to the airport and were able to check in curbside for new cost!!!!! Amazing, right? We tipped the guy well and were inside at our gate in no time. Soon after we got to the gate my nephew was playing with my mom (who flew in from DC and was on the same plane with us from MIA to CUN)…and he had horrible diarrhea in his pants! Well my sister didn't have any extra clothes except for underwear so we had to leave security and buy clothes….Needless to say it was a very eventful trip to Cancun.
Cancun Airport – Smooth as can be. I was traveling with 9 family members and we had at least 15 bags and not one person was checked. As soon as we got outside we saw our shuttle and were at the resort in 10 mins!
Weather- When we arrived it was really cool…77ish and EXTREMELY windy!!! I was really concerned that it was going to be to windy and cold for my guest to enjoy themselves…but everyday it got a little bit warmer and was only cool at night really. The wind died down a lot too. The Club med resort is on the point of the hotel strip….So it has a beach on the main side overlooking all the other hotels and then a beach on the other side with no hotels in site. This side also had no wind. So if you wanted to sit in the sun without a breeze you had that option.
Room – We got upgraded to an Ocean view room. We could have had an ocean suite…but we couldn't justify the extra money…how much time do you spend in the room anyways! The rooms were very clean, modern and comfortable. Good A/C and awesome beds. When we arrived they had flowers, chocolates, a candle and a free couples massage certificate waiting for usJ
Food – As in Club Med tradition, the food was AMAZING!!! All of my guest couldn't get over the awesome food that they had. This club med had a Main Restaurant (buffet), a specialty restaurant (at night, 5 course meal), a tapas restaurant/Late meal restaurant….it served late breakfast, late lunch, tapas (by reservation) at night and then late dinner. SO pretty much you could eat ALLLLLLLL day.
Bars- There were three bars and the drinks were constantly flowing. They served good strong drinks all day and you never really had to wait for a drink. They also brought drink and fruit to you out by the beach, pool, etc.
Guest Arrivals – Went really smoothly. We knew when every one was coming so I separated the duty of greeting the guest among my family members who all arrived one day before the guest did. It worked out great. Everyone felt good to be greeted by someone they know.
Welcome Dinner- For the welcome dinner the club closed off one room for us and we were able to have our own little private area. The dinner was great except for the fact that 10 mins before we arrived my husband started feeling like he was going to throw up…within 15 mins of being there he had to leave…so did my sister, my mother and my father!!! ALL of them got sick by my nephew (who as I mentioned earlier got sick on the way to the airport). From that point on it spread through my guest like a wild fire! The following day all of the sick people (including my husband) slept the entire day. Luckily it was just a 24 bug of constantly throwing up and diarrhea. And by the time the wedding came no one was sick. BUT after the wedding it still continued to spread….in all 10 people of the 52 got sick!!! Surprisingly though it didn't seem to ruin anyone's vacation. It went through their system so fast. If anyone gets sick it is usually me…So I am really surprised that I didn't get sick!!
Rehearsal Dinner – We had our rehearsal dinner in the same room that we did the welcome dinner. Luckily all of my family and my husband was feeling better so they were able to attend. They didn't really eat much, but were able to attend.
Hair / Makeup – My hair and make up turned out perfect! I did a tight French twist and put a flower in it. I was going to wear a veil, but the wind was so strong that I didn't want to be bothered with it (I will be selling the never used veil…should be posting all for sale items today). I had good family friends do all of our hair and makeup and they really did an amazing job.
Wedding Day – The day started off looking like rain. It was still really windy out and I was really concerned about it raining for the ceremony…but my grandmother was looking over me and the skies cleared just in time for the ceremony. It was truly beautiful from our ceremony till the time we left 4 days later. Up until then it had been overcast, windy and cool. I was so calm the wedding day. I even couldn't believe it. I was just so relaxed. I am usually a worry wart and need to know whats going on at all times. But not that day…I was so calm and I'm really glad I was. I hate being stressed.
The Ceremony- We were going to have our ceremony on the beach, but changed our mind and did it on the grassy hill next to the beach. I am so glad that I changed the location! It was so picturesque. We had a mariachi band and were married under a beautiful bamboo gazebo. It was perfect. The entire ceremony cost us about $2,100 I believe…this included flowers for my family (step mom and step dad), my husband's family, flower girl, ring bearer, 3 bridal party, 3 groomsmen, my bouquet and my husband's boutonniere, chairs, gazebo, pastor, mariachi band and sand ceremony.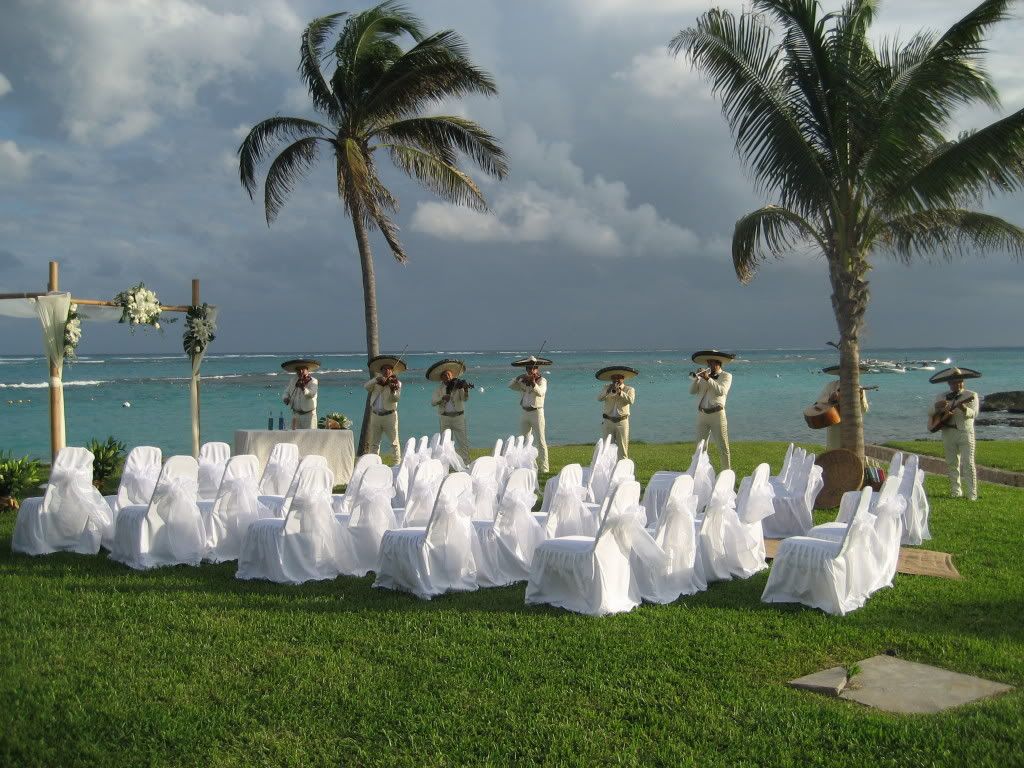 Reception- At this resort we rented out the specialty restaurant…They had a wide selection of menu choices. We decided on the $25 buffet. There is a 100 minimum to rent out the entire restaurant and since we only had 52 guest we had to pay for the extra 48, but it worked out because they charged us like $10 for the additional 48. So we got the entire restaurant to ourselves, plus open bar, a dj, and a cake for 50 for $2,300 I think…Something close to that. Which I thought was a deal.
Photography – A good family friend is a wedding photographer. So we paid for her entire trip (less than $700 for air and 4 night stay) and she did the pics for us for free. She did an amazing job and I am really happy with the pictures. The only thing I wish we did was have more just Kevin and me shots. We were working against time since the sun was setting so quickly. But what we got was great! The next night we did the ttd pictures. This was the first time that my photographer had done this…so it was sorta a rough start. The pics would have been good….but my husband was not really enjoying himself so he wasn't smiling in a lot of the photos. She had us crawling around on sharp rocks and the whole thing wasn't what I wanted….but we went along with it. The next morning I was up really early and the light was so beautiful out that we decided to do it again! My photographer was asleep, but my brother in law was awake and so he took the shots for us (he is a professional photographer too). Those shots turned out awesome and were exactly what we wanted! I am so happy with them!
Guest Departure- Over the next few days we said to goodbye to our guest one by one and then on the last day we were down to 8. It was perfect.
We had such an amazing time. I hope I didn't ramble on to much:)