3 stone rings, what kind of band did you get?
Posted 03 November 2008 - 05:44 PM
this is my ering
---
Posted 03 November 2008 - 08:31 PM
Quote:
Originally Posted by nueland

I have a ring almost exactly like yours and I got two of these bands, one for each side. I had a very hard time decided but nothing else looked right. I would post a pic but my ring are being sized and sodered together
thanks! would you mind posting a picture when you get them done? I was thinking of getting mine soddered together if I got two band as well....
---
Posted 03 November 2008 - 08:40 PM
I get my ring back on thursday so I would be happy to post a picture for you then!

---
Posted 03 November 2008 - 09:48 PM
I also have a 3 stone right in emerald cut. I know this is a bad pic but here's my ring with my band. I didn't think that different stones would look right but I liked the way it looked. It also has a slight curve.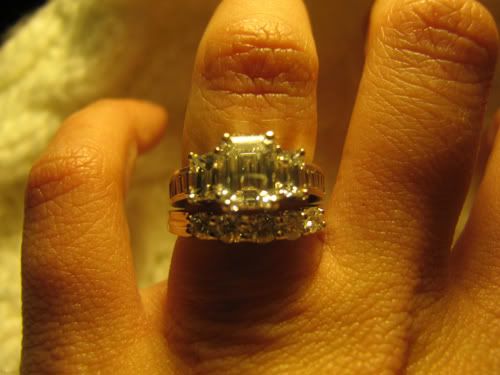 ---
Posted 04 November 2008 - 02:36 PM
Great topic!!! Thanks for posting about this MsShelley ...I'm in the same situation ... and I think I want sapphires on my wedding band ... I'm not sure though ... I have a 3-stone, square, princess-cut e-ring, and they're raised. Almost exactly like yours MsShelley (I think we even looked at that setting and considered it!).

---
Posted 26 February 2009 - 08:47 PM
so finally after about a year of searching we finally found and purchase my wedding band, here it is, I can't wait to wear it!
---
Posted 26 February 2009 - 09:50 PM
Looks great Shelley!! Glad you found something you like!

---
Posted 27 February 2009 - 06:13 AM
My ring is a 5-stone, but I had a similar problem finding a band that looked "right" with it. Like the other ladies here, I settled on a 5-stone diamond band recommended by our jeweler that is similar to this:
Five-Stone Diamond Ring in Platinum (1/2 ct. tw.)
I had originally wanted a plain metal band, but none I tried really looked right with the e-ring - I needed the stones in the wedding band for the combo to look right (flush with the stones in the e-ring), and it seems that everyone else in this thread came to the same conclusion.
Our jeweler also did recommend fusing the two bands as an option, but I want to keep the e-ring and band seperate. I am guessing that if you choose to fuse the rings, you'd have more options.
---
Posted 27 February 2009 - 11:07 AM
Shelley your wedding band looks beautiful matched with your e ring. I never saw that either until now but it's veeeeerry nice. Me likes.

---
Posted 28 February 2009 - 07:59 PM
perfect! very pretty!

---
---
0 user(s) are reading this topic
0 members, 0 guests, 0 anonymous users