I actually got it Monday and I am just now posting. I know- bad BDWer. Monday my battery in my camera was dead. Then Tuesday we carved pumpkins.
Excuse my hair and makeup. It was long day and my face just had a bad breakout.
Looking at those pictures, I need a nose job! My nose is so curved! Oh well one day maybe.
Just incase anyone wants to know it is Eden Bridals Style 1183.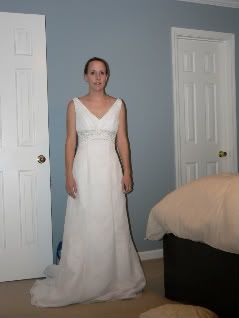 A picture of our pumpkins too. Mine is the spiderweb.