*** Sorry this post is so long ~ but I wanted to cover everything and hope it helps!! Tons of PICS are below. If you have any questions, please feel free to ask!!!
* * *
I wanted to share my current plans in hopes that it might provide a great alternative for brides seeking a non-resort venue (if you're looking for an upscale or ritzy place this would not apply), or excellent caterer/bakery or wedding coordinator in the Riviera Maya area …
First off both FI and I don't do all-inclusives, mainly because we spend most of our time out exploring and don't spend a lot of time at "home" when on vacation so our food option would go to waste. Also because all of our families own timeshares so we normally stay in units with kitchens and enjoy cooking for ourselves. But finding a location that wasn't all-inclusive was a bit difficult in the Cancun/Riviera Maya area, leading us to the idea of finding a place that could cater and host our wedding celebration.
In searching for a caterer, I was bit overwhelmed by the prices. Our families are serious "foodies" and we definitely wanted a buffet style dinner that was laid back and open. But I was getting quotes that ranged from $75 to $110 per person, excluding drinks.
Then I happened upon Turtle Bay Caf© in Akumal, a town that our families visited and fell in love with during our vacation in 2006.
COORDINATOR/CATERER:
After several emails and photographs received from TBC's owner, Jennifer Smith, she proposed that we have our reception in the Centro Ecologico Center in Akumal's main bay. We visited Akumal in June to ensure it would suit our needs – the day of our visit, we were lucky enough to catch a wedding reception at the CEA center, and saw Jen in action ~ she was great!
After spending roughly 10 hours with Jen over 3 meetings, we knew this was the place we wanted to have our special day. She was incredibly sweet, helpful and her prices were fair all around, she does not add extra fees to gain a commission. Best of all, the food they had was DELISH!!! FI, myself and my daughter ate at their restaurant 4 times, including our free food tasting where Jen encouraged us to try exactly what we wanted on our buffet menu. We stuffed ourselves, and the last day we were there, she sent us to the airport with a dozen of tres leches cupcakes ~ so yummy!
Our pic with Jen – sorry I look like crap, we just finished up about 5 hours of snorkeling before this pic.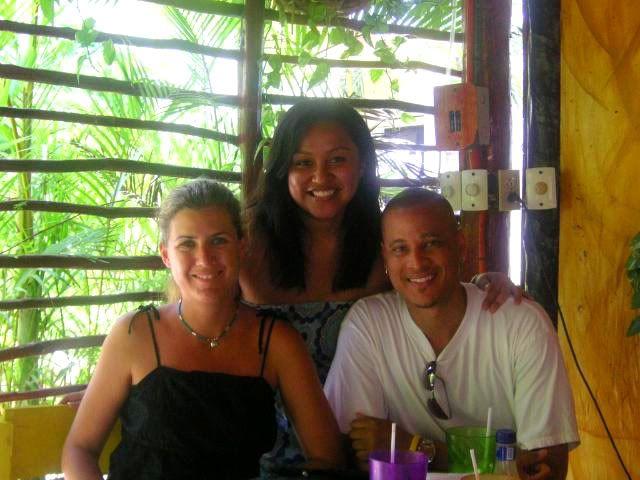 When Jen was showing us accommodation options in the area, we happened upon a couple who had just gotten married at the CEA center a week before ~ they had nothing but great things to say!
FOOD, DRINKS, CAKE:
I would highly recommend Turtle Bay for any catering needs, their menu offers a variety of choices from local food, specialty dishes, traditional "american" dishes, and excellent seafood choices. They also have a bakery so they make desserts and cakes for all occasions. And they use BUTTERCREAM frosting YAY – I was told most bakeries in the area use whipped frosting. We're having them make a small cake for us, for cutting purposes for pictures, and then having cupcakes in a variety of flavors for our guests. I haven't been quoted yet on the cake but Jen mentioned $4/slice and then cupcakes are $3/each.
If you want details on our buffet menu – 3 passed appetizers during cocktail hour, 3 stationary appetizers, 2 salads, 3 side dishes, freshly baked breads, five main entrees (pasta w/grilled veggies, fish, chicken, beef, shrimp) -- please PM me. I will say that it is costing us about $44/per person, including taxes and service charge (waiter service). We've also chose to bring our own alcohol (from Costco/Sam's Club) and hire 3 bartenders ($75 each) and pay for ice/glassware ($5 a person). This saves us tons of money and all our guests can drink the night away!
CEA CENTER:
As for the CEA Center, I will preface this by saying that it is an old rustic location (open air shutters facing the beach, no a/c, has ceiling fans). It is normally used to host and promote ecological programs for protection of marine life, specifically turtles. If you're seeking an upscale venue, this is not the place. If you want something private – can hold up to 150 people with a dance area -- and so beautiful when decorated and lit with candles, this is definitely something to look into. The cost to use the facility is a $500 donation toward the CEA Center programs, and it's tax deductible – I LOVE that my money is going toward a good cause.
There are of course regular charges for chairs, tables, linens, d©cor, etc. But all fees are within reason.
CEREMONY SITE OPTIONS:
Charlie and Maria (local Shamans) will be presiding over our Mayan/Cosmic ceremony on a small private beach area in front of Las Casitas Villas (we rented a unit to have full access to this area of the beach). The CEA Center is about 50-foot walk from here, so a really close for all our guests.
Another alternative is having the ceremony at Akumal's Cannon point, there is a fee to use this area. But it is equally as beautiful (there are pics below)!
If you decide to inquire with Jen ~ please let her know I (MarieSam) sent you!!! Her contact info is on their website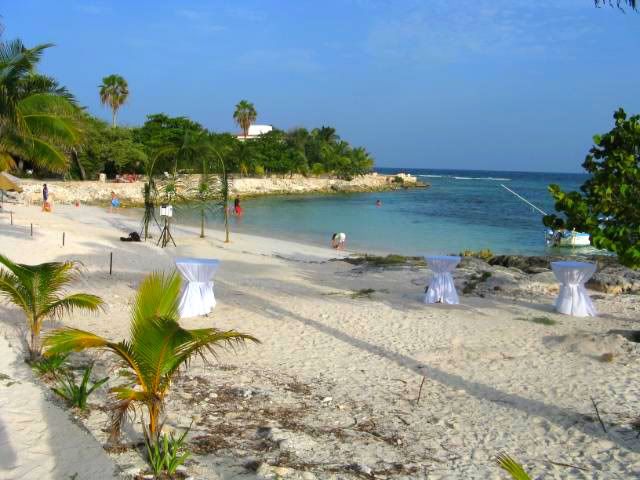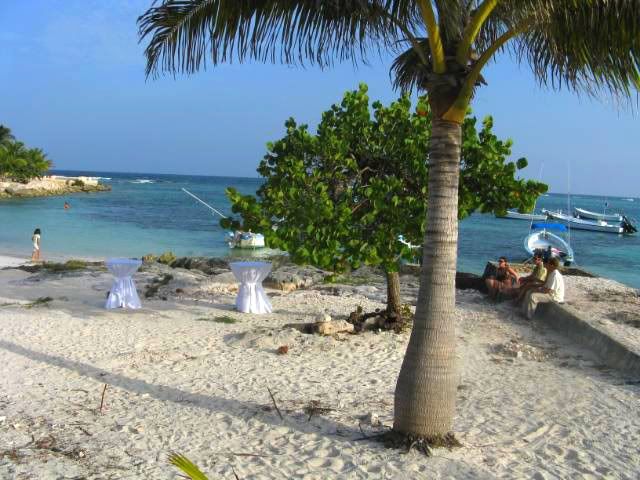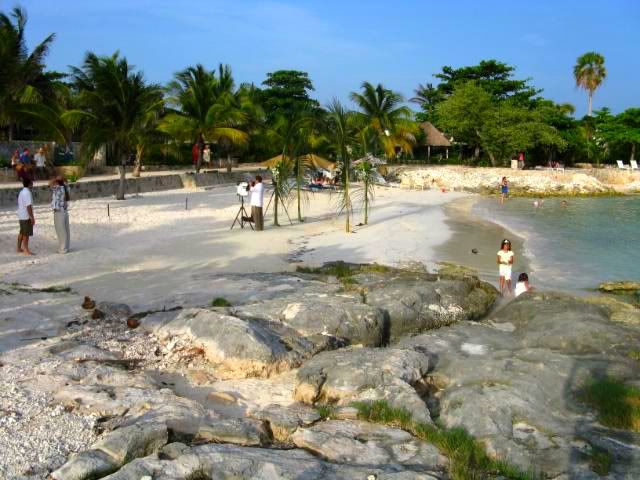 A panoramic view of the ceremony site and surroundings.

Akumal's Cannon Site – another great area to have a ceremony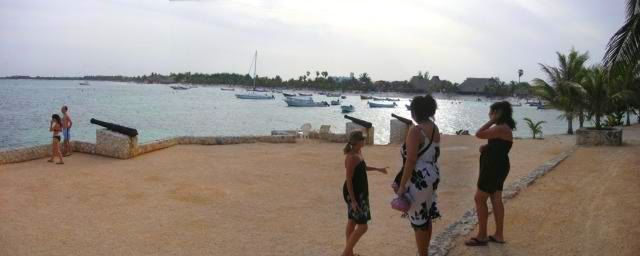 More to come in next post ....