Gosh, I feel so bad I took this long to finally write a review, but here it is!
Sorry it's so long, but there aren't any other RPLA reviews, so I thought it would be helpful for those considering it!
Hotel
- This hotel is beautiful! It's located in the heart of the hotel zone, so most of the bars, clubs, and shopping centers are walking distance. This was a plus for everyone because we all went out each night. All the guests liked their rooms. And the guests that didn't reserve an ocean view were upgraded any way because they were part of the wedding group. Our room was upgraded to a full suite and it was huge! I had a walk-in closet and it came in handy to hang my dress and change into it.
The staff at this hotel is very nice and really do work hard to please you. After a week of us being there, the staff knew my husband and I and they would give us extra attention with anything we needed!
The hotel, inside and out, is very clean. Outside there are two infinity pools which are also very clean. One of the pools is more of the party pool and during the day they play music, volleyball, drunk Jenga, ping pong, and lots more. Needless-to-say, their entertainment staff will keep your guests busy!
Food
- There are 5 restaurants plus a buffet. You are allowed 2 reservations for your entire group when you have a wedding there. For the welcome dinner, we reserved the Brazilian restaurant and for the wedding day we reserved the steak house. Both were delicious, but my favorite had to be the steak house!! All of our guests loved the food. It's also located on the terrace overlooking the ocean, so the view was great! We had buffet 5 days straight in a row because we kept forgetting to reserve another restaurant and we got so sick of it, it was good, just not for everyday dinners. The second best thing about this hotel is that you can have 24-hr room service, so we had breakfast in bed every morning! I loved waking up and having my pancakes and OJ ready for me, YUM! A few of our guests told us that their orders were incorrect when they had ordered breakfast, but it had only happend once to only 3 couples. They were just basic things like forgetting syrup, butter, or bread; things of that matter. So, it really wasn't that big of a deal.
WC
- I'm not sure if there are multiple WC's at the RIU, but I worked with Pamela. I originally started with someone else in the beginning of the year, and I never really had a problem getting an email response. Once Pamela took over my wedding plans, it would be days (sometimes over a week) before I heard back from her. I was very aware that I wasn't her only bride, but I think taking a week to reply to someone is rude, especially when that's your job! A lot of times, she wouldn't understand what I was trying to to explain. I thought maybe it was the language barrier since English is her second language, so I decided to start emailing her in Spanish- it didn't help. Perfect example: I told her we wanted our ceremony in Spanish, so she replys to me that she will let the minister know I want it in English. WTF?! Then, after knowing for months I wanted to get married at the gazebo, she tells me two weeks before the wedding that our party is too big for the gazebo area and we should have it at the beach. I was so upset that she told me this after months of confirmation that the ceremony would be taking place at the gazebo.
The day before the wedding, we met with her and went over the final details of the wedding. Everything went fine and we confirmed the ceremony details and the cake. The cake she ordered turned out horrible looking! It was suppose to have fresh flowers and instead it had whipped cream flowers and some other whipped cream decoration crap on it. It tasted ok, but I wouldn't have paid for the cake upgrade if I knew it was going to look like that.
The day of the wedding, I saw her twice, that's it. She wasn't there to take my guests to the cocktail hour or to the dinner, my friend's had to do that. Also, she told me the day of our meeting that she will set up my decorations (which were all ready to go, all she had to do was place them), just to have them ready at the lobby 1 1/2 hrs before the wedding. Well, she didn't do any of it. When my friends brought down the decor to her she asked my friends to do it. So, one of my friends had to place all the raffia fans on the chairs for the ceremony and my other two friends had to place the decorations on the tables for dinner. I was furious when I found this out!!! The last thing I wanted was for my friends to be working that day! Needless-to-say, I didn't give her a tip, gift, NADA!
Wedding Day
- Obviously the whole WC thing upset me, so I wasn't as relaxed as I wanted to be. But, I still had a great time and everything was beautiful! The ceremony started on time and the set up of the ceremony was very pretty. Even though we got married next to the pool, no one was inside of it and that side of the pool area was blocked off. There were a lot of people watching the wedding from their rooms or on the other side of the pool, but they were all very respectful and so quiet, you would have thought we were the only one's there. At the very end of the ceremony, as we started walking to the hotel, all the guests started screaming and cheering and that became one of my favorite parts of the day! So, if you are concerned with others viewing your wedding, the gazebo wouldn't be a great option. We paid extra for appetizers for the cocktail hour and the guests finished them all, so I'm guessing they enjoyed them. The WC was suppose to block off that section where the cocktail hour was-well, she didn't so there were a few hotel guests (not many, only about 6) there listening to the mariachi were hired, but they weren't eating our food so I guess it shouldn't have been a big deal, but it still bothered me. The dinner was very good and we had our tacky cake served there instead of the dessert they usually serve there. It wasn't private, however the terrace has two levels and we were on the bottom level, so no one else but the wedding party was there. Other hotel guests weren't bothering us and to tell you the truth, none of us even noticed them. So, if this is a concern for you, maybe try reserving your dinner at a smaller restaurant to ensure you don't have many hotel guests (if any) at your dinner location.
We rented La Pacha, which is the club next door at Riu Cancun, for a private party. This was the best investment we made for the entire wedding. We had it until 11:00, then it opened to the rest of the RIU guests. All of our family and friends love to dance, so we danced and drank until 2:00 am. If you've been there, it doesn't look like much because it's dark and hot. But, when we got there, they had lighting in there, so it wasn't too dark but not too bright either, we had our own waitress, bartender, and a DJ. The DJ was great, we didn't even give him a list of songs we liked, we just told him the type of music we wanted and he played the perfect songs. We seriously all had the best time dancing and drinking there!!
Overall, I loved how everything turned out, minus the issues with the WC. RIU isn't very flexible with certain things when planning a wedding (like day passes, reservation times), so just make sure you ask about these things ahead of time so you won't have any issues later.
If anyone has any questions that I may not have answered, feel free to PM me! I didn't put a lot of pics, but if you need pics of anything specific, let me know!
View from our room:
The best thing ever: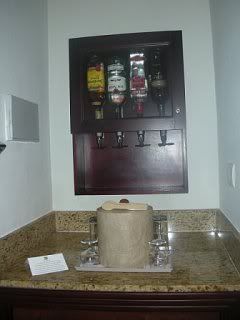 One of the infiniti pools:
ceremony location
more pics coming...