YAY ~ FINALLY, they're done! After being inspired by so many awesome STD creations on here, I collected elements from my favorites (thank you so much ladies!!), and FI and I created our own STD boarding pass.
The colors for our wedding are canary yellow, terracotta, latte brown and hints of red, but we wanted to spice up our STD's so we decided to use some metallic paper to give it a fun but glitzy feel.
They took lots of fine tuning, and even now I would still change some things, but I decided to stop being so crazy and anal and just hit the print button.
The passes -- 3 of them hooked together with a palm leaf brad -- are on MS Publisher to allow layering with the Mexico map background (I believe that was from Mel, thank you!!). The Pass Jackets are on MS Powerpoint which I believe were borrowed from Becks (thank you tons!!). So in true BDW pay it forward fashion, I've attached the templates for the passes, pass envelope, and STD letter to guests.
The template along with instructions for the DIY monogram seal is here: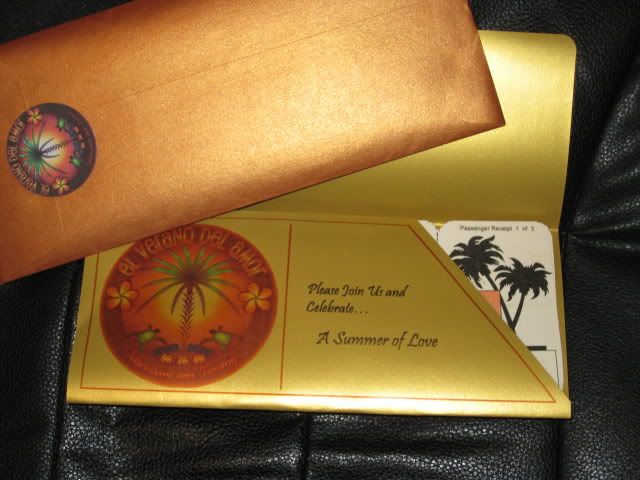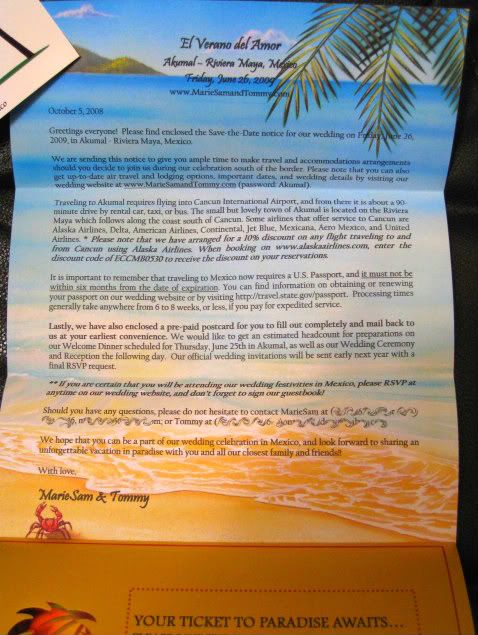 So here's what we used to make roughly 100 STD's (3 passes each):
Boarding pass:
- Off White Card stock from Wal-Mart = $4.00
- Palm Leaf Brads from Oriental Trading Company - $4.99 for 48(x2) = $10
- Fiskars Paper Cutter from Costco = $24.99
- Corner punch rounded edges from Joanne's Fabrics = $3.99
Ticket Jacket
- Gold Metallic Text Paper from Envelopemall.com = $14.95
- Palm Tree punch from Michael's = $8
Letter to Guests
- Beach themed stationary from OfficeMax = $8
Pre-RSVP Postcard
- VistaPrint.com for 100 free regular sized postcards = $14 for expedited shipping
STD envelopes
- Metallic envelopes in copper and antique gold from envelopemall.com and paperandmore.com = $30
- 30 Full sheet stickers for DIY monogram seals from Staples =$10
- Circle Punch for stickers and other DIY projects = $8+ (set of 3 shapes for $25)
Special fonts used for passes can be obtained for free on dafont.com or fonts101.com. You'll need to download these first or the passes won't show up right:
- Wmtrees1
- Batik regular
- Murray Hill
- Helinda Rook
- Tropicana BV
- Mariah
* We spent about $140 but many tools and leftover paper items will be used for other DIY projects. This project was very affordable in our opinion and really special to us because these are custom made to our liking!!