I am so excited!! I have finally picked a dress and ordered it!! I looked online at probably every dress imaginable and had "favs" in my mind that I was sticking to and this is the total opposite of what I thought I wanted and I love it!! What do you guys think? Its an Alfred Angelo btw
Me and my mom!!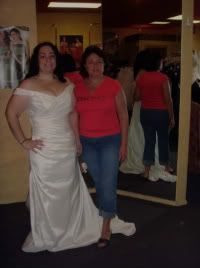 I have been looking for fuschia peep toe shoes all over and she found a pair and brought them for me!! Love them!! FI saw them today and he wants to know when I am going to wear them!! HAHA
These pics are with a random veil from the Bridal shop but I am going to get a nice mantilla that I saw online
Ignore my silly faces, need of an eyebrow waxing and lack of a tan!