OK, some of you have seen my dress metamorphasis that started months ago. I was one of those brides that started dress shopping WAY too early and ended up confusing myself. I went a VERY beachy chiffon number to more traditional then back again. Well, long story short, I found a new dress I loved every other week.
So, I gave up on the search for a while because I was honestly overwhelmed. Every single dress I tried on that I loved was a Sottero (don'tcha just love Maggie??)...and without fail, every single one of them was over my budget. Leave it to me to always single out the dresses over a grand. With the five month to receive deadline looming in front of me, I was freaking and had basically shut down. People have been asking me if I found a dress, and I have had to say no and listen to all the obligatory "Girl, you better get on it! It takes five months..blah blah blah". I really was panicked. I had a great idea about the TYPE of Maggie gowns that I would consider if I could find them affordably. They were the most flattering on me. I tried on "Paigely" a few weeks ago and loved it (pics in FH's phone, so I'll post them tonight) even with sample I tried being way too long and a size too small, it still let me know I'd like the fit/style. Paigely was OUTRAGEOUS in the shop though, so I that night, I searched the web site for similar gowns that might be more affordable. I found "Melena" which is similar in detail and design. Ofcourse, it was still 1200 (I gave myself an $800 cut off).
Well, last night, I'm trying to convince myself to go to bed. As I do everyday, I get up and do a search on all the gowns that I really loved in hopes of finding one on sale, or pre-owned. Last night I STRUCK GOLD!!! I found "Melena" for sale from a bride in the UK! It was like it was put there just for me, MY size with a bride only one inch taller than me. And the best thing of ALL was there was only 5 hours left in the auction and NO bids....I bid, listing my max amount hoping and praying nobody would bid on it before it closed, then went to bed. Wanna know how much I just paid for this $1230 gown
?? $265!!!!!!!!!
The dress should arrive next week some time...I cannot wait to put it on and prance around the house while FH is at work. hahahaha
I'll post pics of me in the similar gown in a bit. Going to see if I can get him to transfer the files on his phone, he's promised not to look in the folder that has my try ons in it, and he's more superstitious than I am, so I'm pretty sure he won't.
Sorry for the long story..I'm just SO happy!! WHAT A STEAL!! Those of you who know about our quads know we are on a tight budget, and this dress is a God send.
Paigely vs. Melena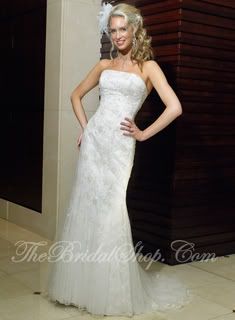 Material and rouching is the same but Melena has the godet organza panels in the skirt for movement and an illusion train instead of full chapel train. I'm going to have it altered into a sweetheart neckline since I can afford more extensive alterations now.