My surprise bridal shower was on Sunday. Even though no one slipped, I still knew it was my shower. I loved my shower. It was absolutely perfect. It was held at a country club near us on a beautiful golf course. It looked like a mountain lodge, really pretty.
My mom and sister (moh) did the centerpieces and decorated the cake table. It looked so cute. My Aunt got the cake it was so good, half vanilla half chocolate with strawberry cream filling. Yummo!
My fmil did the favors. She did a candy buffet. I was talking to her about wedding stuff and I kept mentioning how cute the candy buffets that some girls do are. So she made me my candy buffet. It was perfect. It was all of me and Derek's favorite candies, we LOVE candy. Fbil's mom made milk chocolate engagement rings and white chocolate bride and grooms. My fmil had little gift bags that she tied a pic of me and Derek to and made a little poem for it.
The only thing that went wrong….someone mentioned to me that I had a ton of gifts to open, which I did I got so much great stuff. Well then I started thinking "Oh crap I have to open up this stuff in front of everyone". I broke out into hives. I hate being the center of attention. I really wasn't nervous about the shower but just that one second I thought about opening gifts and broke out. It really wasn't a big deal, I had them on my fore-arms and no one saw them unless I showed them. I took some benadryl when I got home and they went away. I hope this doesn't happen at the wedding.
I brought my camera so I have a couple of pics, not many. I'll try to get more pics from fsil and fmil. My mom took pics but she has no idea how to put them on the computer, I'm still waiting for her to send me pics of my wedding dress. lol
Ok, here's some pics...
candy buffet
bags for candy buffet there's a pic of me and derek attached sorry photo sux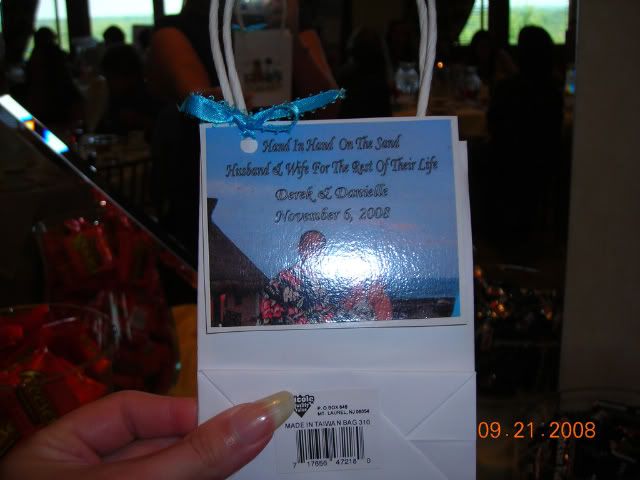 cake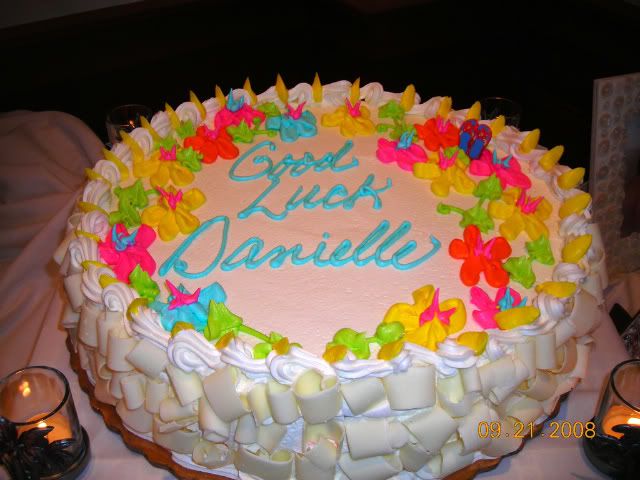 cake table with pics of me and derek when we were babies (they found a pic of each of us on the beach) and the one and only good pic of me and derek. table is also decorated with seashells, sands, and candles (same centerpieces on tables)
fsil, me (ignore my face), and my sis (moh)
my mom, me, and sis (she has had that cheezy grin in pics since she was 5)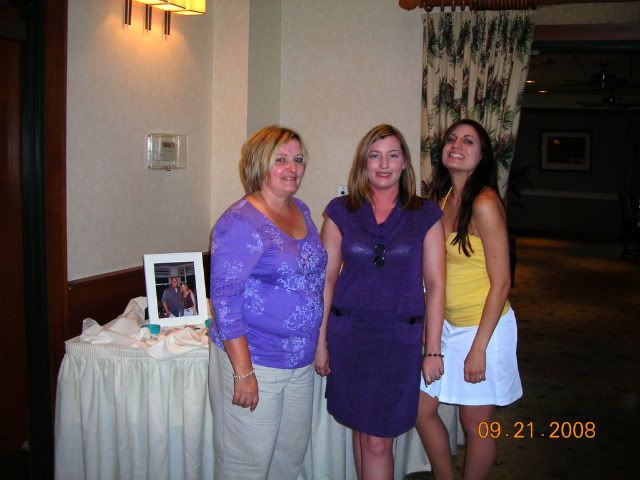 my mom, me, and fmil