Hi I just got back from our wedding!! It was amazing!! I think the best advice I could give anyone getting married here is don't worry....this place is so beautiful and fun and the wedding planners are so thorough and sweet that nothing will go wrong on your day!!
our OOT bags were a hit!! They were $2 each including the iron-on transfer from cheaptotes.com. Everyone used them for the pool and excursions.We put welcome letters in them along with:
AlkaSeltzer,Pepto Bismal,advil,immodium,earplugs for light sleepers,fans for the ceremony, and clothespins to pin the curtains shut to keep out the sunlight and chips and snacks we purchased in Playa Del Carmen.
[IMG]http://i305.photobucket.com/albums/nn231/punsapaya/MikeDesiree-0.jpg
/IMG]
We were married at the gazebo....it was beautiful. We hired the harpist and he was incredible.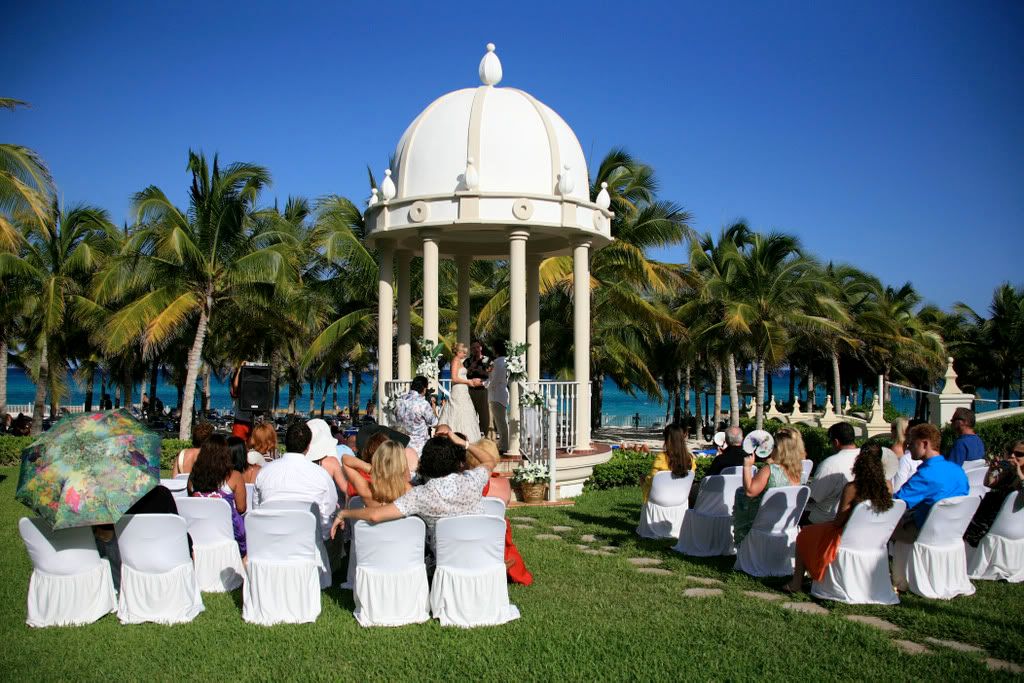 We hired a videographer and a photographer from the hotel...both were fantastic. We also brought a friend of ours from home who is an artistic photographer who also took shots that I will post when I get them. Our friend was very complimentry in regards to the equiptment the hotel photographer had.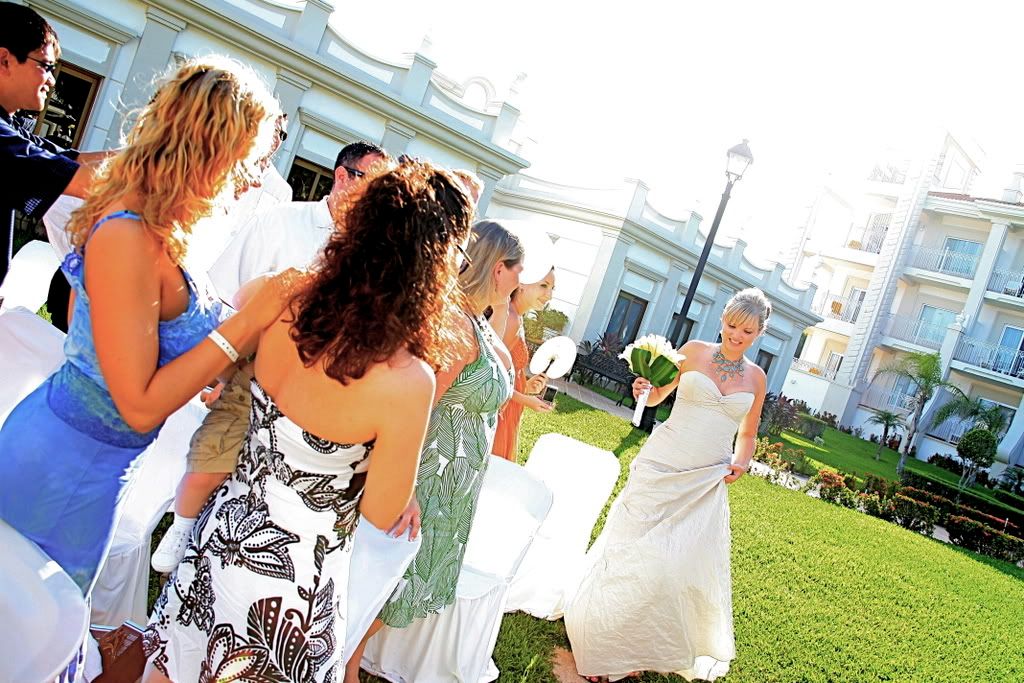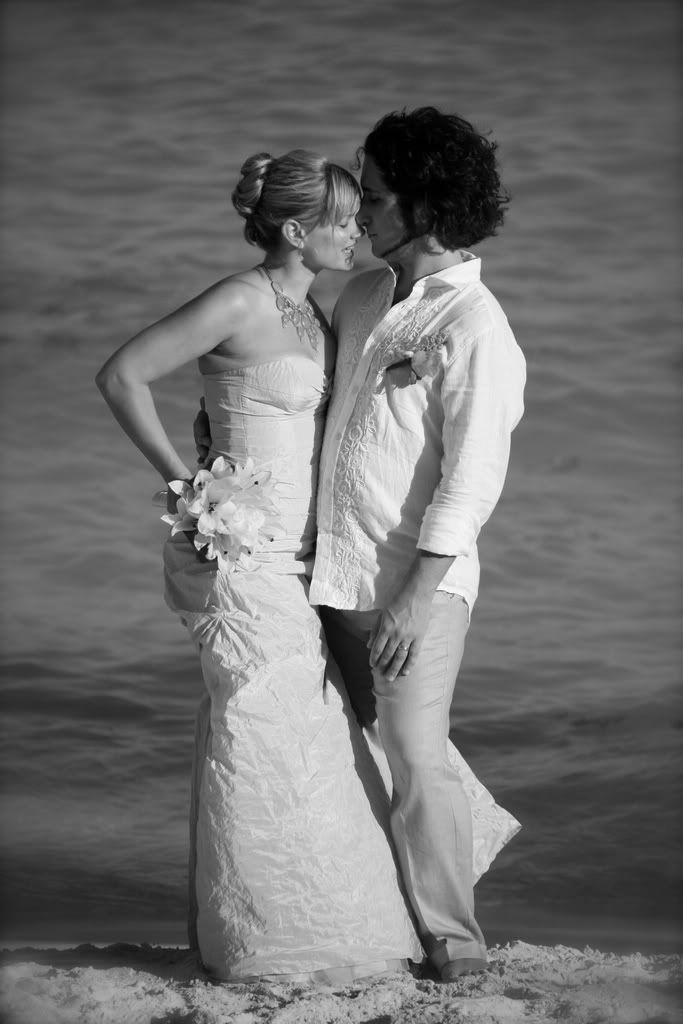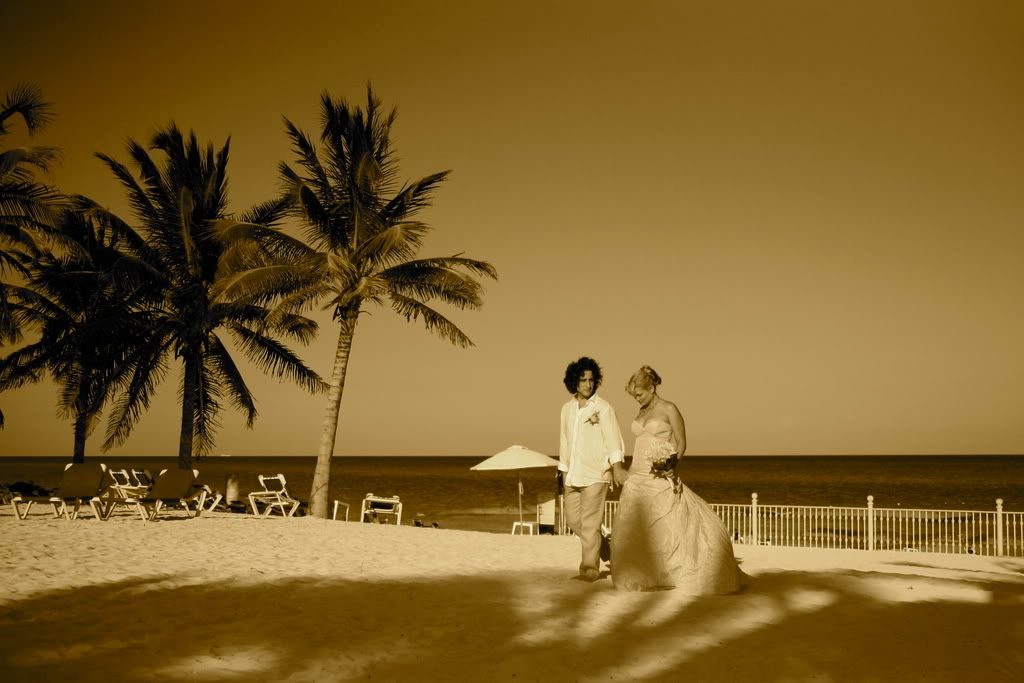 My favorite:
We had a private reception with a DJ and a 21/2 cocktail and h'orduerve with the trio and then the mariachi band. All of the musicians were amazing and
the DJ was fabulous. Basically we got everything we wanted and more here for $12,000. This includes:
A 7 day stay at the Riu ,our honeymoon on the Isle of Mujeres and a 2 day stay at the Palace there, and a final night in Cancun at the Me by melia, airfare and excursions, ground transport. A welcome dinner(no charge), a private reception for 40 people,h'odeurves, a harpist,trio and mariachi band, a DJ, massages and mani/pedicures for both of us , dinner reservations at the Japanese and steak restaurants for all of our guests, flowers arrangements for the tables, the wedding cake, 2 photographers, videographer ....you could never get that in The USA or Canada and our guests had the time of their lives. We parasailed, ziplined, snorkeled, partied downtown...it was simply a blast and I highly recommend it!!
I remember how worried I was before I got there because I had never seen the property and I was trying to plan everything and all of the details. Just know that everything will be great! I do recommend getting everything in writing and printing it out and putting it in a folder just in case you need it for reference. They change their prices every year. I also recommend getting a travel agent you trust to do everyones arrangements, so your guests aren't calling you every 2 secs!!
This hotel is large so you and your guests are not on top of each other but you can also hang out all day by the pool if you want. There is something for everyone here.
I hope this helps and I will post pics of the cake and the room etc when I get those!