Hello Everyone!
I know I am not very active on these boards and I truly apologize for that. But I do have to admit that this was THE best site for helping me plan my destination wedding! I had no idea where to start and once I discovered these boards-ideas started flowing! I was truly grateful for all of the reviews that were posted and I wouldn't feel right if I didn't pay it forward by posting a review myself, so here it goes:
WEDDING LOCATION: Casa del Mar, Cabo San Lucas
WEDDING DATE: July 14th, 2008
To start, I need to mention our travel arrangments:
We flew from Denver to Cabo on Saturday, July 12 via Frontier Airlines.
We stayed at Villa del Palmar for most of the week, although for our wedding night, we stayed at Casa del Mar.
In total we had 21 adult guests, 4 children (including my son) and 1 infant (2 months old!)
FRONTIER AIRLINES
Everything was fine with the airlines. The shop where I bought my dress told me to simply roll my wedding dress up and put it in a rolling suitcase, and that's exactly what I did. Then when we got to Cabo, I just hung it up in the bathroom and all of the wrinkles came right out!
VILLA DEL PALMAR
I have always stayed at Villa del Palmar on all previous trips to Cabo and have no complaints. They have a kiddie pool which is great because my son refuses to take swim lessons. Most of my guests also stayed at this hotel so we would basically reserve a place at the pool and someone was always there to hang out and drink with!
WEDDING!
PHOTOGRAPHER – Gilda Badillo – A+
I hired Gilda through Maye by looking at her website. I never once communicated with Gilda until the day of the wedding. I chose to only have her for 2 hours and I think that was plenty. I didn't want the getting ready pictures or any pictures of the reception, all I was concerned with was pictures of the ceremony and the bride and groom pics and I couldn't be happier! She showed up with an assistant, just as I was ready to walk out of my room. She took before pictures of me with my parents, my son, and just by myself as we walked to the beach. Because we had so many little ones, there were some strollers at the ceremony site and her assistant went down and moved the strollers so they wouldn't be in the pictures and I thought that was great they were thinking of that because I certainly wasn't! During the ceremony I didn't notice either of them shooting pictures-which was another plus. Immediately after the ceremony we took some group shots, then we took a quick beer/bathroom/water break, then we walked all over Casa del Mar taking bride/groom pictures. She was great at giving direction, she was wonderful at incorporating the shots we asked for, and she was just the absolute sweetest person. Our wedding was on Monday, and on Friday, she showed up at our hotel door with an album of around 100 4x6 prints, and 2 DVD's with at least 500 pictures. I couldn't have been happier with our photographer or pictures!
WEDDING COORDINATOR – Claudia from Casa del Mar
Claudia was fabulous and easy to work with! She sent me menu options and worked with me on a kids' menu and the ever fluctuating number of guests. The day we met her we went over the little details and I was confident everything would turn out the way I had hoped.
CASA DEL MAR
To start, this hotel is GORGEOUS!! It was a little complicated to get everything figured out in the beginning because 1) we weren't guests and 2) it was wwwaaayy over our budget. But we really, really, really wanted to have our wedding here and Claudia worked with us until we came to an agreement.
So to start, we got a huge discount for having the wedding on a Monday, but to agree to everything else, we had to pay them a certain amount of money up front, and work backwards from there, which, in the end, was actually easier then adding stuff up! So after we deducted the cost of the location fee (which we had the ceremony set-up on the beach and we used the covered patio for the reception), decorations, and food and drinks for the 21 adults and 4 kids, we ended up with just enough money to reserve an ocean-front room for the night and it was one of THE best decisions ever! The room was beautiful and they treated us so well the entire time we were there. When I checked in on Monday afternoon (I went to the hotel with my mother, my maid-of-honor, her two daughters, and my aunt), we were greeted with a tray of margaritas and bottled water and led to my room. The room had a king-size bed with the best bedding, a Jacuzzi, a shower with a "raining" faucet, a large flat-screen tv hung on the wall, a beautiful balcony, and a little table with a basket of fresh fruit, a plate of chocolates, a bottle of Mexican Merlot, and a hand written card from Claudia welcoming and thanking us. At the end of the night, after the reception, my new husband and I went back to the room and were completely shocked to find the room filled with rose petals and candles! They laid out robes and slippers for us and even filled the Jacuzzi with bubbles and rose petals.
My only complaint about our entire Casa del Mar experience is that after Claudia left the reception, about 8pm, the head waiter started over-charging us for the drinks, and of course, we didn't notice this until the end of the night when they gave us a print-out of our bill! I still have it on my to-do list to contact Claudia about this, but it's really not that big of a deal now that it's over.
For food, we had the Mexican Buffet option and it was FANTASTIC! Our guests all said it was the BEST food they had the entire time they were in Cabo! The kids all shared plates of nachos, spaghetti, quesadillas and grilled cheese (I let them pick their own food!)
A beautiful picture of the reception location!
Our free table set-up
OTHER DETAILS
I did my own hair, make-up and flowers. We brought our own iPod speakers and used them during the ceremony and reception. So there are no reviews for any other vendors! I provided parasols (which I found at Hobby Lobby on clearance for $1.84 each) for all the women and they were all very grateful they had them! I decided to have orange parasols to add some color, and I think they looked fabulous!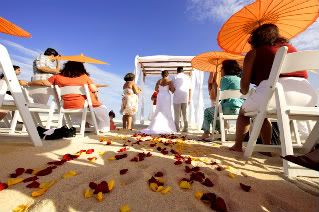 The ceremony with a good shot of our orange parasols!
I'm sure I've missed some details, so feel free to ask any questions!
Happy planning to all of you who are in that stage and thank you to all who contribute to this site!
Below are just a few of my favorite pics!