We got back late Monday night, and if I don't write this review now, I probably will never write it since real life is fast approaching me!
First, I have to say that our EDR wedding and stay was absolutely more wonderful than I could have ever imagined. Every one of our expectations for the wedding were met and exceeded by the resort. I could not imagine a better place on earth to marry my best friend. Pardon the clich©, but it was PERFECT!!!!
I will tackle this review in two parts. Part one will be the actual wedding stuff and part two will be information on the resort in general if anyone is interested. We give the whole thing an A++++ but still have some suggestions and observations that may help future EDR brides and their guests. I have also included a couple of pics from a friend's camera because I know better! I will post part two later and of course our pro pics when we get them. I realize the quality is not that great on some of these pictures, but you can at least get an idea of everything.
We arrived Monday July 21st and left Monday July 28th.
Tuesday - Meeting with coordinator:
We had to get our blood tests at 10:00 a.m. and then meet with the wedding coordinator at 11:00 a.m. with our witnesses. They had a nice plate of chocolates and pastries on the table for us to snack on while we singed papers and went over the details. Our wedding would be the only wedding on Thursday, which was nice. (There were four on Saturday.)
I had my spreadsheet from Monica, and we went over everything line by line. They had everything correct. We went over the schedule for the day of the wedding, and Micah was instructed to be at the ceremony site 30 minutes before the ceremony. We paid $95 that day to have two copies of the marriage license translated into English and arranged for my dress and his suit to be steamed the morning of the wedding during this meeting as well. We had to drop off our CD of ceremony songs to the wedding coordinator office by Wednesday, which we did. We were instructed to have our ipod with a groomsman or guest just in case, but the CD worked fine. We had it all written out where each song should be played, but one of the wedding coordinators had us walk her through all of the songs as she wrote everything down again on another form, which I assume she gave to whomever was in charge of the music.
OOT Bags:
Everyone loved the bags and contents. They used everything in them and carried the bags with them the whole week. I was really organized, so it was not a lot of effort to put them together when we arrived. I wish I would have put floaties in them though. You can have floaties in the pool and they charge you $12 in the gift shop for the .99 cent ones you can get at Walmart. We bought a couple and they were a hot commodity throughout the week. I highly encourage future EDR brides to include these in their OOT bags. We had different trail mixes in the bags, and our guest loved the snacks to eat by the pool. The single guys greatly appreciated the black beach bags we got for them. We brought a bunch of candy but forgot that, which was a bummer but our guests didn't know this.
Wednesday night:
Wednesday night, the night before the wedding, our families met for the first time. We all met at Guacamayas for a couple of drinks and then had dinner at Jo Jos. I think it was a little too nerve racking for the both of us because I drank way to much wine at dinner (it didn't help that my wine glass was never empty from our impeccable server), and Micah started to feel sick. This was our least favorite meal for both of us, partly because I don't even remember what I ate in my wine-infused state and Micah was so nauseated and was sweating profusely through the whole meal! Micah and I decide to go to bed right after dinner, and I begin to freak out that Micah is not getting sick but freaking out about getting married tomorrow. It did not help that his mom and my best friend told me he was not really sick but both thought he just had the jitters! So here is the picture, I am stumbling around on our walk home constantly asking him if he was actually sick or just scared, and he just kept telling me that I was drunk, which of course I could not imagine why he would think that at the time! We get back to our room, I fall asleep quickly (some may say pass out), and Micah proceeds to feel dizzy and sick until 5:00 a.m. that next day. He sweated so much that night that his pillow was soaked through in the morning. Poor guy.
Thursday AKA Wedding Day:
Luckily, I was in my right mind when I got back to the room on Wednesday night that I had arranged for breakfast to be delivered at 7:00 a.m. since I had 8:00 a.m. manis and pedis. Room service delivered us a good breakfast of fruit, toast, eggs, and yogurt. I felt relieved when Micah got up and ate breakfast with me, a good indication he was feeling better. I left for the spa and Micah was back in bed sleeping. I wouldn't see him again until the ceremony.
Side note, I also had called the concierge the night before to put in a request that our room be cleaned before 10:00 a.m., which it was. Our clothes were also being picked up at 10:00 to be steamed and would be dropped up before 1:00 p.m.
Manis and Pedis-
My bridesmaids, mom, and me had manis and pedis scheduled at the spa for 8:00 a.m. that morning. I had just had a really good pedicure the Saturday before we left, so it felt a little indulgent to get another so soon. However, I have to say that, for the cost, it wasn't the best pedicure as the water was cold and it was really fast. This may have been because my feet were already in good shape, but it was still nice to have fresh nail polish on my toes. The spa ladies were really nice though and made us feel special, even bringing us mimosas to sip on while our nails dried. I gave my bridesmaids their gift at this time, and it was a nice time to just be with the girls.
Hair-
It is a little after 9:30 a.m. at this point, and we go to my sister's room to do my hair. She is an awesome hairdresser, and I was so lucky she was there to do my hair (and be my MOH of course!). While Micah and I were sleeping the night before everyone was partying pretty hard, so my brother-in-law was lying on the bed the whole time, extremely hung over, while my sister did my hair. I wished we would have done my hair in my casita (as his moaning and groaning was not the most pleasant thing), but it did not make sense to go to the spa, go all the way to the casita, go back to the spa for make up, and then back to the casita to get dressed. Her room was close to the spa and she didn't have to transport all of her hair products to my room. Besides, it was fun to tease him and ask him if he wanted another shot of Don Julio every once in awhile! My friend who was also our photographer also met us here to take some pictures.
My hair turned out beautifully. My sis did such a wonderful job. My hair did not lose its curl or come out of place once during the day and through the night. We ordered room service for lunch, and I curled my other bridesmaid's hair while my sister worked on my mom's hair until about 1:00, when I had to leave to get my make up done back at the spa.
Pic of hair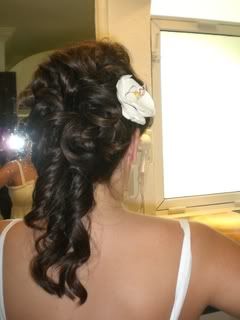 Makeup-
Overall, I liked how my makeup turned out. They used mostly Dior makeup.
I brought a picture of how I wanted my makeup to look. I also brought my own Laura Mercier foundation primer, Fiberwig mascara, and Dior lip gloss and liner. I had sunscreen on when I arrived for the appointment too. I asked for a more pinkish color for my eyes as the eye color in the picture was more brownish. I got purple. The woman did not speak very much English, so perhaps this is why I got purple instead of pink. Also, she may have just taken creative license and decided purple would look good with my brown eyes and hair, which it did. The make up was a bit heavy for me, but I decided to leave it since I knew I would be sweating and had all night ahead of me. My photographer met me at the spa to take a few pictures. She said she ran into Micah while she and her husband were eating lunch. She said he was drinking Gatorade and was feeling much better. Whew!
Guys Pictures –
At 1:30 that day, my photographer Abby, left me at the spa to go take pictures of Micah and his groomsmen. They went all over the resort taking pictures on the beach, in the lobby, and around the grounds. It was so hot and they were all drenched in sweat that they all had to shower and get dressed again before the ceremony. Micah complained about having to do this, but he is so close to his friends that I new he would cherish these pictures later. If we didn't do it then, I knew we would never get a lot of pictures of the guys after the wedding because of time. Micah told me they ordered room service at his brother's room while they got ready for the second time.
Back to the room to get dressed –
It was about 2:00 when I was done with my makeup, and I had to walk all the way from the spa to my casita (15 minute walk) since a shuttle was no where to be found. It was so hot, but it was a good test for my hair and makeup which held up well. I actually enjoyed the time to myself and just focused on staying calm. I spent the next hour or so by myself in my room just preparing the room for pictures and getting ready.
We proceeded to finish getting ready in my room and Abby took pictures of me and the girls around the room. We opted to just stay in the room because of how hot it was outside. I would have liked to take pictures like the guys did around the resort, but they did not have hair and makeup to worry about like we did!
I was a little disappointed when my mom showed up to help me get dressed and take pictures with her husband that I have a hard time with, even though I thought I was pretty explicit that this was a girls thing. I told her that I was uncomfortable with him being there and upset that she brought him because now I would have to put my dress on in the bathroom. She proceeded to tell him this, which was not my intention because it was not his fault but hers for bringing him. I felt bad for him because he was the one now uncomfortable and stayed on the patio most of the time. I felt really bad when 30 minutes before we left two bottles of wine and two of the most beautiful cheese platters were delivered to the room, compliments of him. We devoured one of the platters, and I was so grateful for the food because I did not eat much lunch and was beginning to get really nervous about the ceremony.
At about 4:15 our bouquets and my mom's corsage were delivered to the room (Micah's boutonni¨re and his mom's corsage were delivered to ceremony site). I was so amazed with how beautiful the bouquets were. They were so lush, colorful, and fragrant. I was nervous because I ordered B24 that was just mixed tropical flowers for $50 and smaller versions for the girls at $45 each. My bouquet looked exquisite when I put my blue starfish jewel in it of course (which I proceeded to lose shortly after the ceremony when we were taking pictures on the beach)!
Ceremony -
My mom, her husband, and Abby left about 4:45 to the Presidential Gazebo. Our golf cart came to get us right at 5:00 p.m., which was the ceremony start time, so I guess they were running a couple of minutes late.
We had three songs picked out to play while our guests were arriving. Micah said it really set the tone and everyone enjoyed the music. We played Better Together by Jack Johnson, I'm Yours by Jason Mraz, and Is This Love by Bob Marley.
My bridesmaids immediately had to walk down the aisle when we arrived to ceremony spot. They walked down to Just Like Heaven by Katie Melua, which my guests went crazy over.
I loved the Presidential Gazebo because of the walkway of greenery that hid me from the guests. The foliage is so pretty at that site, it is more intimate that Gazebo 55, and there are not a lot of sandbags in the water in that spot. We just had rose petals on the sand, uncovered chairs, and the large hanging corsages on the gazebo. I agonized over this gazebo since so many EDR brides on this forum say they loved 55 the best, but I am so thrilled this is the spot we had our ceremony. It was perfect for us. I felt surrounded by so much love from our friends and family in this intimate spot that held the 23 of us perfectly.
View of ocean from Presidential Gazebo: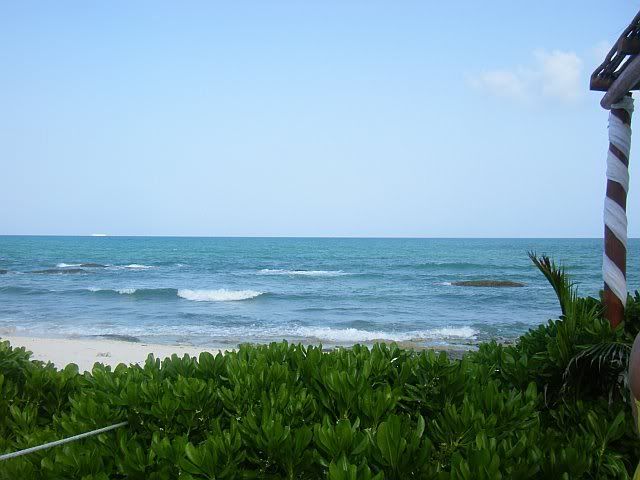 When it was time for me to walk down the aisle, I could tell how beautiful the ceremony site was decorated, but I mostly had tunnel vision and could only look at Micah for fear I would pass out or trip over my feet. I walked down the aisle with my mom to Forever by Ben Harper. I was overwhelmed with emotion and thought I would cry but managed to hold it together until our vows.
Mom walking me down aisle (you walk through a little maze of greenery - so pretty):
The ceremony was performed by a judge and translated by the wedding coordinator. We said our own vows to each other, which I had memorized but was so nervous I ended up reading them. I had a hard time getting through my vows because I was trying to keep myself from crying like a blubbering fool, which I failed miserably. Later my guests told me there was not a dry eye in the crowd when I was reading my vows, so at least we were all crying together!
Listening to judge read ceremony: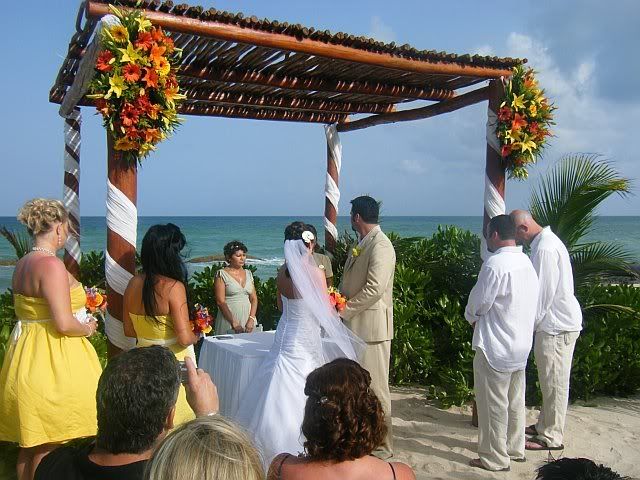 We chose to play Somewhere Over the Rainbow by Israel Kamakawiwo during the signing of the vows. The wedding coordinator asked me specifically for a song to play during this time, so I was glad I had an extra song on the cd. This was my favorite part of the ceremony because we were off to the side and could talk to each other and giggle and laugh like we always do while our witnesses were signing. However, I was so nervous signing my signature that my signature progressively got shakier and shakier as I signed the three documents. I could not have anticipated that I would be that nervous and emotional, but it was real and I just went with it.
Us talking while witnesses signed: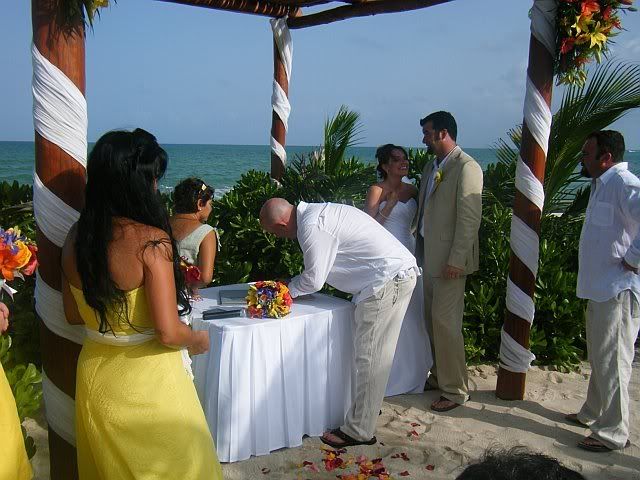 We took some more pictures after the ceremony and cleaned up a bit before heading to dinner. The poor guys were just drenched again with sweat. What was I thinking putting Micah in a suit on the beach in Mexico in July when the guy gets hot when the AC is above 70 degrees! Also, I know there has been some discussion on the EDR threads about how windy it is at this end of the resort. I was hesitant to even wear a veil, but oddly from Thursday on, there was little wind on the beach, which made it really hot. I was thrilled my veil hardly moved, but Micah was dying out there!
Recessional: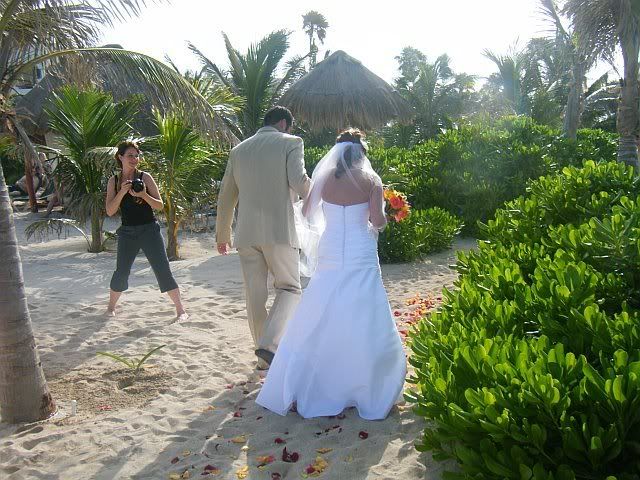 Funny pic on the beach: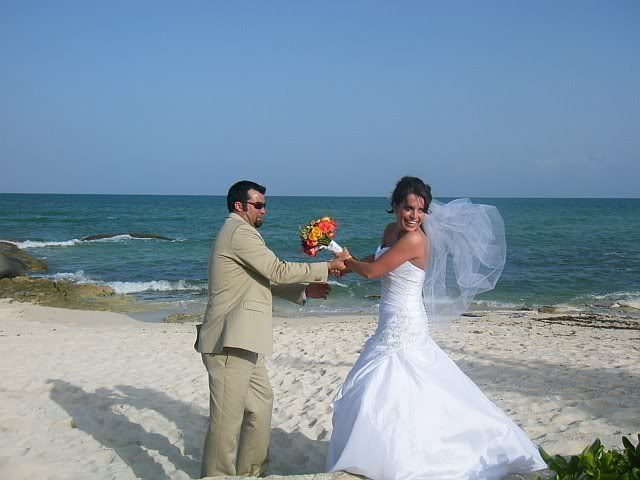 El Cocotal –
Dinner was at 6:30. When we arrived the flute player started playing the wedding march, and I looked around and Micah was already at the tables. I felt like a big dork walking in by myself. It was my first opportunity to nag him as his wife for not walking in with me! He just hurried in to see how the tables were set up because he knew I was worried about that a bit. We were seated at 3 large tables against the waterfall wall. We asked the wedding coordinators to have a vase on each table, and that we would use our bouquets as the centerpieces. The tables had pretty pillar candles on them already that are just standard in the restaurant, and there was pretty ribbon tied to the base of the vases that read "I Do." Very cute. The menus were printed up by EDR and had our names on them. They looked great, and I saw a lot of our guests taking one with them as we left.
I didn't feel very well during dinner, so I did not eat very much. However, our guests loved the food that was served. I realized that my tummy cincher was probably one of the reasons I couldn't eat more than a bite or two of food, so my sister helped me take it off in the bathroom. After that, a Gatorade, and getting some air outside with Micah, I felt like a new person and was ready to party!
One of our guests giving a toast at dinner (see vase w/bouquet):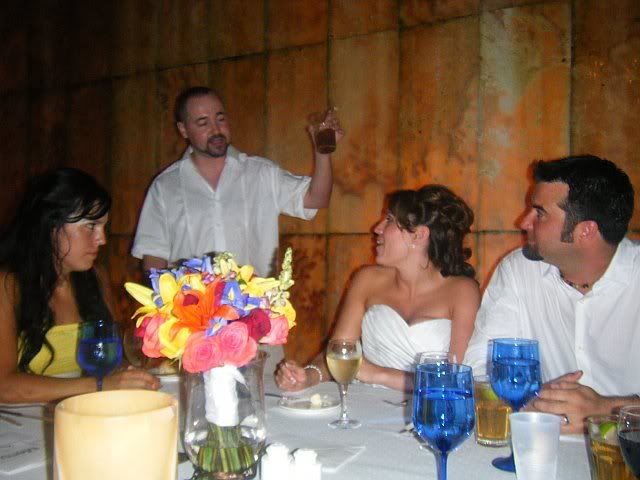 The Health Bar –
We had a private event set up at the Health Bar for 9:00. We opted for the cocktail tables with white linens, and just votive candles and rose petals on the tables, which was stunning. They moved the hanging corsages to this location to decorate the cake table and bar (later we asked the bar manager to deliver these to our mom's rooms, which they did). We ordered the one tier cake, and only ate a quarter of it since our guests had a wonderful chocolate mouse cake for dessert at El Cocotal. Regardless, the vanilla cake was yummy, and I managed to eat a couple of bites. We did toasts, did our first dance, and all of us danced and sang for the rest of the time like only people from Louisiana can. My Colorado family looked like deer in headlights during the whole thing! The bar tenders were even taking pictures of us with their own cameras. As Micah kept saying every time we walked past the Health Bar later that week, "We Rocked that Place"! I kept thinking how great I felt, how much fun I was having, and how happy I was to be there.
Our service was amazing during this event. We were under the impression that we would have two bartenders. Well we had two bartenders but also had about a server per two guests. No one's drink got less then half full before another one was on the way.
We never left the dance floor and the two hours just flew by. This, by far, was the most fun event of the day and of the week. Our guests kept saying how much fun they had and kept commenting on how much they loved the music we picked for the ceremony and especially for the private event. We also lucked out that my mom's room and my bridesmaid's room was just across from the Health Bar, so we all used their bathrooms and did not have to travel too far from the party.
First Dance (We're always laughing):
Funny line dancing picture: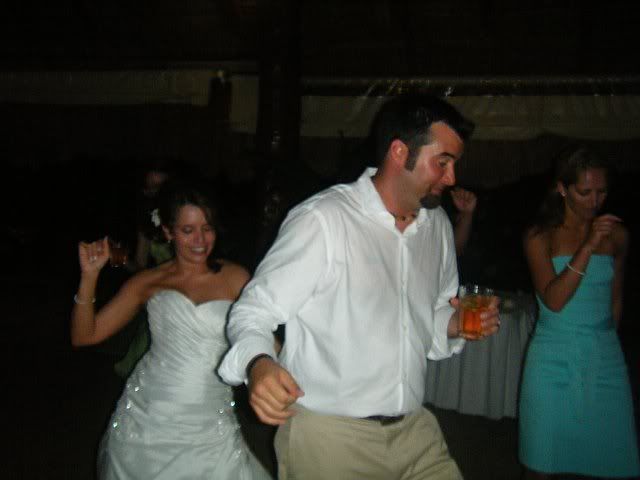 When we got back to the room, Micah carried me over the threshold – very sweet. Our room was covered in rose petals – floor, bed, and Jacuzzi tub. We had another bottle of champagne on ice waiting for us by the tub. Micah also gave me a pair of diamond earrings for my wedding gift. From that moment, it was the must relaxing and romantic night of my life. Of course, we tore into the remaining cheese plate later that night!
Honeymoon Breakfast –
Our breakfast was delivered at 8:30 the next morning. We selected the French toast and the salmon and cream cheese omelets. It was delicious, and I ate more during that meal than I ate the whole trip up to that point. From the time I got to Mexico, I really could not eat more than a couple of bites during each meal. This of course was great for getting into my wedding dress! I realized as I was inhaling my French toast how tense and anxious I must have been. Unfortunately for my butt and thighs, I did not have a problem cleaning my plate the rest of the trip!
TTD –
After breakfast we had to get back in our wedding attire to meet our photographer Abby for TTD pics. I must have lost three pounds of water weight from sweating (the theme of the wedding) the night before because my dress slipped on VERY easily. I went to sleep with my hair still up, so I just took it down and it was still full and curly. I pulled it to the side in a loose side pony tail, attached my hair flower, applied a little waterproof makeup and we were off.
I think we freaked out the resort when they saw a bride and groom walking around in the morning without having a record of a wedding that day because the next thing we know the general manager of the resort had us in his golf cart. We had to explain to him what we were doing, but he didn't understand because there was not record of a photographer being on the books coming to the resort. Finally he understood one of our guests was taking the pictures, we got married YESTERDAY not today, and that this was just a private thing we arranged to do. He eventually let us out of the golf cart. We called him Gunter because he was this giant German dude. Funny side note, we saw him later that day at the spa. He was coming from getting a massage and was in a robe that was too short for him. He asked how the pictures went.
We did the TTD pics between the presidential gazebo and Gazebo 55 since there are no sandbags in the water. It was a blast but also tough as the ocean was sharp and rocky, but Abby said it looked effortless. I can't wait to see the pictures.
We slept like we never slept after that, woke up later that evening for a couples massage on the beach, ate some dinner, then slept again. That day was so relaxing and lazy, which was obviously very much needed.
I am very sorry for the long, long, long review of my experience, but as I started to write it, I realized how much I wanted to go through the events and my thoughts again. I will save this review, so I can remember this time in such detail.
I loved EDR, our wedding, and our entire experience. As other brides have mentioned, I wish I would not have stressed as much over the details but all of the effort was worth it in the end. I felt like I did not micromanage the resort and left a lot of details into their hands, which I feel I was rewarded for this because everything was unbelievably beautiful. You can have the most elaborate wedding at EDR or something very simple. We opted for more simple, mostly for budget reasons, and simple proved to be nothing but wonderful and beautiful. Our guests had an amazing vacation, were in awe of the resort, and could not get over how breathtaking the ceremony was. I can't wait to go back for our five year anniversary.
Thanks BDW for all of the ideas and support. PM me if you have any specific questions from me because I am happy to help! I promise to post more pics as they come in from everyone and the pro pics as soon as I get them!!!!!
Raychel