I think I have it figured out finally! I thought I might see what you all thought about this. I went to the tropical design plant center here and found this variety of bromeliads that look so tropical. My pics weren't so clear with my phone so I also included a stock photo that looked really close. I am thinking of doing a tall one ($21) on every other table and a cluster of 3 ($27) on the others. I am using dark chocolate brown linen.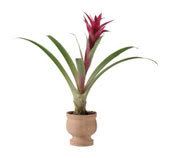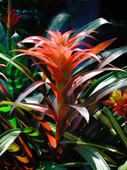 Hope these pictures show up on here...still trying to figure out pictures!
So what do you think? Tropical enough?