My final fitting this afternoon went perfectly!
All the alterations that were done ended up being perfect and no further changes needed to be made.
i am so pleased with how i look in it. i worked really hard to lose a bunch of weight so it would look like i had a waist haha
my seamstress' assistant laura told me it took her 2 hours to steam the wrinkles out of my dress, so i feel really bad that it's getting wrinkled already hanging in the garment bag, and will get wrinkled on the way to cabo. it will have to be steamed again at the hotel.
Sorry the pics arent great, I don't have my veil on, and we didnt get a pic of what it looked like bustled (i am doing a french underbustle) - but here they are for your viewing pleasure!
(p.s. - is the girl who took the pics retarded or what? how freakin hard is it to frame a shot properly with a digital camera for crying out loud)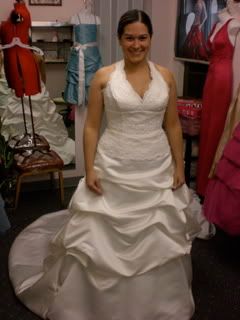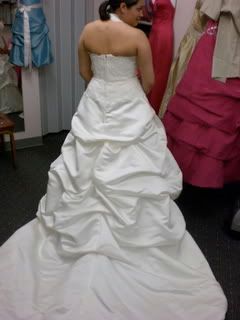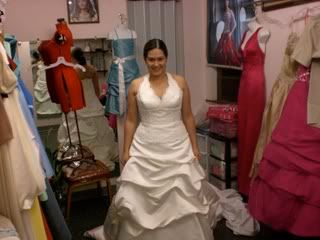 and edited on sunday to add a pic of what the bustle looks like (sorry couldnt get it on by myself with the bustle done):