Here is my review FINALLY!
I had an AMAZING wedding day. It was so wonderful, and even everything didnt go according to plan, i would not change a thing. There is alot of info here... if i am missing anything that you need / want to know please let me know! Here is a link to photos. Here is a link to some of the photographers pics. We did not have him during dinner or disco. If anyone is getting married at the Santa Fe and wants to see some pics from dinner or disco that arent in the album, let me know i can email some!
WEDDING PICS
DIY….Spanish/English booklet, first aid kit, postcard from vistaprint (that is a photo from our first trip to Cabo before we were engaged) , mint gum, SPF Blistex lipbalm.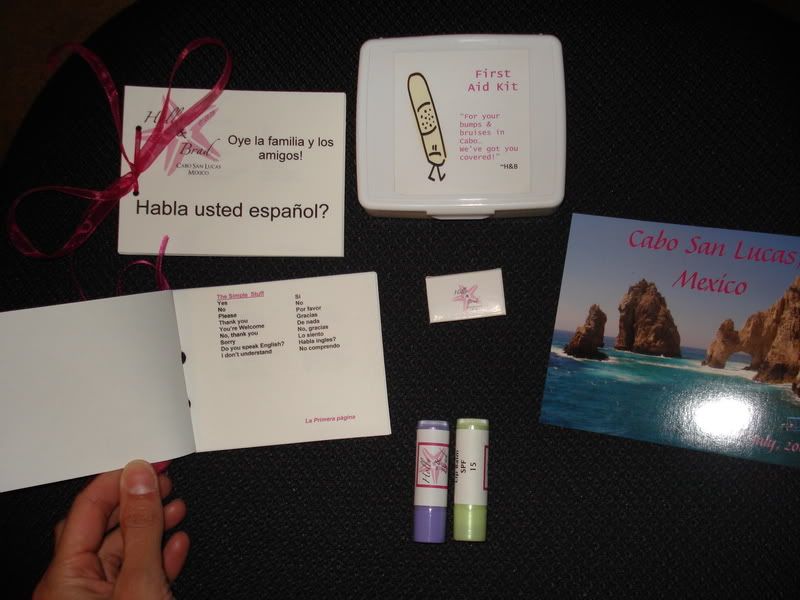 WEDDING!!!

WEDDING COORDINATOR - Erika Rangel - A
When I first started my planning, she was hard to get a hold of, and hard to get answers from . BUT looking back, I think it was because I was concerning myself with tiny details 6 MONTHS before the wedding… which clearly, I didn't need to do. After that hurdle, she was amazing. The best way to find out things from her is by emailing questions in point form. Then nothing gets missed, and you don't have to ask the same question 2 or 3 times before getting a proper answer. She must have kept every email to and from me (as I did) because any time something came up via email, she would always be able to refer back to previous emails. (yes I was a bit anal, and repetitive… but its my WEDDING! LOL) And also when we finally had our meeting with her in Cabo, she pretty much knew what I wanted before I had to go over things in person. When meeting with her I was worried cuz she seemed so non-chalant about everything. BUT she was like a sponge, and even when she didn't make a note of something, she still remembered it. She was on top of everything on the wedding day, and although I didn't see her much, everyone else said she was running around making sure everything ran smoothly. All in all she was AMAZING!
HAIR / MAKE UP - Neysa Berman
See my review on her here….
She was great, I would recommend her in a heart beat. The price was totally worth every penny!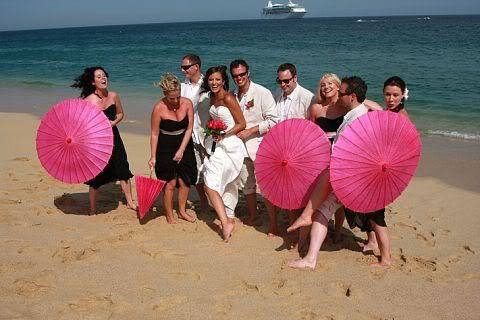 FANS A
I ordered black and fuschia. I had DIY tags for them with our monogram. They were supposed to be fanned out on the chairs, alternating color…. And I heard they were done on the chairs perfectly!
WEDDING ARCH B
I had asked to see a pic of the one they use, and I didn't like the way it looked. I decided to order a wooden arch from Cabo Flowers. I also ordered fuschia chair bows from them. The only complaint I have is that I wanted only fuschia sheer fabric on the arch, but there was white and fuschia on the wedding day. It still looks great, but not exactly what I wanted.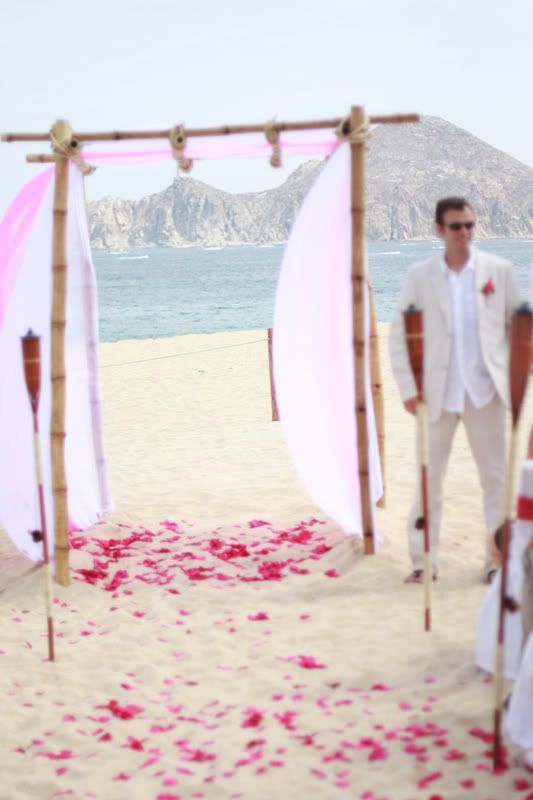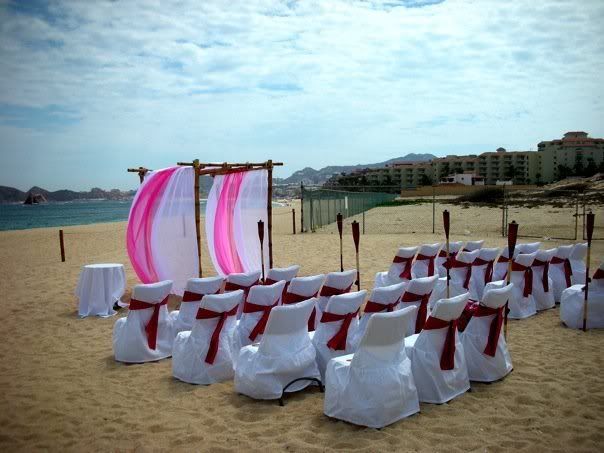 SILK ROSE PETALS A
From Petalgarden. You can order a bunch of samples for free… then place an order after you chose. I loved the 'raspberry' and ordered 3000 petals. They were not the high quality of some 'silk' petals, but they looked perfect on the sand! I hoped 3000 petals would provide thick coverage on the aisle, and some for the dinner tables, but for the ceremony, it was so windy that it just looked scattered. HOWEVER it was still soooo pretty! Erika laid them out, and arranged for clean up after the cerermony
MUSIC
CEREMONY A
Honestly… I don't really remember the music. I know the right songs were playing at the right time. And everyone could hear the music.
RECEPTION NONE
DISCO B
The music that we wanted to play for the first 20 minutes of guest arrival, was perfect. The first (bride and groom) and second dance (groom and mom / bride and mom) played when they were supposed to.
We did not have a playlist ready for dancing… and we were not crazy about the dj's choices. I reget not having my ipod ready with good songs.

CEREMONY A+
Was not a legal ceremony. We did not do a sand ceremony or any type of signing. It was fairly quick, and was all about us and our vows. It was perfect! One of my very best friends who could not attend the wedding, helped write the ceremony. One thing we may have done differently would be to have microphones. Guests had a hard time hearing us.
CHAMPAGNE A
We had a champagne table set up right beside the ceremony site. It was great! Right after saying our I do's… we walked back up the aisle, followed by our wedding party and guests, and drank champagne and listened to the salsa-ish music we had prepared. Even though right when we got there my husband hugged someone and dumped his champagne on my hear and down my face… it was great! LOL (be ready for anything on your wedding day!)
DINNER – Torote (steakhouse) B
The guests had a 2 hour break before dinner when we did our pics… and had time to freshen up.
Dinner set up was simple, it was too windy for our rose petals to go on the table, but we had starfish, and Erika decided to improvise (LOVE HER) and put glasses of water with fuschia flowers in them, on the tables. (our colors!!)
The food was not fast, and did not come all at once. SUGGESTION – Listen to Erika if she suggests limiting the choices for guests, or getting them to decide ahead of tie what they are going to have.
The appy and salad bar was great as always, but the entr©e was OK. Not perfect… but I didn't care! = )

CAKE B
We asked for plain white cake. We gave rose petals for Erika to put on cake. When we were eating dinner we noticed the cake table sitting in the corner of the dinner area, and there was a plastic bride and groom on it!!! So, I grabbed flowers off out table… walked over to the table.. pulled the figurines off the cake and replaced them with a couple flowers. Only a couple people saw me do it… and it looked much better! Erika saw what I did (I obviously did it quick and didn't pay too much attention) so she fixed it and made it look even better. It was delicious cake (filled with booze) and everyone mentioned the cake throughout the night!
DISCO A
We decided we would rent the disco for 2 hours, and it was a great idea! We did our speeches, first and second dance, and still had over an hour of dancing before the disco opened to the public. I would do this again!!! However I recommend having your own music ready on a disk or ipod!
Hope this is helpful!