After looking at Villa Verde, Casa Carol Ann, Quinta Del Mar, Casa Cresencia and Casa Valarie here is the villa that took my breath away. Though QDM would be my second choice, when I think of asking my guests to travel all the way to MX I can only think of one location that would fulfill all my dreams and expectations and that is to celebrate at a private villa water front. My dreams have come true. Stewart, owner of Boca Bento (see my other review, amazing restaurant must dine at while in PV and his Plush catering company is doing our reception), introduced me to this Villa of my dreams. Literally when I walked out the sliding glass doors I was able to invision my wedding and it all came together.
The villa is between Conchas Chinas and Mismaloya (yes it is very affordable and they do event only also...) The place has its own man made beach above the water. The house sleeps 8 in 4 bedrooms, has a grand piano, largest pool I have ever seen in PV and most private beach available. Truly amazing.
We will be having our guest dine by the pool, 88 guests RSVP so far, and down below the pool area we will have the beach set up with a dance floor, two bars and lounge furniture to dance the night away form 9-12midnight. Yes you can go until midnight. That is how private this place is.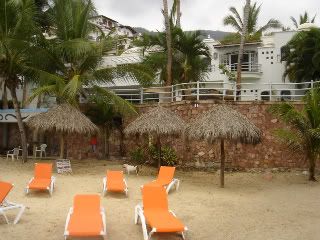 This is standing out on the peak which is a great spot to have your ceremony, because guests will look out over the ocean. Or you can do like us and have your dance party down here.
Here are some pictures: The house is undergoing a face lift, there will be white sand brought in for the beach, they are adding a grand staircase that leads to the beach. The beach area has a full facility restroom. This place has it all... PLUS IT CAN ACCOMMODATE OVER 80 WEDDING GUESTS.
Post face lift pics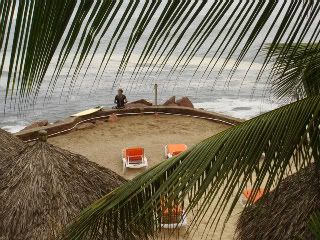 This is standing in the infinity pool looking down at the beach area. It doesn't look big but could hold 100 plus wedding guests I am sure.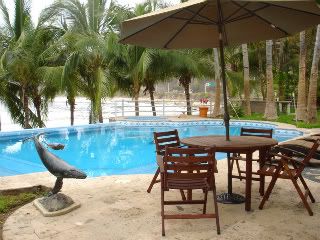 This picture doesn't do the pool any justice the yard is huge and so is the pool. The house is very modern and has an open floor plan. All bedrooms face the ocean.
If you would like more pictures please email me. I can also send you contact information...