Hey gals,
I've had several close friends get engaged in the last few weeks, and for my shower in June, my aunt gave me this really cool gift for my wedding day.
It's a sixpence to wear inside your shoe on your wedding day for good luck, and is a traditional part of the "something old, something new, something borrowed, something blue" fame. the sixpence coin is a lesser known part of the tradition.
The sixpence is tucked into a beatiful ivory card, that has scalloped light blue edges and is letterpressed with blue print.
The card says:
Something old, (an item from a happily married woman to bring future bliss)
something new, (the bride's wedding attire)
something borrowed, (an object of gold to promise good fortune)
something blue, (symbolic of true love)
and a sixpence in your shoe. (worn inside the bride's shoe to ensure prosperity.
I think this is such a great sentimental gift and I plan to buy one for each of my recently engaged girlfriends. I will also take mine to Cabo to be photographed as one of my "details" shots.
Here's a photo of it (sorry it's kinda hard to read):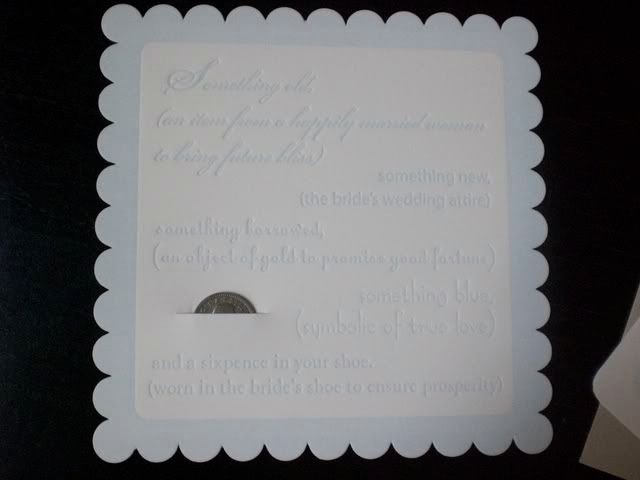 Here's where she purchased it from (they are $15 each):
Sixpence Wedding Gift for the Bride
they also come with a slip of paper that explains the history of the tradition. the sixpence is also a genuine minted coin from the UK! (btw, sixpence have not been minted in the UK since 1970!)