So...I mentioned these a while back and promised to post pictures...so here you go.
I got the idea for passport covers from this site (of course!) and came across Etsy.com the same day...and fell in LOVE! I found adorable and simple cloth passport covers and messaged the seller immediately. Shortly after (like an hour later...while I am still searching through the site), Allison messaged back. We chatted back and forth and I decided I would give her descriptions of my BMs and let her go through her inventory and pick out what she thought would work best. The next day she had my order ready, I paid, and two days later I got the package in the mail. She even sent cute tissue and ribbon to wrap them in and wrote a sweet, personalized note to me.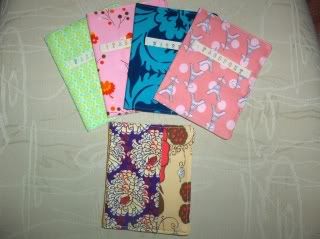 The bottom one is mine (of course I had to get one too!!) - plus she was doing a "buy 4, get 1" sale at the time...how perfect. The first one is for my MOH (my sister) - she loves green and blue. The second one is for my young cousin who is a BM - thought it was girly and appropriate for a teen. The third is for my BM friend who loves the beach. And the fourth one is for my BM friend who loves to travel and is a Paris/Sex and the City type girl
How awesome of a job she did picking out designs. I was so happy.
Her store is located at
http://www.StarlitNestGIfts.Etsy.com
Now I have to wait a whole year to give them the present
That is what I get for getting started so early!!