Alright, so on top of buying their dresses, flip flops, and necklaces I am giving each of my BM's and MOH a gift bag. I am thinking of giving it to them before we leave because I don't want to carry anything down that I don't have to.
I picked up the lotion and lip gloss from the dollar bins at Target. Each one will get a small photo album and disposable camera (not pictured) lotion, lip gloss, luggage tag, tank, nail kit, and sterling silver earrings. They are small hoops with CZ's in them.
I was going to give them the earrings now because I bought starfish necklaces for them and my two FSIL's to give to them at the rehersal dinner. I didn't buy the FSIL's earrings, just necklaces.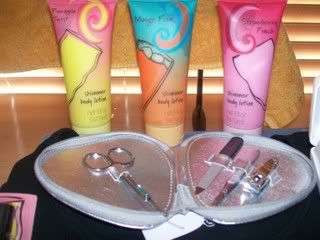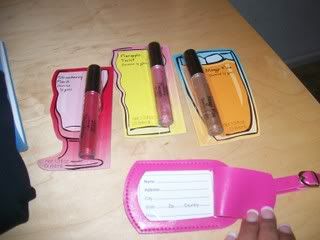 These are the nail kits I bought from Target dollar bin for my FSIL's OOT bags.