***Glenda asked me to post this for her because she can't upload pics at work, so she sent me everything to upload and post.***
------------------------------------------------------------
Hi girls! First of all let me say that I am so thankful to all of you for your help, advice, well-wishes and most importantly your friendship. I don't know how I could have planned a last minute wedding w/o all of your help! Although I started out as a Cabo bride, in the end I ended up getting married in good old NYC. LOL. No beach but there was def lots of sunshine. (It was scorching hot with temperatures in the 90's and humidity through the roof). In typical NY fashion it would not be a NY wedding if there wasn't drama along every step of the way.
I had a lot of bumps along the way but in the end I married my best friend and I couldn't be any happier. My day started with a hairdresser who warned me that he has trouble getting up in the morning. Ummmm okay. LOL. Luckily though he woke up on time and I can't rave about him enough b/c he is absolutely excellent. He is so nice and he did my make-up and hair exactly the way I wanted. I did my hair half-up, half-down with soft curls. He did a light bronzer on my face, pale lips and a pinkish eyeshadow that he somehow made look smokey when blended in with black eyeliner. I had that whole Kim Kardashian smokey eye look (except it wasn't so dark). Here is a pic of my hair and make-up:
My best friend Tiffany gave me this great white Juicy Coutoure sweat suit to wear while I got ready. Instead of the usual soon to be it just said "MRS V." which I absolutely loved. Not to mention it was so comfy. Here are some pics of the sweatsuit:
Then there was the issue of the limo driver. He had a little bit of attitude but in the end he really came through for me when I was abandoned by everybody. LOL. In the morning we had him drop me off first to the hairdresser's house and Tiffany and my sister went to the local deli to get breakfast. Well it turns out it was my hairdresser's b-day so Tiffany wanted to pick him up some coffee and breakfast. Then they had the limo driver drive them back to the hairdresser's house. Well the limo driver proceeds to ask Tiffany "How long do you think your going to be b/c I TOO would like to eat some breakfast." LOL. I guess he was upset that Tiffany hadn't offered to buy him breakfast. Whatever, in the end everything worked out fine.
We then left the hairdresser's house and headed in the limo to the church. Here is a pic of me in the limo with the fabulous veil that was provided by our very own Maura. It was so pretty...simple yet elegant!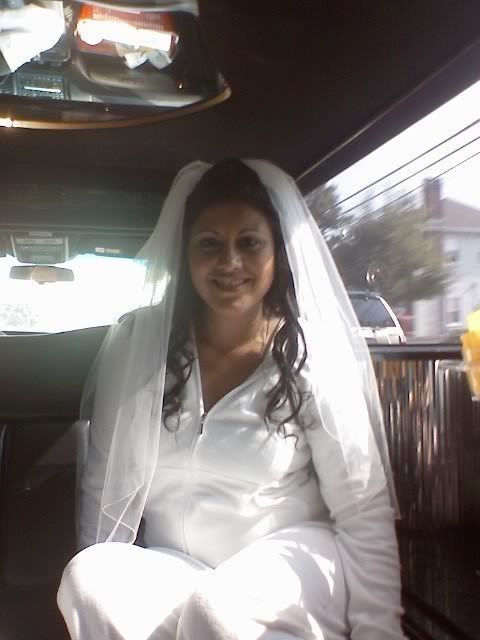 So we arrive to the church only to realize that James is in the car right behind me! I freaked out b/c I didn't want him to see me but then I realized that the limo windows were tinted. CRISIS AVERTED. LOL. Then upon closer inspection I notice that there are a ton of black cars outside the church. I had no idea what was going on so Tiffany calls James and asks him what is going on. He tells Tiffany that there was a death and someone is having a funeral. I felt awful that a family was inside grieving for their loved one and here I was all chipper. Then I found out that b/c of the funeral my wedding would be pushed back. Which normally I wouldn't care but unfortunately the limo driver had to get me back by a certain hour b/c he had another wedding to go to and apparently the bride is a Bridezilla.
Tiffany told James to get lost and he decided to drive around for 20 minutes while I got settled inside the church. Well then more drama ensued. I didn't know where the bridal suit was b/c I didn't have a rehearsal. And I couldn't exactly ask the priest b/c he was clearly performing the funeral mass. So I ran to a religious office hoping someone was in there to tell me where the suite was. I don't know if this guy didn't know where it was or if this was actually the "bridal suite" but he took me to the confessional room. Which is creepy enough as it is, but the door was see through glass. So I had to change in a room where people confess their sins and the door is see through. LOL. I did my best to change as quickly as possible. And I'm happy to report that after all my many quick fix diets, the dress FIT! Thank goodness. I looked pregnant which is a whole other issue but at least it fit! Here is a pic of the dress: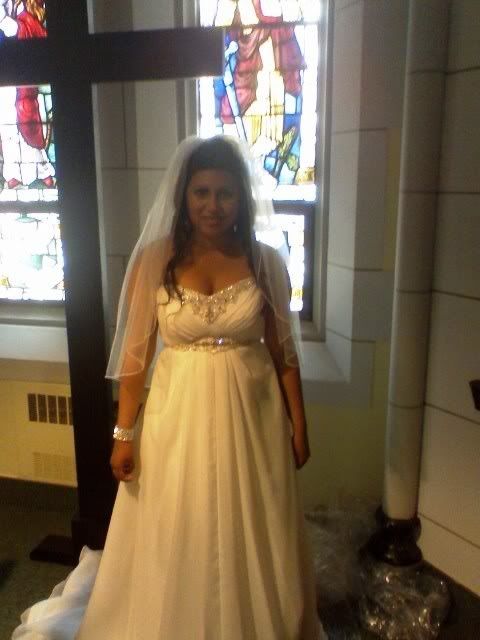 And the back of the train:
Finally when the ceremony was ready to start I realized that I had no idea what was going on b/c we had never had a rehearsal. I am looking everywhere for my priest and I can't find him. Finally someone from the church comes up to me and informs me that my priest had a heart attack in the church during the funeral mass! I couldn't believe it. So they rushed to get some priest from another church to do my ceremony. Not only had I never met this priest before, but he wasn't a presiding priest at my church so he had no idea where anything was. LOL.
So I somehow finally make my way down the aisle (and this is where the limo driver saved the day and fluffed my gown for me and told me when to start walking) and my father who had recently had knee surgery starts whispering that I'm going too fast. So I try slowing down but when I glance at my dad I notice that his face is pale and his eyes start rolling in the back of his head. He was this close to fainting but somehow he made it through.
Needless to say the ceremony was a disastrous mess. I don't think the priest had ever married anyone before. When iI was saying hello to people during the receiving line the priest grabbed me and dragged me to the side. He had forgotten to ask me to sign the marriage certificate! Ahhh! I almost left the church w/o being legally married! But again somehow we made it through. Here are some pics of the flower set ups.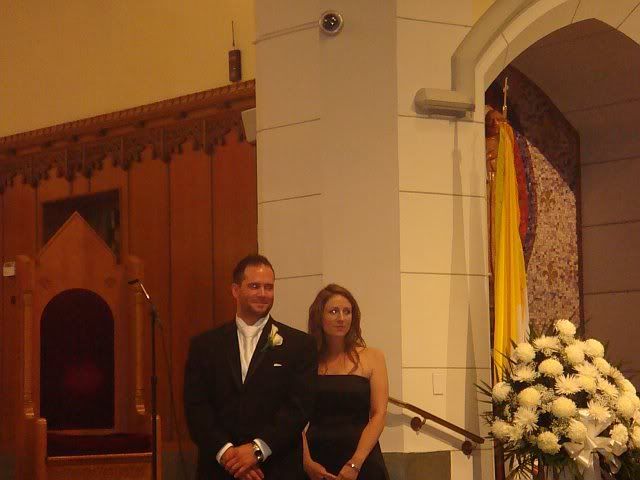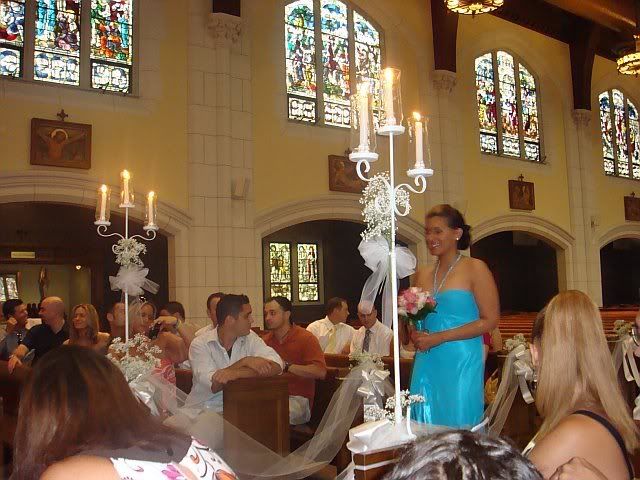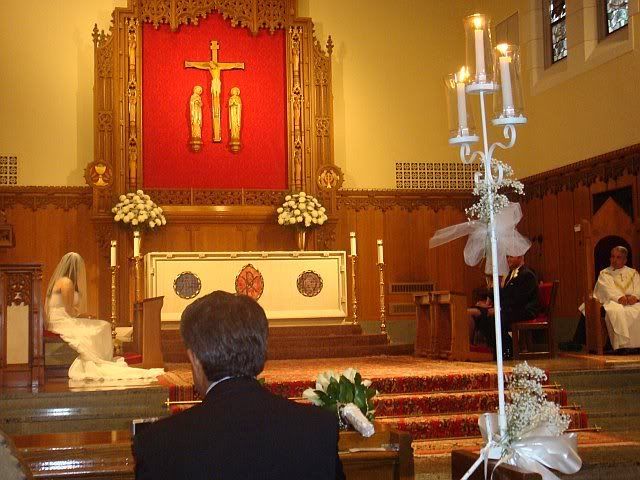 I had lots of bows and candelabras and they were absolutely beautiful. The funny thing is that I never saw any of my flowers before the day of the wedding. I made an appointment with the florist but he forget and stood me up and we had to do it by the phone. I had no pics with me, I just figured I would walk in there and he would show me stuff and I would pick what I liked. But since he didn't show up I just made up a vision of what I wanted. I honestly had no idea what I wanted beforehand. So everything turned out beautiful w/o me even ever seeing the flowers. LOL. Here is a pic of my sister's bouquet which I thought was gorgeous: