Finally, my turn has come! I joined the forum in Oct. 2006 (the same time as Ann and Christine, who both have beautiful little girls!) and I have no idea if it wasn't for the forum, I think I would've cancelled my DW upon planning!
I will try to update this thread before I leave, but I am running out of time and I am not sure if I will have time to post those last minute details.
Again forgive me for the terrible camera phone pics. Hans and I are planning to purchase a camera tomorrow!
Here goes!
The rings- Capri Jewelers in Downtown Los Angeles
The dress- San Patrick Real (I had the neckline altered) Purchased at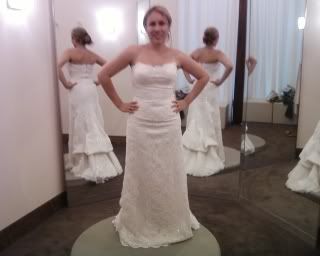 Hair trial and veil (180 inch, cut edge, drop veil purchased through
More pics/info here
I also purchased sandals at Express with lots of bling – ladies they are on sale for 60% percent off!