I hated to come back empty handed, so here you go! LOL I know how you ladies are with pictures!
Our camera broke right before we left so we didn't even take one! I've been relying on friends and family to have mercy on me and send me some snapshots.
Here is my cute little cake! After all of the work on the blingy topper and I left it in the room! I completely forgot I was supposed to run it down to the kitchen that morning. I had a few other things on my mind.
Here's one of the tables. Not exactly like I had planned, but they still looked good. THey definitely had the "wow factor" (as simple as they were) because of the color contrast when we walked into the garden.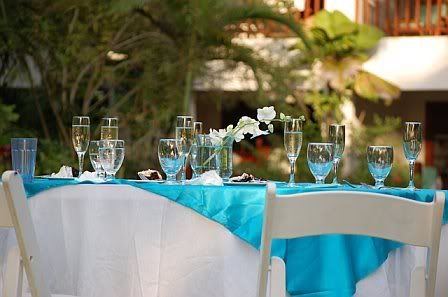 The wedding party in the garden. This is where we went for our cocktail hour after the ceremony.
The Happy Couple!
Here is a funny pic of Mike. The photographer is going to photoshop out the table so it looks like the girls are lifting him! I love the look on the middle's face!