My invites are done and mailed out!
I had big elaborate plans for our invites but then needed to get them out ASAP so the big plans went down the drain. (Luckily) I had already ordered supplies from Cards and Pockets but (unluckily) hadn't designed anything. We got our travel rates on Thursday May 22nd and found out fuel was going up $100 at the end of May so anyone who booked within the first week, only had to pay $177.25 in taxes instead of $277.25. So I spent the weekend of the 23rd/24th quickly designing/making the invites so that they went out on the 25th for those that wanted to book before the end of May.
The supplies are all from Cards and Pockets and they were printed on a Gocco - the entire invite, from the picture, font, address on the envelope, etc. was ALL gocco'ed. Nothing was done by a printer. For those of you that read Weddingbee, you'll know all about Gocco - the thing is, you only ever see the amazing "bees" make stuff and not normal non-crafty people like me so I thought I would post pictures. For those of you not familiar with Gocco, it's a Japanese printing machine. The easiest way to explain it is that it makes a 'stamp' of anything you want. So the ink is different - it's hard to explain, I guess it sort of looks more like it was done on a typewriter then a printer. I wish I had a good picture of how it looked but I have a bad camera so you can't really tell.
The great thing about the Gocco is that (aside from the ink drying time), it's super quick! I made 75 invites and (not including drying time) it only took about 30 minutes per card (RSVP, Mexico, and then the main info card). So including assembly, it only took me about 2-3 hours.
Oh, the font, etc. are fuzzy because of my camera. On the invites it's crisp and clear!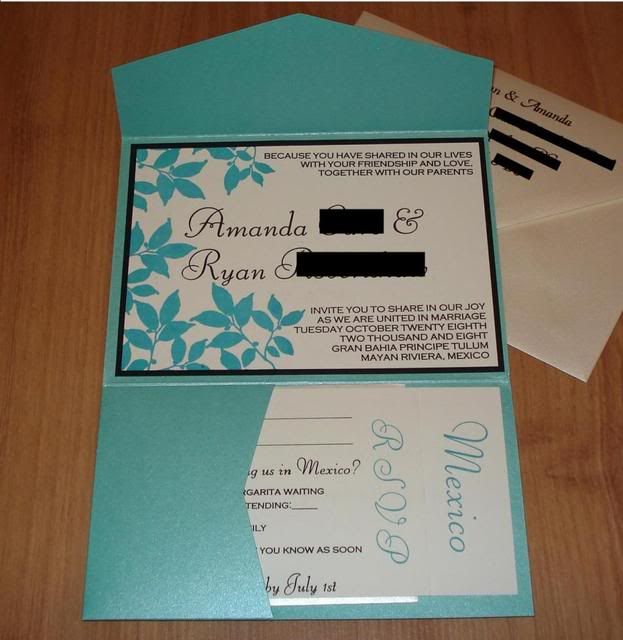 Thanks to everyone who I drew inspiration from!!!